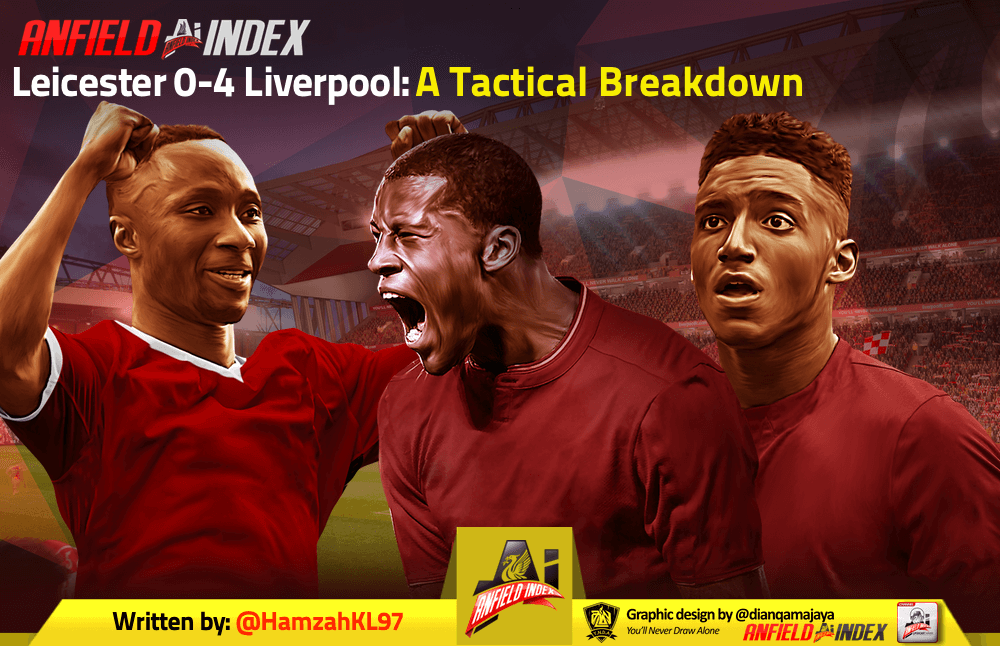 Leicester 0-4 Liverpool: A Tactical Breakdown

A result like this was a long time coming. Liverpool has shown ominous signs to their rivals since the start of December, heralded by Mohamed Salah's return to form and the reintroduction of an injury-free Naby Keïta into the starting XI. It was especially fitting that Leicester were on the end of a monumental drubbing, given they were tactically outclassed and manoeuvred in the Anfield fixture earlier this season, but managed to capitalise on some wasteful finishing by Liverpool, and leave Anfield with a respectable 2-1 loss. In many ways, Thursday night's match was extremely similar to the reverse fixture: Understat's xG model valued the game at the King Power at 0.12-3.77, whilst the Anfield match was recorded as 3.75-0.1.
In both games, Klopp set up Liverpool in a manner that utterly and totally nullified Leicester and their offensive threats. Again, this was nothing short of a tactical masterclass executed to perfection. Liverpool had 15 shots to Leicester's 3, 6 of which were on target and classed as big chances. Leicester, comparatively, had neither a single big chance or shot on target. The two graphics below, from Stats Zone, illustrate the chasm in the volume of attacking activity and output: Leicester's image is a sparsely populated figure, littered with incomplete passes, whilst Liverpool's is a tapestry of activity, from all over the field, comprising long passes, short passes, direct passes, wall passes, chances created from the centre of the pitch, chances created in the half-spaces, and chances created in the wide areas too.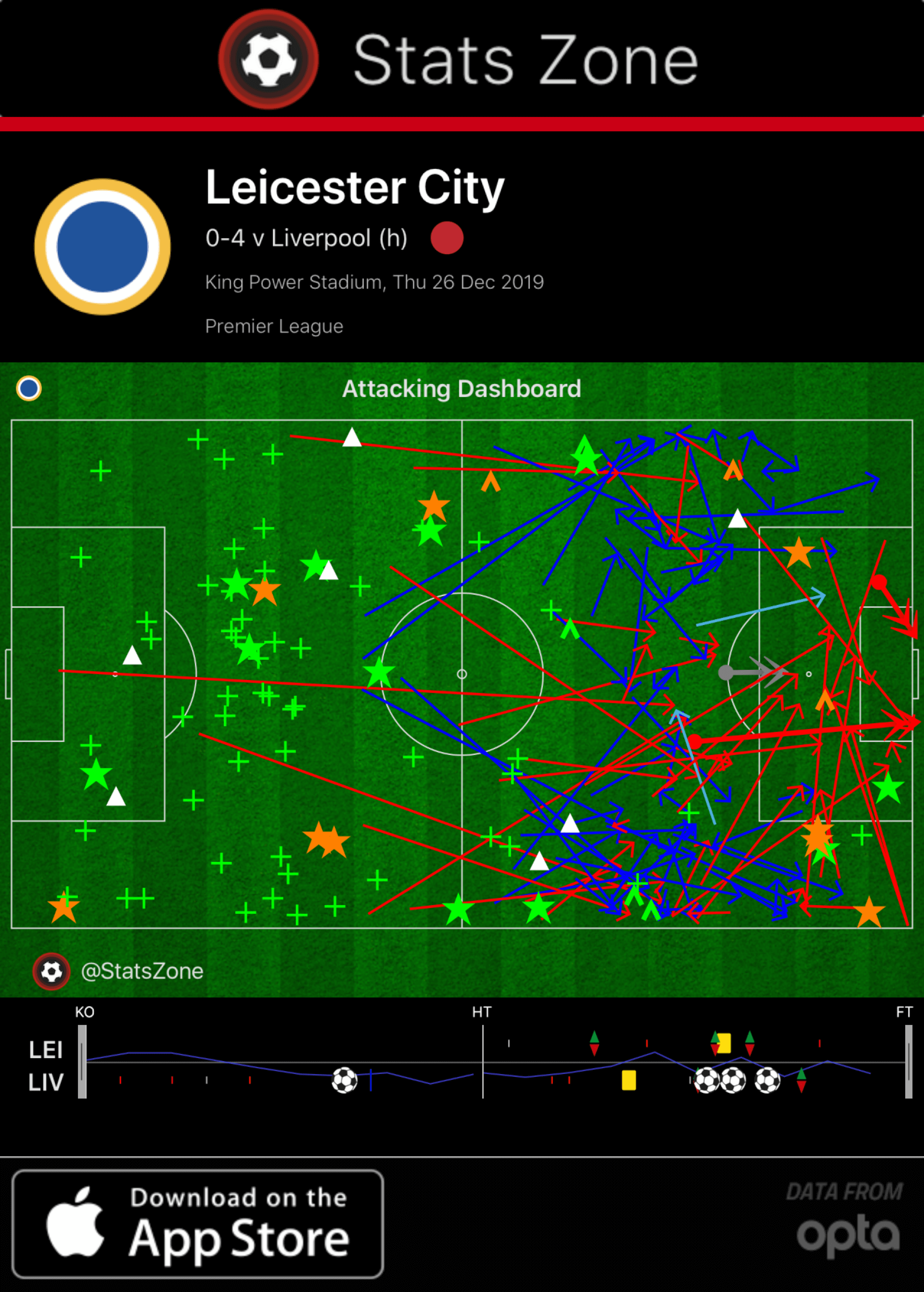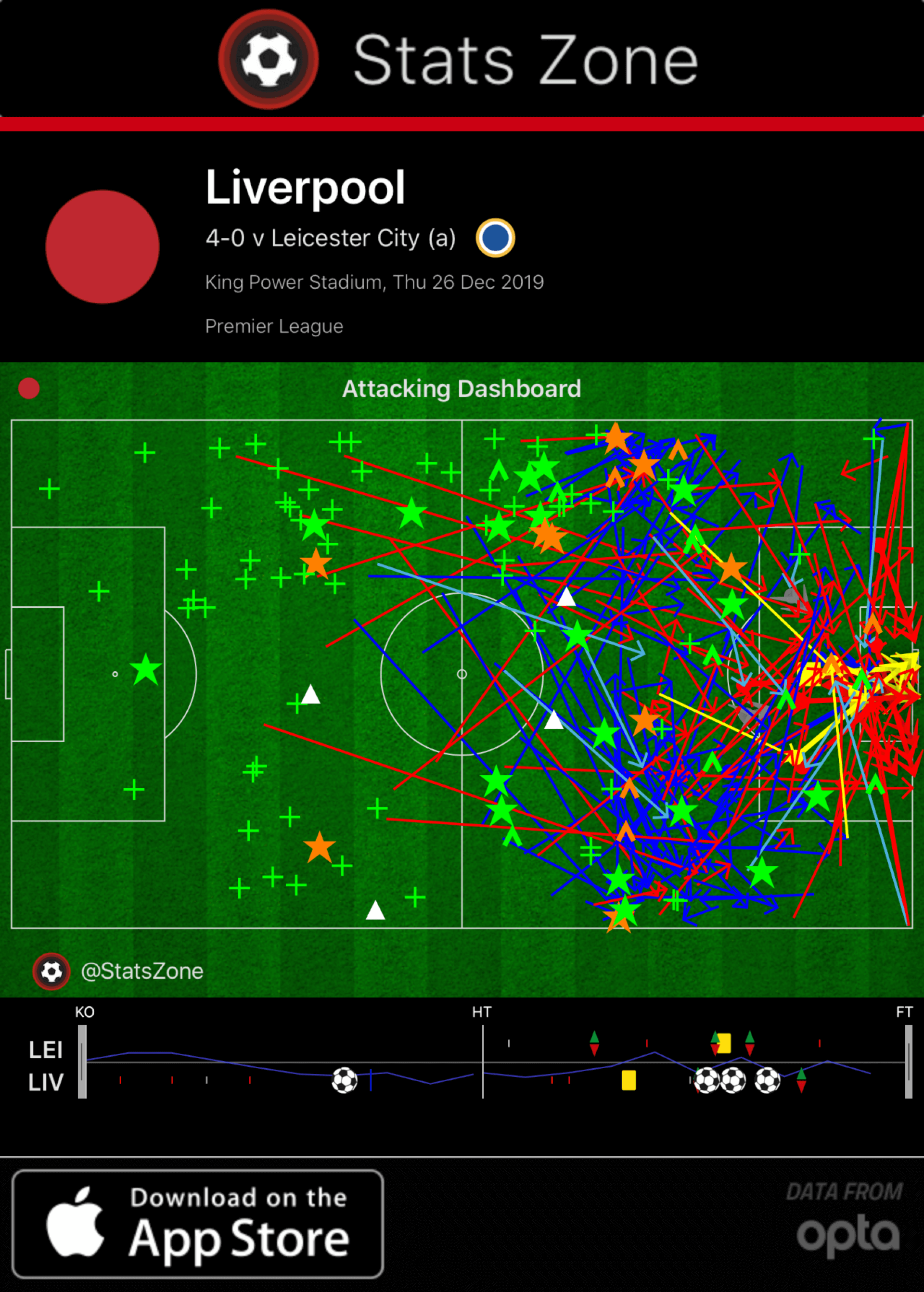 Naturally, Alexander-Arnold will seize the headlines, but for the opening sixty minutes, and the majority of the game, the story was very much about Liverpool's midfield dominance.
Rodgers identified that Liverpool would look to press high. Tactically, when challenged with a high press, there are a number of ways to minimise the problems it causes, and even to exploit the opportunities it may offer. The two most prominent methods of dealing with a high press are:
Play over the press, i.e. hit the ball long and avoid the press, perhaps even accessing the space in behind the Liverpool defence, as they push up, looking to compact the centre of the field.
Play through the press, i.e. build-up from deep, draw Liverpool forward, and use fast, slick and precise passing to not only draw Liverpool forward, but to break their lines, and offer an opportunity to break onto Liverpool's backline, as they commit players forward to press.
Of Liverpool's opponents in recent seasons, only Carlo Ancelotti's Napoli have consistently displayed an ability to play through Liverpool's press. Many teams have tried, with Manchester City struggling on a number of occasions, despite their immense technical and tactical skill.
Other teams preferred to go long against Liverpool, and did so frequently in Klopp's early years. However, with the introduction of Van Dijk and either Joel Matip or Joe Gomez, through their physical attributes and spatial awareness, Liverpool became equipped to deal with the threat of long balls, and converted them from a potential opposition ploy into a means through which Liverpool could easily recover the ball. Now teams realise this, and rarely bother wasting their opportunity with the ball on an aerial challenge with Van Dijk, or a foot race with Gomez.
Brendan Rodgers though had immense faith in his philosophy and his players, and instructed them to continue to build from deep, and look to pull Liverpool forward, thereby creating opportunities for Vardy to run in behind into space, onto passes from Maddison or Barnes, who positioned themselves ahead of Tielemans and Praet, who were supposed to support Ndidi and the defensive group in breaking Liverpool's press.
This approach was well-intentioned, but it was completely dismantled by Liverpool's press. Among the entire Leicester team, only one player managed to pass to Vardy more than twice, Maddison, who managed three passes into him. Liverpool targeted Maddison and Tielemans with their pressing, smothering any opportunities they had to pass forwards, driving them backwards, sideways or turning the ball over.
Liverpool's press rattled Leicester immediately, and the nervousness was palpable from every goal kick, with a number resulting in balls being kicked straight out of play.
As Leicester set up in their defensive shape, a few tactical elements emerged. Maddison, instead of covering the left side of the pitch, was looking to play close to Vardy in the centre, creating an asymmetrical shape. With Tielemans, Praet and Ndidi all playing in midfield too, Leicester could have expected to create a central overload, and force their play right through the heart of Liverpool's shape. However, Wijnaldum functioned as a double pivot with Henderson, covering the central area, and pushing up to support the forwards when Liverpool held possession in the final third. This tight shape in midfield allowed Liverpool to prevent Leicester from breaking into space, nullified counter-attacking opportunities and allowed Naby Keïta to orchestrate the entire display.
Nothing short of phenomenal, Naby Keïta, again, carried the ball forward and scythed through any attempts to dispossess him with gazelle-like guile. Operating ahead of Wijnaldum and Henderson, Keïta drove the ball into the final third, creating chance after chance, with effortless elegance. Breaking lines, and committing men through his incessant forward movement, Keïta created space for Mané and Salah to thrive in, with the only disappointment being their wastefulness. Keïta drifted from left to right half space, finding pockets of space to receive the ball in and pass the ball through, elevating Liverpool's in possession play to a platform rivalled only by Manchester City. His work on the right side was especially influential, with the aforementioned space vacated by Maddison occupied by Trent Alexander-Arnold, who unrestricted access to the right flank. Keïta passed the ball to Alexander-Arnold ten times, during his time on the pitch, with a majority of those passing breaking through the middle third into the final third.
The #passmap you've all been waiting for. #TAA #LFC pic.twitter.com/MmjXAm6pOa

— Between The Posts (@BetweenThePosts) December 27, 2019
With the positional threat Keïta and Salah posed, Ben Chilwell tucked in tight to his centre back, attempting to reduce the space between them, which Manchester City exploited. However, in doing so, the entire right side of the field became Alexander-Arnold's playground, with Maddison not tracking back, nor covering the space in the first instance. To give any Liverpool player that much space in dangerous areas is criminal, to give Liverpool's best playmaker that space, unchallenged, is sheer madness.
https://twitter.com/SimonBrundish/status/1210490708475416576/photo/1
The speed in which Liverpool attacked too was near impossible to cope with. It was not just the speed in which Liverpool carried the ball though, the speed in which Liverpool exploited space that caused the most issues. Liverpool's fourth goal epitomises this, with the ball moved both horizontally and vertically through the field at pace.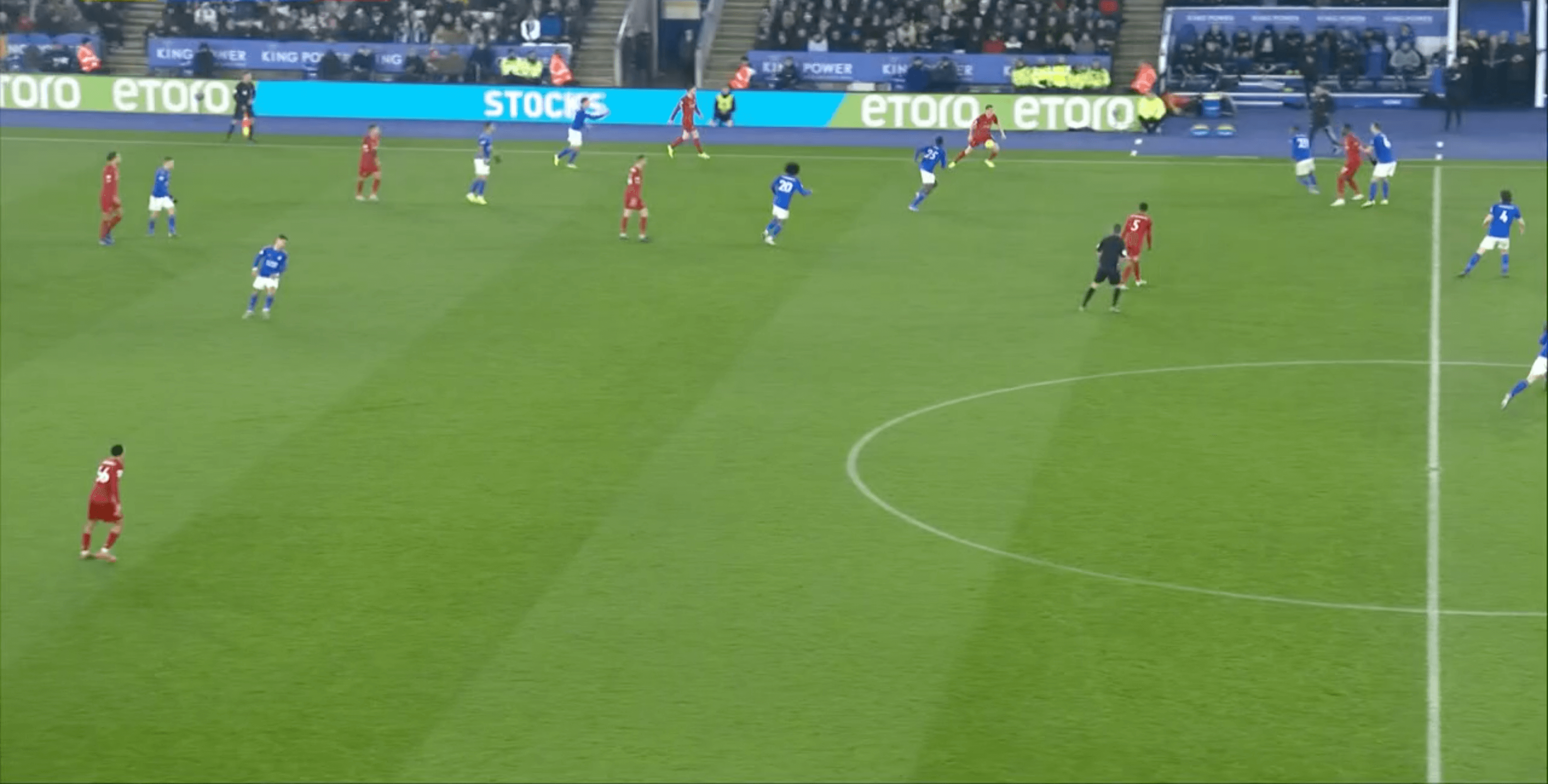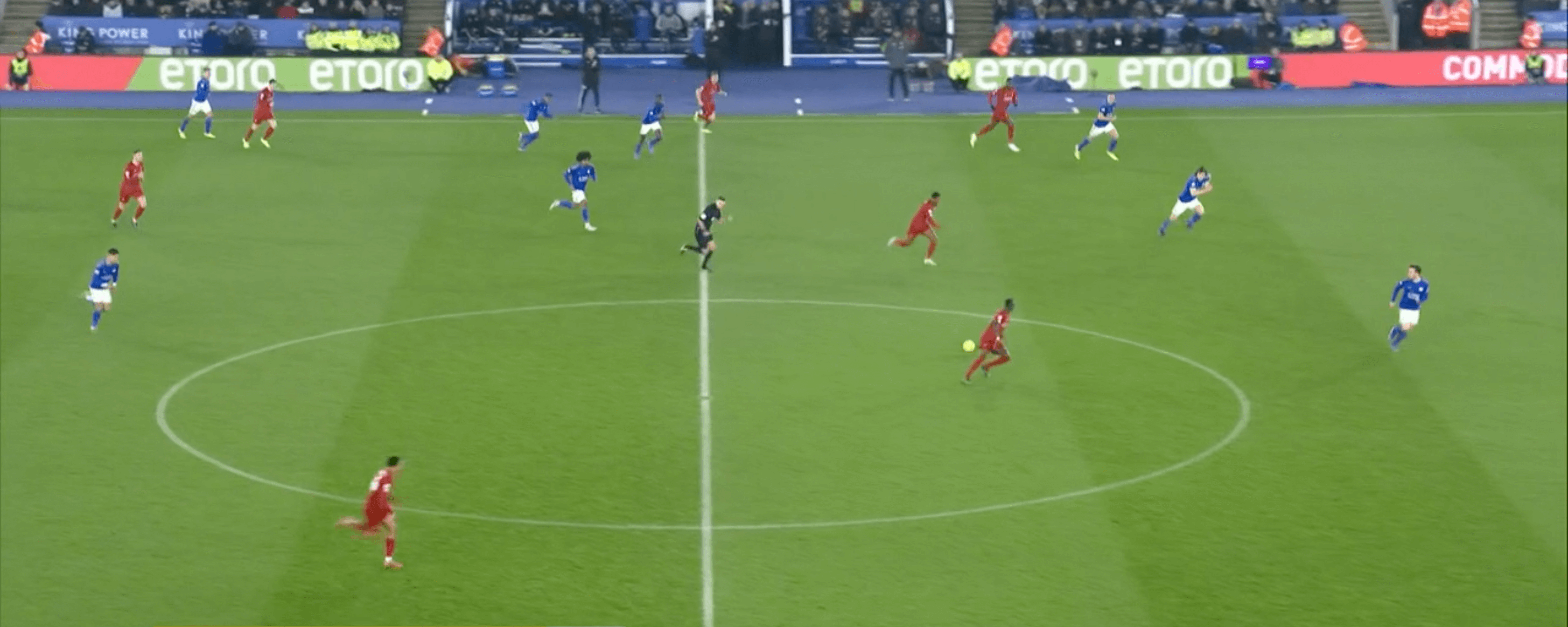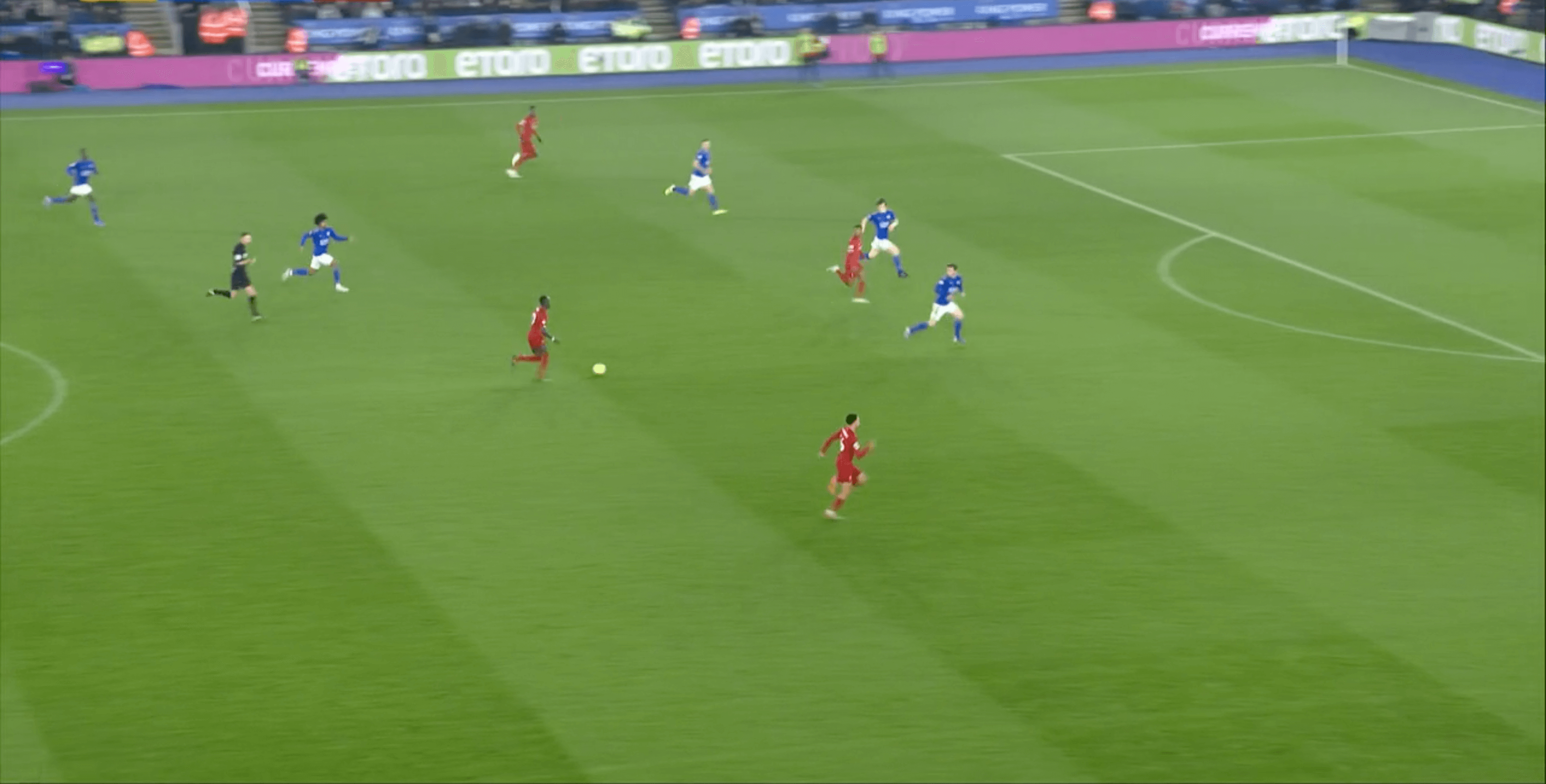 This, alongside the switch of play, moved Leicester across the field during the match and consequently, Leicester were unable to establish a settled defensive shape to cope with the quick ball movement which created gaps between defenders.
For Liverpool's first and third goals though, on both occasions, they utilised runs from deep combined with a pass across the field of play to again seize upon the disorientation of the Leicester defence.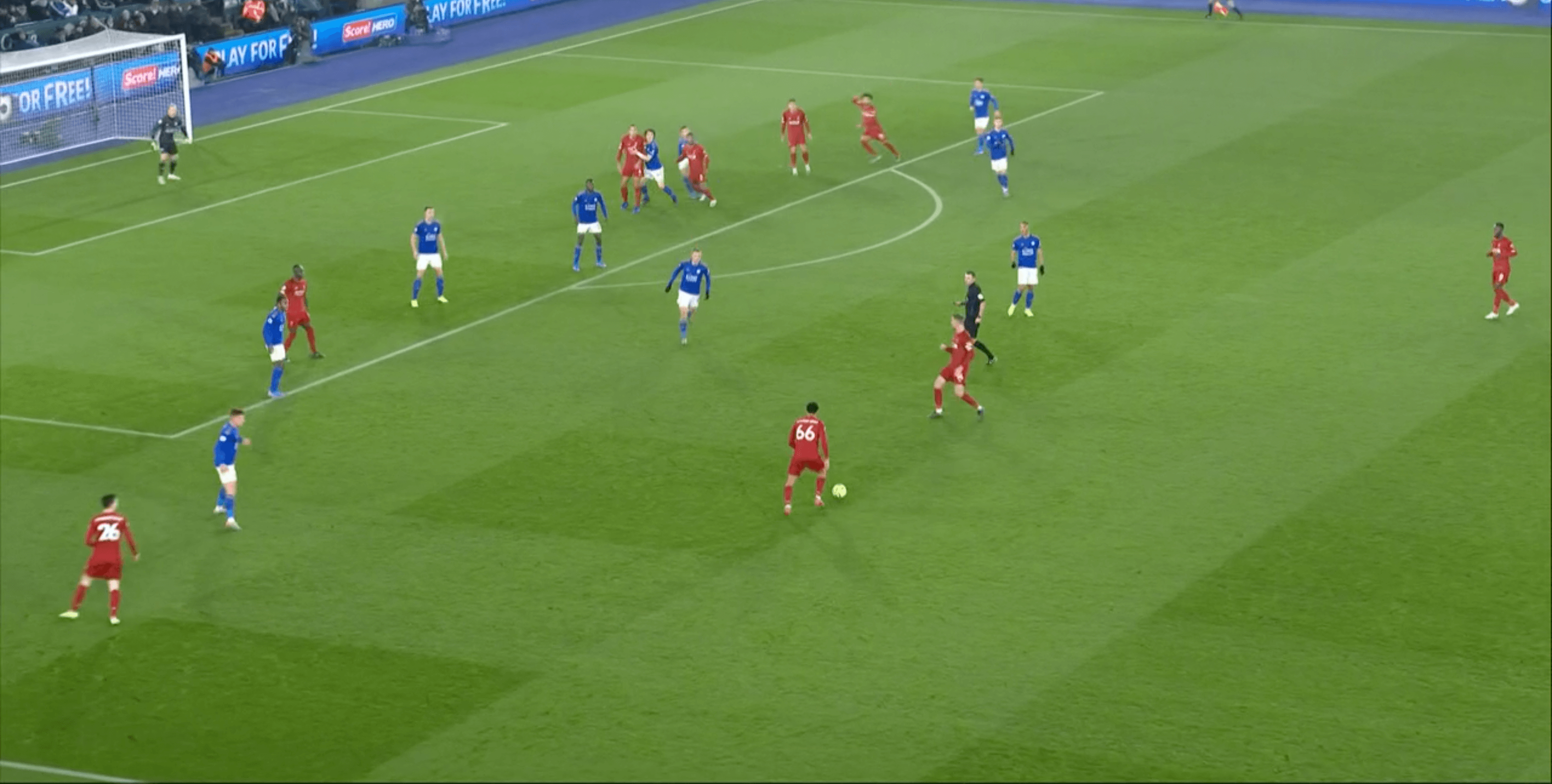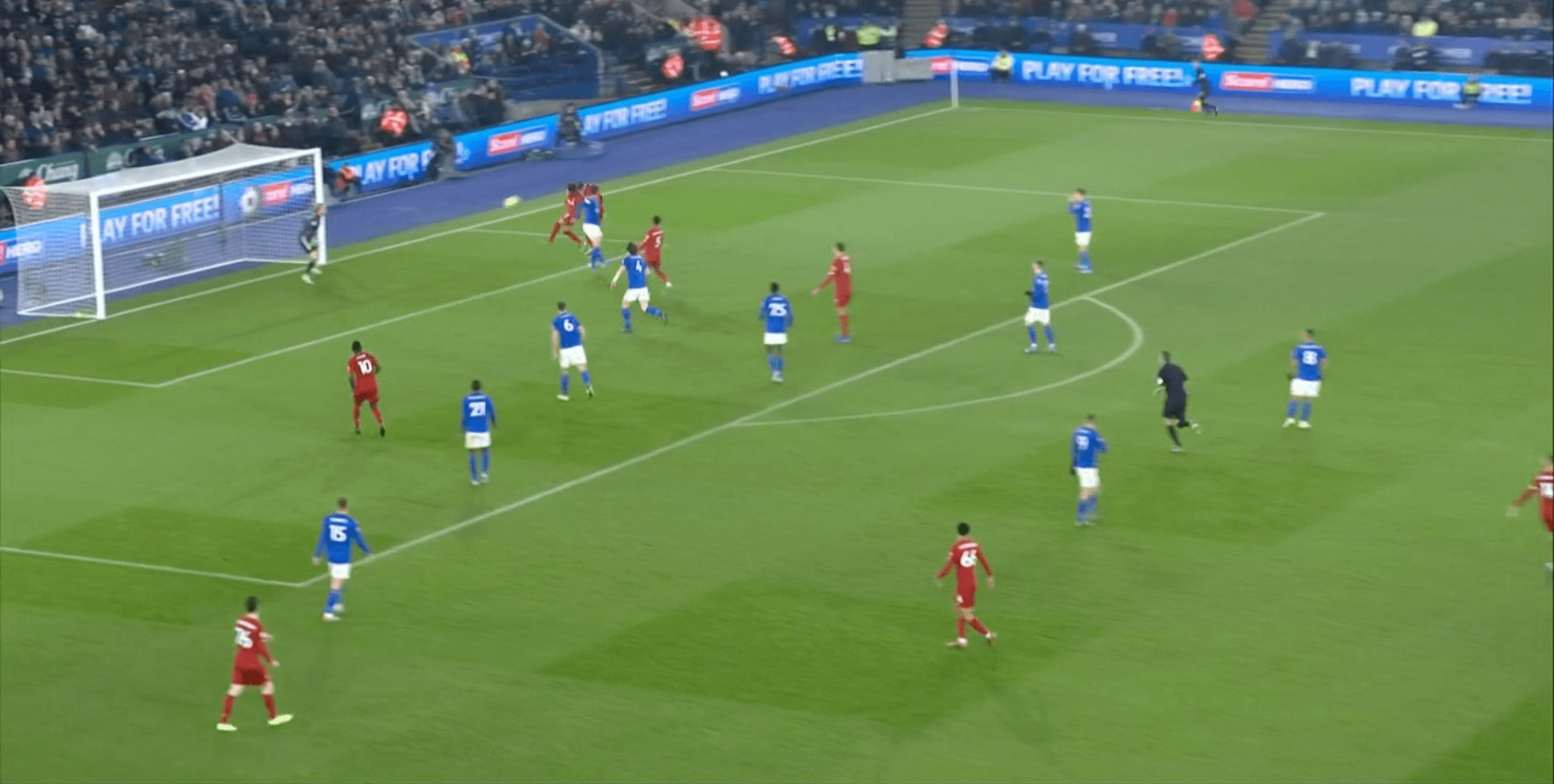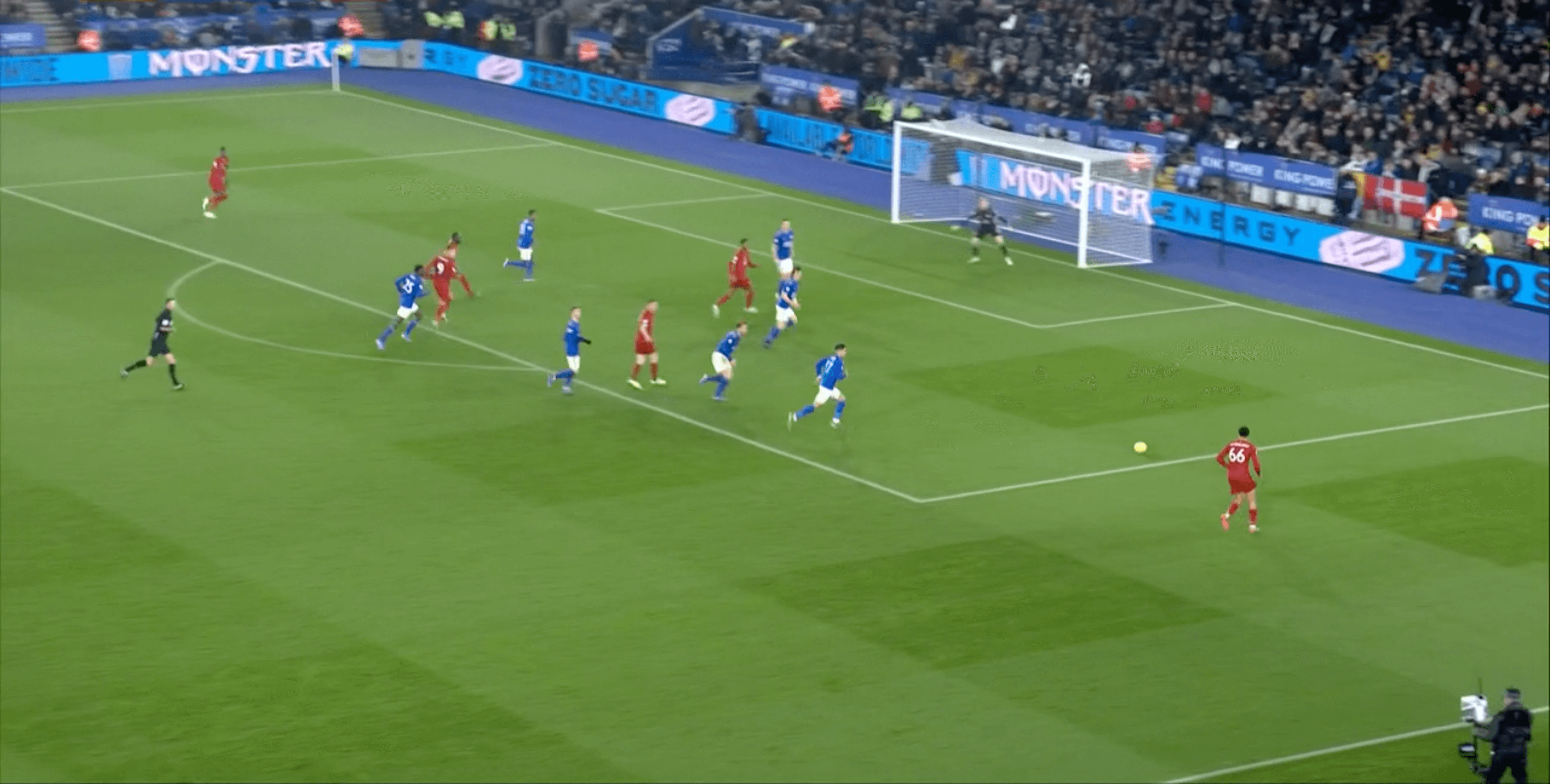 This was a masterclass. Had either Mané or Salah been more clinical, the scoreline could easily have been 7-0. Liverpool dismembered Leicester tactically, technically and physically. This was a performance becoming of the European Champions, a tactical performance becoming of the world's best manager, and most frighteningly, by Jürgen Klopp's own admission, this was not even the best performance of Liverpool's season. Indeed, there's more of this to come, and a higher level this team can reach.
Woe betide any team that dares stand in the way of this ruthless and imperious Liverpool side.
Liverpool are top, Leicester are second. Combined xG score from their matches against each other this season:

Liverpool 8.6 – 0.2 Leicester

— Andrew Beasley (@BassTunedToRed) December 26, 2019