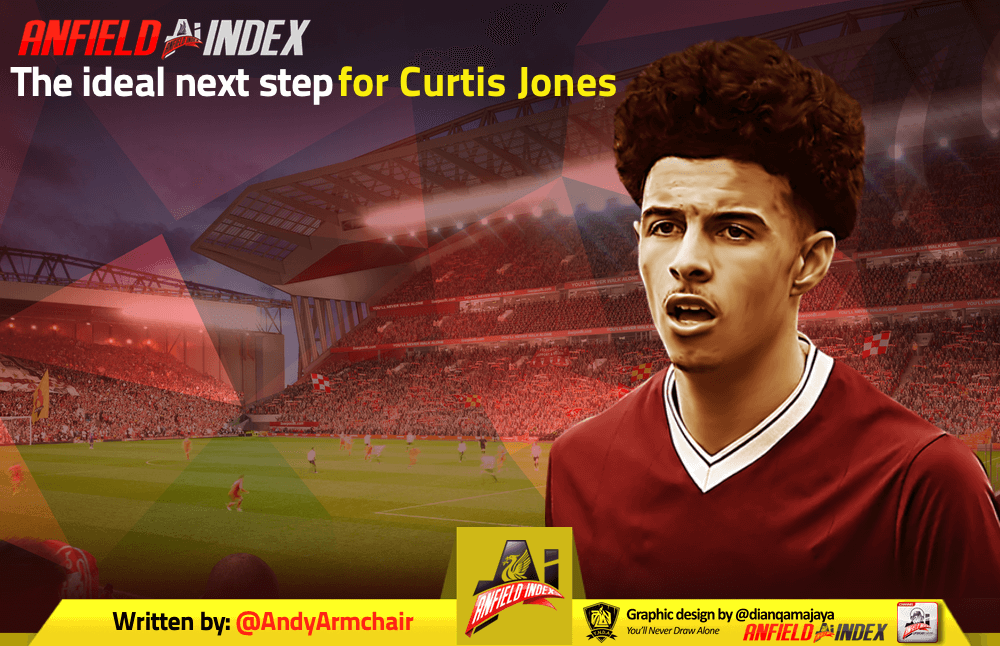 The Ideal Next Step for Curtis Jones
It's that time of the year once again where attention turns to the transfer market. The January transfer window is one that Jürgen Klopp tends to shy away from where possible, but Virgil Van Dijk and Takumi Minamino are examples of him willing to use it in exceptional circumstances. However, whilst any further purchases in January are unlikely, it is possible that a couple of the clubs promising youngsters will go out on loan. 
Rhian Brewster has already been touted with a loan move for the remainder of the season and he may not be the only allowed to gain valuable experience elsewhere. Curtis Jones, who impressed with a spectacular substitute appearance against Arsenal in the League Cup, could also be allowed to further his development temporarily away from Anfield. 
The arrival of Minamino adds to Divock Origi and Xherdan Shaqiri as options to back-up and rotate Liverpool's established front three. It also helps the flexibility of switching to a 4-2-3-1 formation when desired. Those options available to Klopp, along with the Reds exiting the League Cup against  Aston Villa, means that playing time for Jones is likely to be scarce, at best. 
The point of a young player with huge potential being sent out on loan is to further their development. It's seen as an opportunity to gain experience, acclimatise to the physical demands of first team football and perhaps learn from making mistakes that are inevitable, but in a less pressurised environment.
An ideal destination for Jones could be the German Bundesliga. It is a league with a well earned reputation for nurturing the development of talented young players, particularly attackers. The quick, open attacking nature of the game in Germany's top division is not that far removed from what the Premier League is seen as at its best. The Bundesliga may not have the same level of physicality as its counterpart, but it is no less intense or physically demanding in terms of distance covered. 
There are a number of clubs within the Bundesliga that would be good fits for Jones, but one in particular seem ideally suited. FC Schalke 04, currently enjoying a season of rejuvenation under the guidance of David Wagner, could tick all the boxes. 
Their improvement under Wagner has come primarily from hard work, intensity, organisation and togetherness. Those traits are reminiscent of Liverpool under Klopp, something that shouldn't be too surprising as Wagner worked under him at Borussia Dortmund. 
However, for all their improvements, they are lacking in terms of a goal threat. Their average xG is bettered by over half the teams in the league and their leading goal scorers Amine Harit and Suat Serdar have just six each to their name. 
Wagner is an important factor to consider. Not only has he had a positive influence on Schalke, their results and the atmosphere in their stadium, but he has also helped in the development of Rabbi Matondo. The Liverpool-born Welsh winger was signed from Manchester City a year ago and is beginning to settle into life in Germany. Matondo and Wagner, with his fluent English, would doubtless help Jones hit the ground running. 
Wagner's close relationship with Klopp could also be a factor in constructing and maintaining a deal that suits and benefits all parties. The similarities in their approach and philosophies should point to a smoother transition for Jones, whilst any subtle differences are all part of his footballing education. 
As well as the case of Matondo, there's the positive impact Reiss Nelson had during his loan spell at Hoffenheim last season, plus the incredible development Jadon Sancho has enjoyed at Dortmund that point to the Bundesliga being a good destination for young British talents. Add in the opportunity for Jones to gain experience on the pitch for a team challenging for a Champions League place in front of 60,000 fans and the potential upsides get all the more attractive.
For anyone worried that it might be too much of a pressurised baptism for an 18 year old, consider the words of Klopp. Speaking after that League Cup game against Arsenal, the Reds boss said "Curtis has no issue with self-confidence. He absolutely doesn't struggle in that department." His steely determination and growing maturity also shone through in an interview with the Independent newspaper; this is a lad who knows he is talented, but is also aware of the need to learn and improve. He's a tough kid that wouldn't be fazed by the challenge of playing in front of so many people for such a big club in a foreign league.
If this loan deal could be done, it would give Schalke a much needed short-term boost to their attacking options in their quest for securing a European football spot. More importantly, from a Liverpool perspective, it's a chance for a promising young player to step in his development and hopefully become a more viable squad option next year. Factor in this all being under the guidance of someone Klopp trusts and a loan spell at Schalke for Curtis Jones could be the ideal option for all concerned.