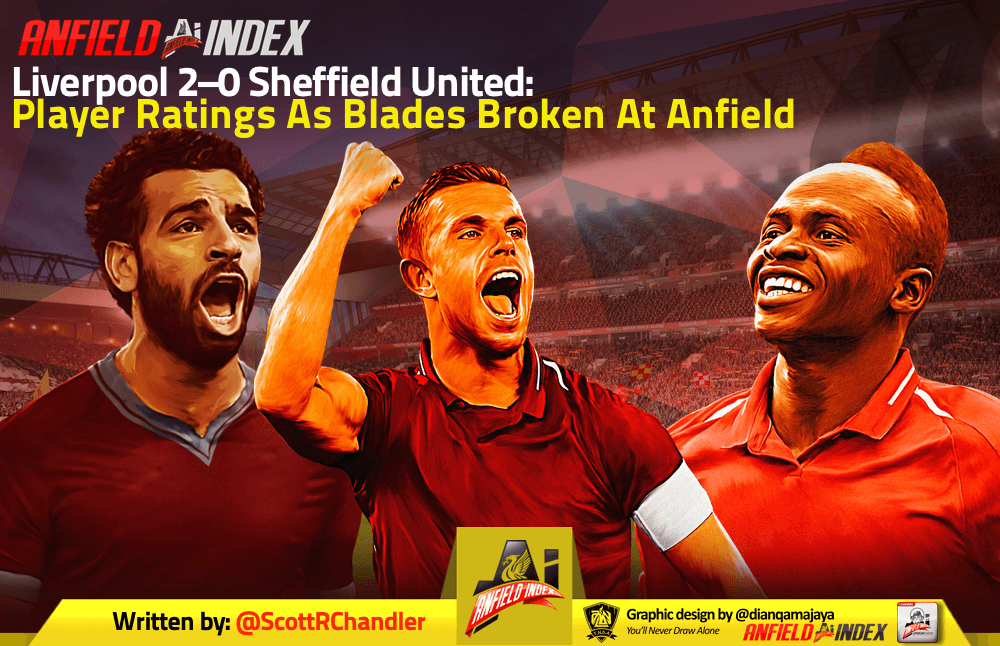 Liverpool 2–0 Sheffield United: Player Ratings As Blades Broken At Anfield

Liverpool started 2020 in fine form with yet another win being in total control. The Blades have fared well this season, but rarely threatened and never looked like taking any spoils from Anfield. Liverpool's stars showed their quality by asserting themselves at will at both ends of the pitch. Jurgen Klopp will surely be pleased as his men end the Christmas period with a perfect record.
Alisson – 8
Liverpool's Brazilian at the back hasn't had a lot to do lately aside from watching his teammates win game after game, but he had a nice save after Liverpool's opener to keep the Blades at bay. Stopped a very late
Robbo – 8
Opened up another strong performance with an assist to Mo after his run sent Baldock slipping to the ground. Was a vital part of the gameplan for Liverpool by getting forward constantly to add numbers in attack.
Van Dijk – 9
Another classic VVD display. His long ball up to Robertson helped set up Liverpool's first goal, and his vital intervention at the end of the first half kept Sheffield from having a big chance to get the leveller. He could have had a goal to start the 2nd half but had his shirt pulled back. Just a completely dominating outing from start to finish.
Jomez – 8
Continued his fine run of form with some composed defending complementing Virgil. Had some nice moments in the air to win the ball and keep Sheffield at bay.
TAA – 7
Served up some probing passes, especially cross-field balls to Robbo and Bobby. Put it on a tee for Firmino late in the 2nd half and should have had an assist if Bobby had brought his shooting boots. Focus dwindled later in the match with some wayward touches, but still a quality outing for him.
Gini – 6
Helped retain the ball on several occasions, but he killed several Liverpool chances in the final third with the ball getting stuck under his feet. Had a nice chance in the first half to score from the top of the box and put it into the stands. He's played a lot lately, so fatigue seemed a factor.
Henderson – 8
Another captain's performance from Hendo. Had a trademark pass over the top that could have set up a Mo goal but for a terrific save by Sheffield's own Henderson. Since Fabinho went down injured, Jordan has admirably stepped up in the Number 6 role and has been a big part of Liverpool's clean sheet run.
Milly – 6
Called into an emergency start after Naby Keita injured his groin during warm-ups and put in a typical James Milner shift. He tracked back nicely to give TAA license to get forward and get on the ball. He didn't do anything flashy, but he added some steel and composure to the side as Liverpool sought to protect their lead and bag the 3 points.
Mane – 8
On another day, could have had a 10/10 but some iffy decision-making and passes plagued him a bit. But he grew into the game linking well with Gini and Mo, which later led to Liverpool's 2nd goal after the Egyptian King put Sadio in on goal. Did well to follow his own shot and bury Sheffield for the night. Even when he's not at his absolute best, he still makes an impact.
Bobby – 7
Firmino's scoreless run at Anfield continued this season, but he still contributed in the ways that Jurgen Klopp values most. He couldn't hit the target, but he dropped deep often to get play going and could have had an assist or two if his passes found the mark. His most typical Bobby play happened in the 2nd half where he pressed Sheffield hard to force a throw-in that got the German gaffer pretty fired up.
Salah – 9
In a bit of a scoring drought since his red-hot form to start off December, Mo was due to get back on the score sheet after performing well lately aside from his finishing. He reacted well in the 4th minute to flick in Robbo's ball in, and he nearly had a spectacular goal off a classic Hendo ball over the top of the defense. Almost got a lovely assist in the 2nd half by setting up Mane, who eventually scored off his own rebound.
Subs:
Origi (On 78) – 6
Didn't get involved much in this one but tracked back well to do some defending near the end of the match.
Lallana (On 88) – N/A
Came on too late to have really any impact, but his legs will be saved for pressing Everton this Sunday.
Harvey Elliott (On 90+2) – N/A
Brought in at the very end to avoid injuries and give Salah a nice send off, but the youngster will enjoy getting to run onto the pitch for a victory.