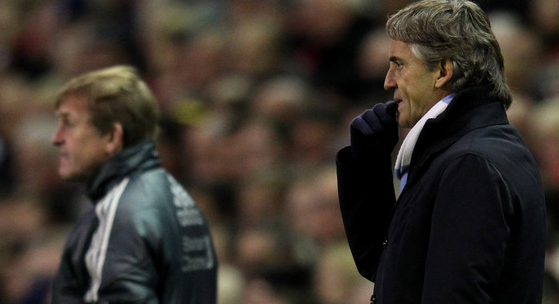 Liverpool Vs City | The Story via Player Influence Pitch Maps
Another draw at Anfield, this time against a side Liverpool weren't the favourites to beat. Premier League leaders Manchester City visited Anfield confident of taking away all three points after demolishing teams like Spurs and, arch rivals, United in their own grounds 1-5 & 1-6 respectively. Liverpool though had other ideas and will feel the more disappointed of the sides with the draw whilst Manchester City would leave Anfield claiming a point well earned.
Let's have a look at the story of the game via FourFourTwo's iPhone app StatsZone which is available to buy on the Appstore.
All of the stats displayed in this app are already available to us via the EPLIndex.com Stats Centre however there is one excellent feature called Player Influence that we like to spend some time on and analyse because it tells the story of the match pretty efficiently.

Let's start with a comparison of the first 31 minutes of the game: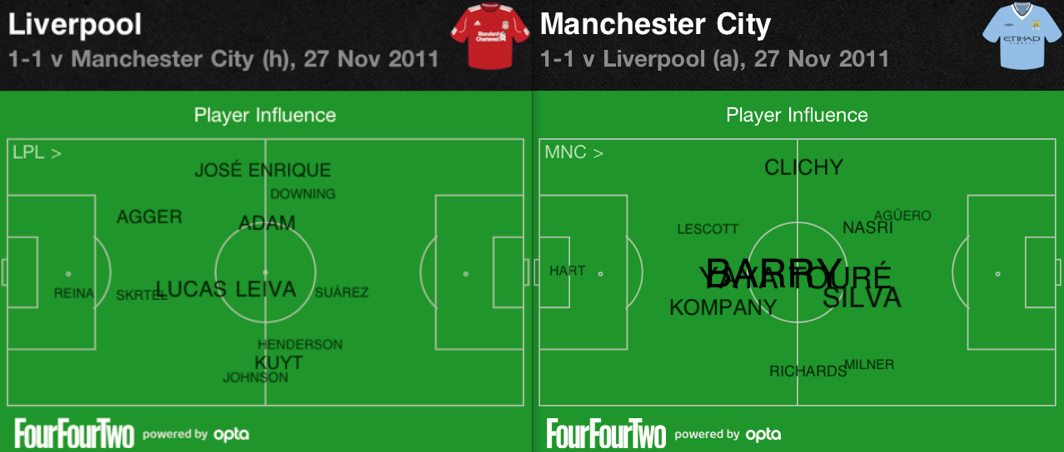 Clearly the Liverpool players didn't have much influence in the first half an hour of this game. Five City players were really dominating and they were Gareth Barry, Yaya Toure, David Silva, Gael Clichy and Vincent Kompany. This is the period where City kept the ball and had also scored their first goal. Barry and Toure combined had made double the passes of most Liverpool players at this point totally controlling the center.
So Manchester City's goal came at 31 mins. Let's have a look at the Player Influence maps for the rest of the first half.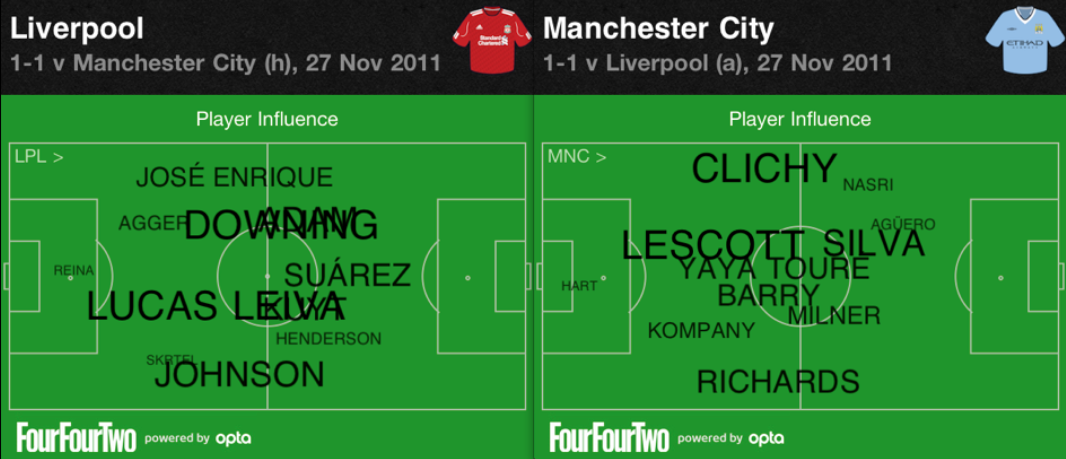 Looking at the Player Influence pitch map above and it's like the game came alive after 31 minutes. Players on both sides coming into the game. However their influences were for the opposite reasons. You can see Lescott is very influential because of his own goal, Richards and Clichy were involved in defending as Enrique and Johnson grew into the game. Lucas, Adam, Kuyt, Downing, Suarez and Johnson all were pushing the game towards Manchester City however you can see that the average positions are all around the midfield area. None of the players are close to the opposing box. Also Reina and Hart were not involved much at this point. It was clear that Jordan Henderson was pretty absent in the first half and it's proved by all of the maps shown above. Jordan Henderson's name hasn't changed size at all.
Apart from Silva most if not all of Manchester City's defensive players became more influential as the half went on and whilst watching the game you could see that Liverpool were coming into the game much more. This trend should continue towards the end of the second half as City did create a few chances after the break in which Reina was forced off of his line to defend situations, firstly tackling Aguero on the wing after chasing him there and then coming out to stop Silva which resulted in Silva's tame shot cleared off of the line. Let's take a look. The next image is of the time frame between 46-62 minutes: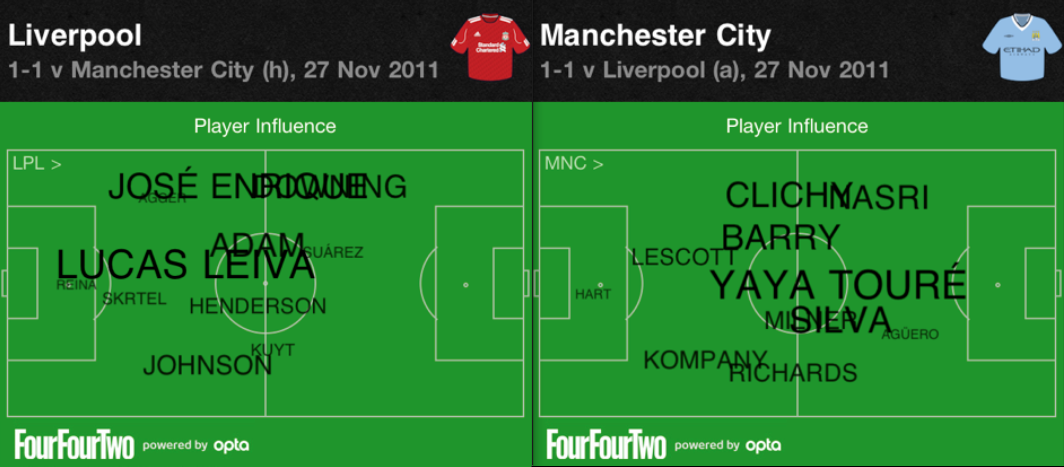 It was a tighter start to the half for Liverpool with City pushing much more forward than the home side in the first 15 minutes of the second half. Lucas, Adam, Enrique and Johnson all playing a part whilst Clichy, Silva, Nasri & Yaya were all also heavily involved at this point. Micah Richards was pushing forward a lot more which pushed back Kuyt, Henderson and Johnson as shown in the image above.
You can see Agger's average position above is almost at as a left back as they were constantly fending off danger down our left but we also found the most joy down that flank in comparison to the right hand. With Suarez coming short for the ball in the left channel you can see Kompany is also positioned very close to his right back.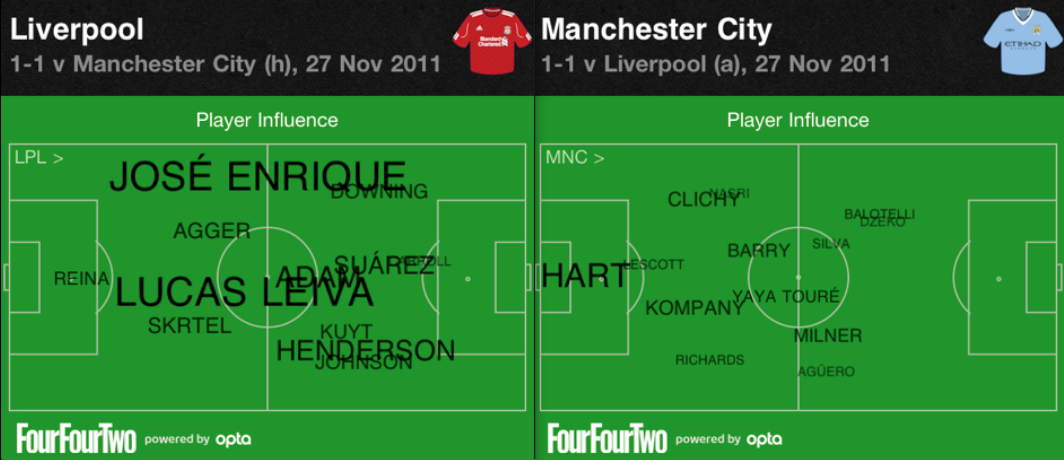 City though seemed to run out of steam and the last thirty minutes of the half (63-93 minutes image above). The influence map clearly shows exactly which players were prominent in the game. The fact that none of the the players apart from Hart seemed to have any influence tells you the full story here. Liverpool were on the ascendency and they spurned a few chances in the last thirty minutes. Lucas Leiva really standing strong amongst all players here as he shut down any Manchester City breaks or attacks. He was a colossus as shown in all of the maps above, he is the one player for Liverpool that is constantly influencing the game.
Liverpool's plan was obvious. Shut down Silva and Toure and you have City where you want them. Lucas allowed them to do this. Although Jose Enrique's passing was sloppy he was very busy on the left. Both Jose and Stewart Downing constantly attacked City down the left flank and Downing put in a few telling crosses.
You can also see that Glen Johnson is almost playing in a right wing position from the map above and all of City's defenders were having little or no influence.
The final Influence map that I'm going to share with you is one that shows the last seven minutes of the game (86-93 mins):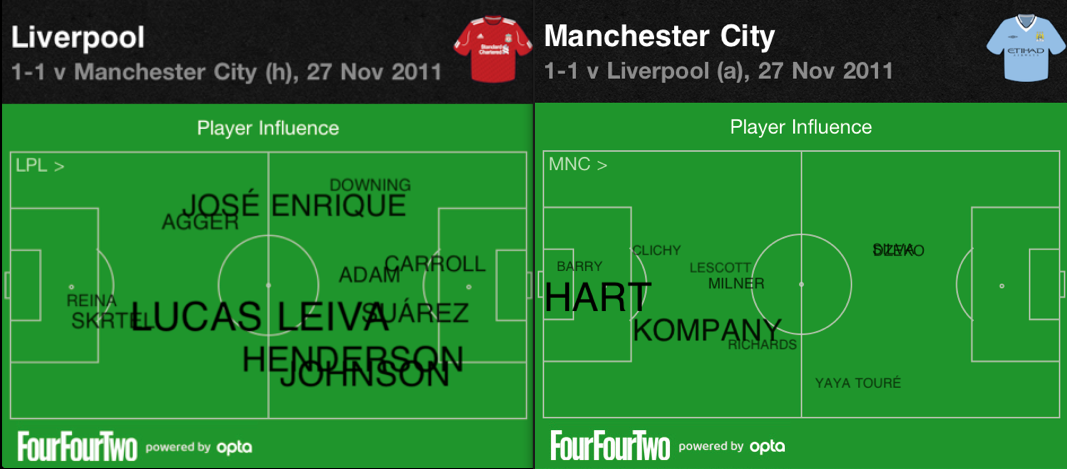 This is a great image for Liverpool fans. Even though Liverpool didn't go onto win this game you can see that they totally dominated here, thanks to Mario Balotelli's sending off in the 77th minute. As shown in the influence map above Joe Hart and Vincent Kompany were defending for their lives whilst Yaya Toure out on the left on his own and all other city players ineffective.
However look at Liverpool's influence map. Jose Enrique, Lucas, Jordan Henderson, Glen Johnson, Luis Suarez & Andy Carroll all influential and the dominance is telling by how far forward all Liverpool players are on this map and how defensive the City players were, which is bound to happen when you're down to ten men. However to Liverpool's credit they were on top for the latter part of the second half anyway as shown in the 63-93 minutes map.
It was Henderson that made his most telling contribution in the final minutes with an excellent cross for Carroll only for Hart to pull off a world class save not once, but twice as he also blocked Luis Suarez's attempt.
It was a dominating end to the game from Liverpool and if only Hart had stood still whilst Carroll's header flew in. Manchester City arrived confident of taking away three points however they ended up hanging on for a point and as the final whistle blew you could see the relief on Manchester City faces as Joe Hart had salvaged a very hard earned point. Liverpool could take away that they more than matched the league leaders over the 90 minutes without Steven Gerrard, Jamie Carraghar and Craig Bellamy and this should improve the confidence further after an away win to Chelsea.