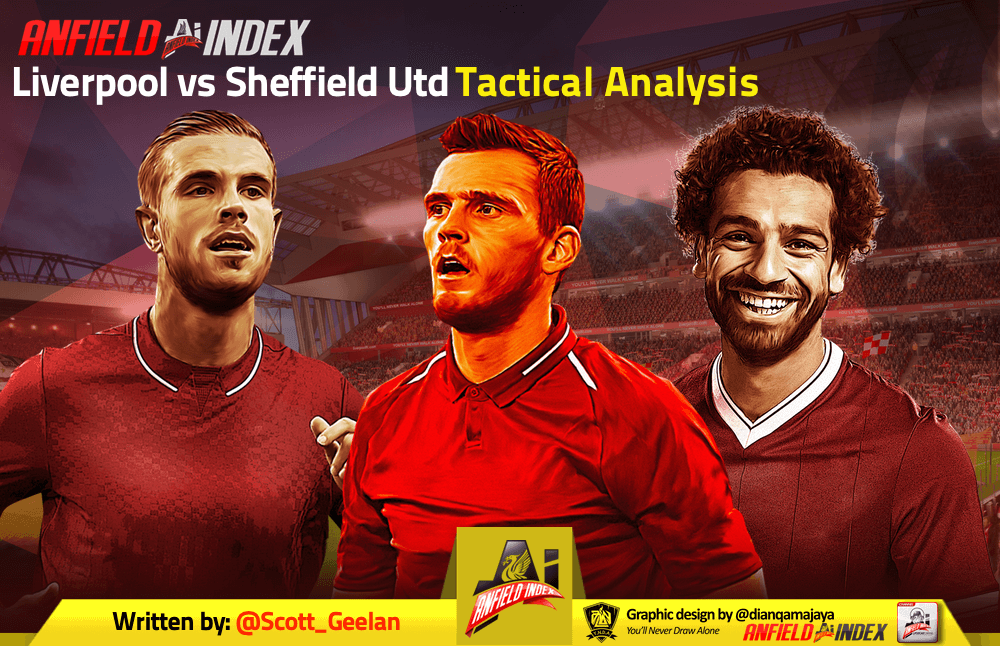 Liverpool vs Sheffield Utd - Tactical Analysis
Liverpool met Sheffield Utd at Anfield for their first game of 2020, hoping to pick up where they left off in 2019. In securing a comfortable 2-0 victory, they did just that. Liverpool's tactical approach was an intelligent one given the challenges presented by their opponent's system & Christmas scheduling.
They were able to simultaneously control possession of the ball whilst seeking to exploit their opponents' pressing system. Klopp's tactics contributed to the team breaking the club record for passes in a Premier League contest, sustaining 74.8% possession and limiting Sheffield Utd to just 0.62xG (less than 0.1xG until a glorious 86th minute chance) en route to a comfortable 2-0 victory.
Lineups
Liverpool played Klopp's preferred 4-3-3 formation. With Naby Keita suffering an injury in the warm-up, James Milner joined Jordan Henderson and Gini Wijnaldum in midfield. Behind them, Klopp fielded what must surely be his first choice back line of Trent Alexander-Arnold, Joe Gomez, Virgil Van Dijk and Andrew Robertson. His favoured attacking triumvirate were also available.
Chris Wilder meanwhile, sent his side out in his preferred 5-3-2 formation. This shape has often proved risky against Liverpool, and Klopp's side were able to overcome it once again.
Control the game
The primary focus for Liverpool was clearly to control the game, especially once they took the early lead. Their tactics to control the game also furthered their attempts to create and attack space behind Sheffield Utd's wing-backs, which will be discussed later.
One of the central midfielders, normally Henderson, dropped into the back line to form a back three. This gave numerical superiority against Sheffield Utd's two man strike force. The full-backs normally stayed a little deeper than normal and hugged the touchline. They offered an easy outlet ball where they could receive a comfortable distance away from Sheffield Utd's wing-backs whilst the pitch was stretched far too wide for the midfield to shift across and provide pressure. Liverpool therefore essentially created a 5 v 2 numerical superiority in deep areas, where they controlled the ball. The below heat map clearly demonstrates that Liverpool primarily possessed the ball with their centre-backs & full-backs.
Ahead of them, Liverpool showed some variety positionally. Often, Firmino dropped into midfield to even up the numbers in midfield (Liverpool having lost a midfielder when Henderson dropped into the backline). This created a 3-5-2 formation. On other occasions, Milner or Wijnaldum pushed high, creating a 3-3-4 formation, favouring Liverpool's direct attacking approach which will be expanded upon below. The average positions below demonstrates Firmino's false nine role.
Liverpool's more advanced midfielders and their wingers would often position themselves in wide areas. The intent was to stretch Sheffield Utd horizontally across the field, and exploit their defensive block as it tired. Until an opportunity to play vertically arose, Liverpool were content to keep possession. The wide positioning of Liverpool's more advanced players also created overloads which Liverpool sought to exploit as well.
Attacking the space behind the wing-backs
The most vulnerable area in the 5-3-2 is behind the wing-backs. The reason for this is two-fold. Firstly their attacking responsibilities require them to offer width in the final third, meaning they often leave large areas to exploit in transition. Secondly, and arguably more pertinently against Liverpool, is their isolation defensively in wide areas. Against a team like Liverpool, who attack through their full-backs, possess dangerous wingers, elite long passers from deep areas and midfielders comfortable in wide areas, this can be a real problem.
Throughout the 90 minutes, Liverpool sought to exploit this area. Through controlling the ball at the back, they probed the Blades' defensive structures, moving them across the width of the pitch repeatedly to tire them out and inviting them upfield. Liverpool's early goal came from such a possession.
As the ball was played across from right to left, Van Dijk noticed that Robertson & Mane were isolated against Baldock & Basham, who were relatively high. Though not possessing numerical superiority, Liverpool possessed both qualitative and athletic superiority in that action. Mane & Robertson are better players than their opponents and were orientated and already moving in a manner where they were better placed to respond to the vertical pass. Baldock fell over and Robertson squared to Salah who scored.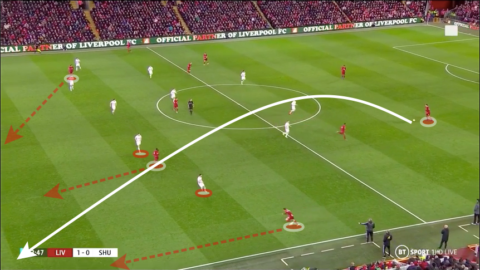 In addition to attacking their opponents' relatively high line, Liverpool had also clearly identified that their opponents' wing-backs would advance and press players receiving the ball in wide areas to help their midfield. Liverpool sought to exploit this. When the wing-back advanced, other players would make a run behind into the vacated channel. At times, ball-near winger would also retreat towards the ball carrier, drawing the ball-near centre-back upfield and creating an even larger space.
Furthermore, by orientating themselves in wide areas, Liverpool could not only create overloads on the far side of the pitch, but also in the centre of the field. Milner was the deep runner who sought to exploit those spaces most frequently.
Liverpool's second goal came from exploiting the wing-backs in transition. After turning the ball over, Robertson found Mane running down the left wing in behind Baldock. He would find Salah who brilliantly returned the ball to Mane, leading to Mane's goal.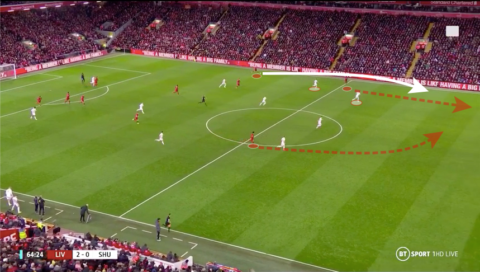 Defensive solidity
Meanwhile, in defence, Liverpool continued to look thoroughly dominant. Their front three worked hard to cut off passing lanes into the Blades' midfielders & their wing-backs, whilst the midfielders squeezed up behind Sheffield Utd's number eights. The effect was to force the Blades into wide areas and into long balls. At times, they entirely vacated the middle of the field, which surely contributed to their "failing to land a punch" on Liverpool.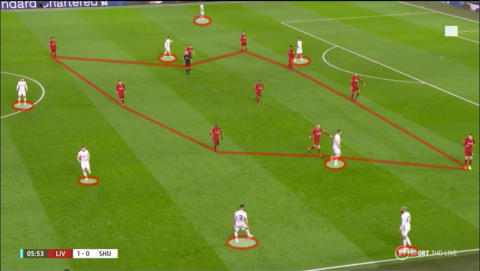 Furthermore, Liverpool's counter-pressing effectiveness entirely limited the Blades' ability to retain possession after winning it, and certainly contributed to their toothless attacking display.
Conclusion
Overall, it was an incredibly efficient display from Liverpool. They identified a weakness that they could exploit in their opponents' approach, and selected a manner in which to do so that allowed them to control the ball for large chunks of the match & probe for opportunities. This enabled Liverpool to dominate possession and carve out chances with relative ease. Furthermore, in defensive transition and set defence, they completely nullified the Blades' attack.