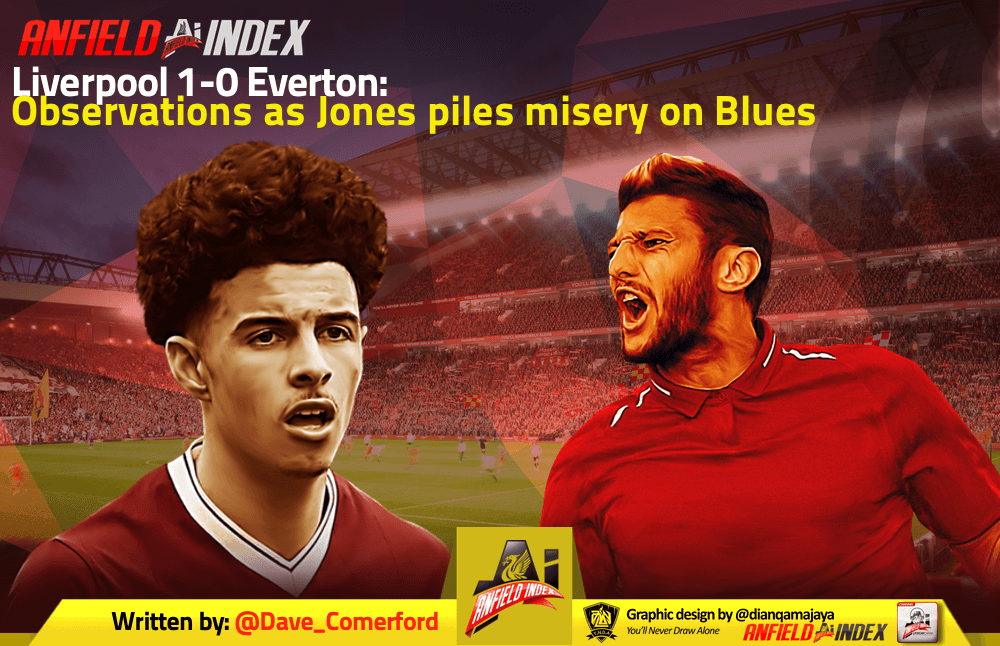 Liverpool 1-0 Everton: Observations as Jones piles misery on Blues
Every victory over Everton is immensely satisfying, but this was particularly memorable. For once, Liverpool were underdogs, but with the burden of pressure instead falling upon Blue shoulders, they buckled, and Curtis Jones made them pay in dazzling style.
Rarely has football seen a hoodoo on the scale of the Toffees at Anfield. More than twenty years have passed since their last victory in enemy territory, and even against a team cheaper than Gylfi Sigurdsson they could not banish their demons. The joyous post-match scenes were sweetened by the knowledge that, to all intents and purposes, Everton's season is over.
Jones writing the first chapter?
Having converted the decisive penalty in an extraordinary Carabao Cup clash with Arsenal earlier in the season, Jones was the hero once again. It was a glorious goal, placed into the far corner with literal perfection as Jordan Pickford hopelessly sprawled. Many have called it the goal of his dreams. But no, it was better than that.

The continually-improving Jones is one of, or arguably the, most exciting youngster yet to break into the Liverpool first-team. It's certainly possible that he goes onto enjoy an immensely successful career at Anfield, and if he does, we'll look back on his two matchwinning moments this season as the beginning of something special.
Elliott's promise patently clear
Another contender for that 'most exciting' tag is 16-year-old Harvey Elliott, who is outrageously good. His highlight reels thus far have had fans purring, and there'll be a handful of additions of another impressive performance.
Lucas Digne, the former Barcelona and PSG left-back, was tormented to the point that he lazily and frustratedly tugged Elliott down, earning himself a yellow card. Defenders are sensing serious danger when he picks up the ball.
And what about the vision he showcased in picking out Origi with that incisive reverse ball? Outstanding.
Gomez leads makeshift defence to clean sheet
Joe Gomez's partnership with Virgil van Dijk has been airtight, but here he was faced with a new challenge. The towering Dutchman up in the stands and James Milner off injured in the early stages, he was left to marshal the defence as the most experienced figure. There were a few ropey moments when Everton should really have scored, but Klopp knew the side he fielded would have to ride its luck at times. What stood out was how the backline grew in stature, restricting the visitors to great effect in the second half. When Gomez is on his game, clean sheets follow.
Credit should go to each component of the defence, though. Adrian stood firm every time he was called into action, Neco Williams showed Trent-esque flashes, the returning Nat Phillips looked like he'd never been away and Yasser Larouci battled enthusiastically throughout after his unexpected introduction.
Lallana plays for the badge
This looks increasingly likely to be Adam Lallana's last season at the club and on recent evidence, he'll receive a warm farewell. A number of injuries in midfield have seen him called upon, and in truth Klopp couldn't have asked for much more.
What he lacks in quality these days, Lallana compensates for in sheer application and desire. Today he looked like man with a total grasp of the significance of this fixture, and there's no doubt he set a suitably aggressive example for his younger team-mates as he flew into challenges. Everton could certainly have done with a few players displaying that level of passion.
First-team's spirit is pervasive
It would be easy to say a single piece of magic settled this cup tie, but that would risk masking the fact that Liverpool simply wanted it more.
A number of Reds would have been preparing themselves pre-match for the possibility of defeat, but the players just didn't countenance that idea. This was Everton's best team against something resembling Liverpool Under-23s, but the victory wasn't a smash-and-grab; it was fully deserved over the course of the 90 minutes. They believed they could match them, and in the event they excelled.
All of this provides further evidence that Klopp has cultivated an atmosphere of unwavering confidence not just among his stars, but at all levels. He was immensely proud of what he witnessed on Sunday afternoon, and rightly so.
Merseyside will be staying red.