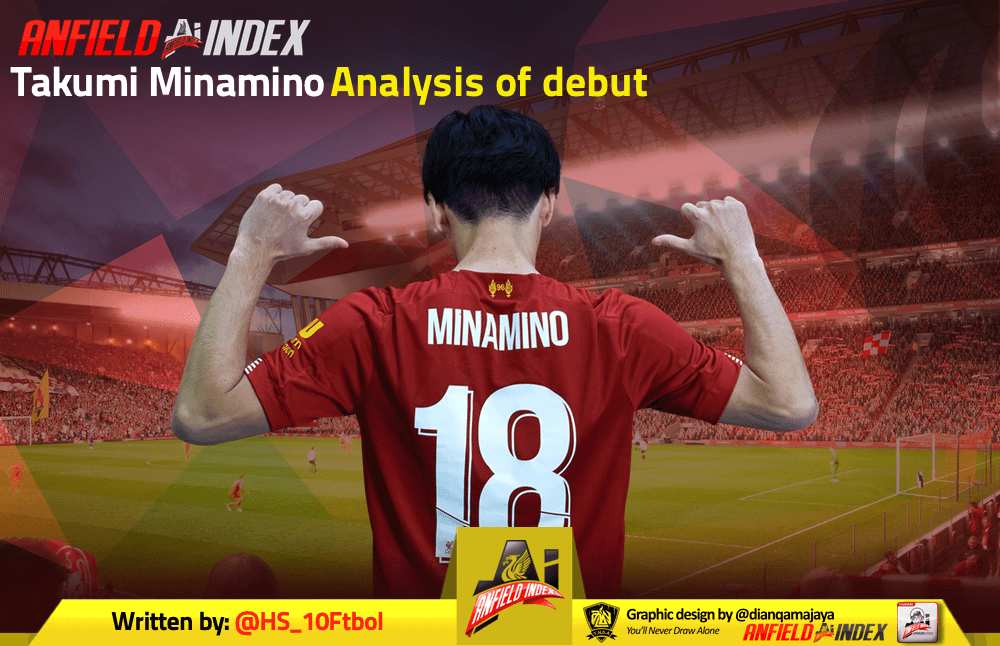 Takumi Minamino - Analysis of Debut
When Liverpool announced the signing of Takumi Minamino from RB Salzburg many fans were wondering what position he would play. Is he a centre midfielder? A number 10? A versatile attacker? Yesterday's game should put some of those questions to rest as Klopp deployed Minamino as the false nine, the Roberto Firmino role.
Despite his debut being with an abundance of youngsters and fringe players where rustiness was expected, Minamino's first performance not only showed technical ability and skill but it highlighted the intelligence of the Japanese international. For the 69 minutes he was on the pitch, he didn't look out of place, rather a player who looks ready made to be a Klopp player, and here's why.
Smart Pressing: 
With Minamino positioned in the Firmino role, as the false nine, it was clear to see that his pressing and intensity won't be a problem. It was surprising to see how similar Minamino's and Firmino's pressing as the false nine was from only 69 minutes of evidence, as the Japanese looked experienced in what he had to do and how he had to do it.

As part of the front three for Liverpool, it is very important that all three focus on blocking passing options in central areas of the pitch to prevent the opponents attackers getting on the ball as often, as well as keeping them in their own half forcing them into a mistake to be made. Minamino definitely understood this as his pressing of Everton's centre backs demonstrates.
As seen in the video below, Minamino is very smart and calculated in how he presses Holgate here. As he approaches Holgate, Minamino changes his body position to be side on in front of the defender, so he cuts off the central passing lane to one of Everton's midfielders, which in turn leads Holgate in no mans land as he loses the ball.
— vids (@c0mpilations) January 5, 2020
This is just one example of Minamino cutting off passing options in central areas with his smart body movements but having a player who can press in a similar vain to Firmino will be valuable not just now, but in seasons to come.
Furthermore, the ex Salzburg man showed another resemblance to Firmino with his "backwards pressing", a phrase used to describe pressing an opposition midfielder from behind in his blind spot, to start a counterattack as seen below:
— vids (@c0mpilations) January 5, 2020
Ability to recieve in tight spaces and in between the lines:
This, however is where Minamino really shines. Just from the Everton game alone it's evident to see how natural and ingrained it is of him to not only constantly ask for the ball in tight spaces and behind opposition lines, but to also find space and fill them – a space invader.
The two clips and picture below are great examples as to how easy it is for Minamino to find space either side or behind midfield lines to then combine with a teammate or drive to goal.
— vids (@c0mpilations) January 5, 2020
— vids (@c0mpilations) January 5, 2020
For a new player coming into a team like Liverpool and to show that bravery and willingness to repeatedly ask for the ball in difficult situations and positions, speaks highly to the kind of player he is and the character he possesses.
It's also interesting to note that when he receives the ball in between the lines he's always doing two things: checking his shoulder constantly before getting the ball, and adapting his body position so he can receive on the half turn.
Having a clear image of what's behind you before getting the ball is one of the most underrated trait any player can have as turning blind can cost you dearly, but fortunately for Liverpool Minamino seems a natural in that aspect.
As well as being gifted in tight spaces, the 24 year old showed yesterday that as a false nine he is willing to make runs in behind to stretch defences and sacrifice himself for the team. Even if the majority of those runs weren't found with passes, it goes to show that Minamino is comfortable with occupying opposition centre backs with his movement or drop deeper when it's needed.
Overall, whilst his performance may not be memorable because of his on the ball actions, there was plenty that he did off the ball which caught my eye to suggest he is ready to make an immediate impact on this Liverpool side. The Japanese international gives Klopp the option of using the 4-2-3-1 more often with him in the attacking rotation across the front line, or he can be used as a reliable option as the false nine.
One thing is for sure though. Liverpool have got the bargain of the season with Takumi Minamino.