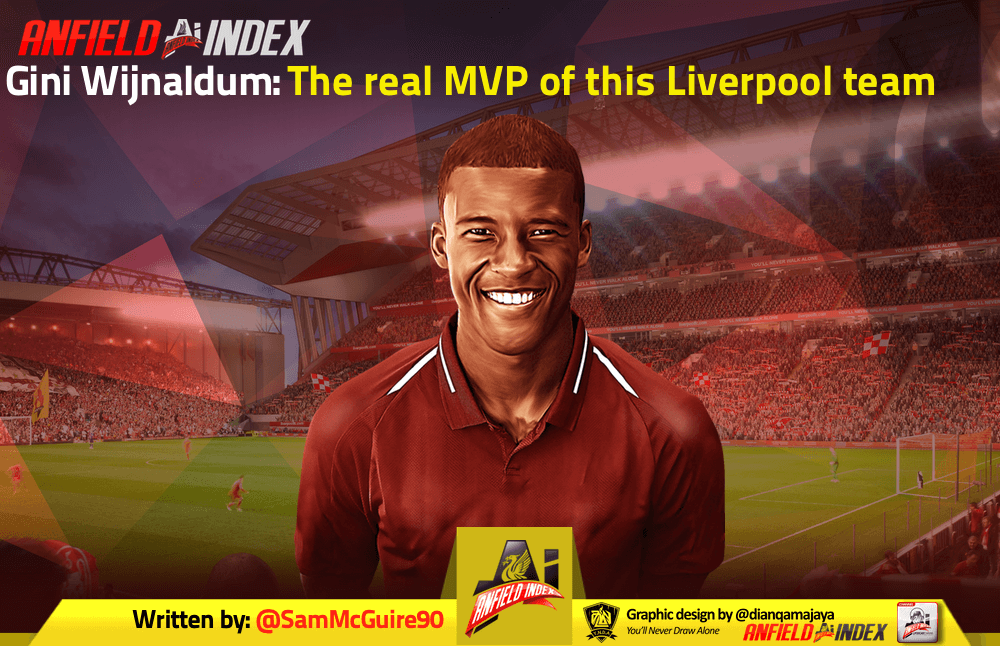 Gini Wijnaldum: The real MVP of this Liverpool team
If pressed to name Liverpool's most important player, a case could be made for a number of the team. Virgil van Dijk and Alisson are often at the top of the pile, Fabinho entered the conversation after his dominant performances earlier on in the campaign while Roberto Firmino, Mohamed Salah and Sadio Mane can all make a claim to be Jurgen Klopp's MVP. The latest name on that evergrowing list is Trent Alexander-Arnold. The young right-back is the creator-in-chief for the table toppers and without him, the team just doesn't look the same. 
But one player who is often overlooked is Gini Wijnaldum. 
Perhaps football's greatest enigma, the Dutchman is a chameleon. For Liverpool, he's a facilitator. For the Netherlands, he's a goal threat. He's arguably the best plugin and play individual in the world. And yet he's taken for granted by the masses. What he does can't always be quantified and because of this, it can be difficult to prove why he is so important to Klopp's squad. 
For a bit more context, Wijnaldum's haul of 12 Premier League goals across three and a half seasons at Anfield is just one better than what he managed during his one campaign with Newcastle United. His last league assist for the Reds arrived in the 2-2 draw back in April 2018. His output, at least in terms of being a goal threat, is, at times, non-existent. 
On the ball, the stats can be just as harsh. On occasion, there have been halves of football which has seen both goalkeepers from either team touch the ball more times than Wijnaldum. On paper, it doesn't sound great, does it? A midfielder playing for one of the most dominant teams in Europe averaging the fewest number of touches and racking up an expected goals per 90 average of 0.07. 
Despite this, though, the Reds are better when Wijnaldum plays and that can't be a coincidence. And what makes this even more impressive is the fact he's so influential even when playing a variety if positions. Since the move to Merseyside he's played as a centre-back, as an eight and as a six, he's been deployed in wide areas and he also played as a false-nine in a Champions League semi-final. 
James Milner and Jordan Henderson are regularly praised for their versatility. The same goes for Firmino, too. But Wijnaldum's sacrifice often seems to be missed. He's accused of going missing when in reality he's carrying out Klopp's instructions. That is quite clearly the case because when he's told to run a game, he does just that. 
Like with most things Wijnaldum related, him being a Liverpool player was kind of taken for granted. It wasn't until David Ornstein's claims the former PSV man might leave that fans started to entertain the idea of a Reds team without their No.5. Now, it has to be said that Ornstein's report was about as non-committal as my wife when I ask her what she wants for her dinner but with the midfielder having just 18 months left on his current deal, the threat of him departing is a genuine one. 
The fear usually is losing one of the star names. Fans don't want Salah, Mane or Firmino to depart but, in truth, the Reds could find replacements for them. It may seem impossible but pre-Liverpool, few would've ever claimed the former two would be Golden Boot winners. Michael Edwards and friends have ways to identify attackers who fit the system. 
Attackers who when utilised by Klopp would score more goals than anyone could've imagined. But finding a Wijnaldum replacement is much more difficult. Very few in the world have a playing profile to match the Dutch maestro. Even fewer have his temperament or match intelligence. Losing him would leave a void in the squad that may take some time to fill. Getting the 29-year-old tied down to a long-term deal could be the most important piece of business done by the club this summer.