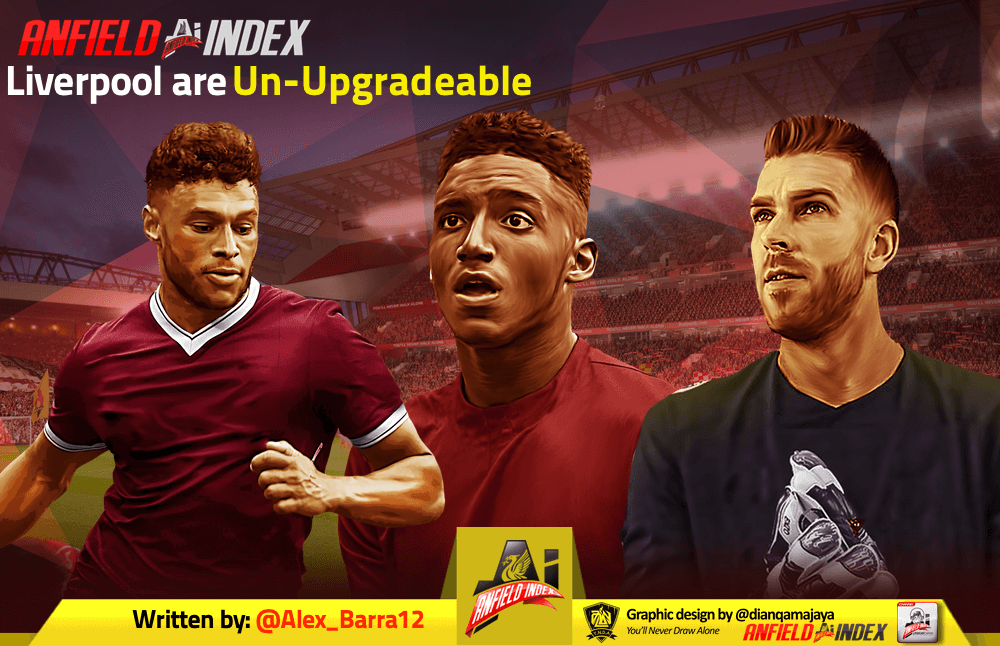 Liverpool are Un-Upgradeable

Do Liverpool have a single area of their team that requires an upgrade?
No.
Well, that's that then.
However, just imagine thinking that at the beginning of the previous decade. Liverpool go into 2020 as not only the best team in England, but the most feared side in world football.
Many discussions have been had as to how that exactly has come about: spending money in certain problem areas and then building around that core, innovating the fullback position so that two of the world's most creative players cost a combined £8 million, and forging a front three capable of each firing at any given point in time are all contributing factors to this elite Liverpool side.
The biggest, though, has been the system. Jürgen Klopp has built a structure, not simply a team. Each player is a foundational pillar, not just in the starting eleven but in the entire squad.
The proof is in the players who've been able to come in and make an instant impact: Naby Keita returned from injury and excelled as the most dynamic of Liverpool's midfielders, Alex Oxlade-Chamberlain did similar and provided a directness and goalscoring threat, Joe Gomez was able to showcase his prodigious talent when Joel Matip went down, even Adrian – the backup keeper who cost nothing – oversaw an almost perfect run of results when Alisson sustained an injury.
None of this is new, every Liverpool fan has been revelling in it all season. What is new; unchartered territory for Liverpool in the modern era, is that they've come out of a summer without making a single signing, and it's difficult to see what they might need to do in the next one.
Where can Liverpool actually upgrade? Perhaps in depth at fullback and up front, but certainly nowhere in the first team; the midfield requires a level of tactical understanding and willingness to press that excludes most, the front line is so in sync that altering it could do more bad than good, and the defence is imperious as ever.
The reason is, of course, the system.
If Mo Salah was plucked out of Liverpool and placed in Real Madrid's first XI, he'd not reach anywhere near the same level. The same can be said of Roberto Firmino, Sadio Mané, Andy Robertson and Trent-Alexander Arnold, whose creative numbers (expected assists, key passes) are closer to the likes of Kevin de Bruyne than his contemporary full backs. The midfield, which was often criticised for being more functional than fanciful, includes unique traits: Jordan Henderson's drive, Fabinho's ability to control space and Gini Wijnaldum's ball retention.
The latter has been the subject of some speculation, with 18 months left on his contract. That article in itself, which suggests that the Dutchman and his club are at something of a contract stalemate, brings out the point of it all: nobody expects this magic to last forever.
When something has to be done, it will be done. There's already been talk of Sancho, of Werner and Ousmane Dembele. But, as of right now, none of those would be a starter, would they? It's the reason Minamino was such a savvy piece of business.
In this case, doing nothing isn't the same as standing still.
The example was of Pochettino's Spurs, where the key problems went far beyond a few signings. Eighteen months of doing nothing in the market meant their group of players grew old together, and no revitalisation meant no impetus to move forward. The summer after they signed nobody, they made it to a Champions League final, but the issues were already there.
For Klopp, there are two key differences: a winning attitude, and adaptability.
There will be a point where Liverpool require a makeover, just as there will undoubtedly be games where Klopp's system is figured out and he's forced into adapting. So far, his side has fought through every time.
It happened at Barcelona; Guardiola's footballing revolution ended with much political intrigue, but his side also had a fatal flaw, and eventually it was exploited. The same happened at City. It happened at Klopp's Dortmund too; his last season saw Dortmund in 17th at one point. It happened with Mourinho at Chelsea, twice. It happened at Arsenal under Wenger over a protracted period and it happened at Manchester United multiple times.
With Klopp's contract and extension signed and delivered, the onus will be on him and the club to adapt when necessary, and re-shape the squad when it eventually goes past its peak.
But, as of right now, Liverpool are enjoying their position at the top of the mountain, as Champions of the world, and the envy of all.