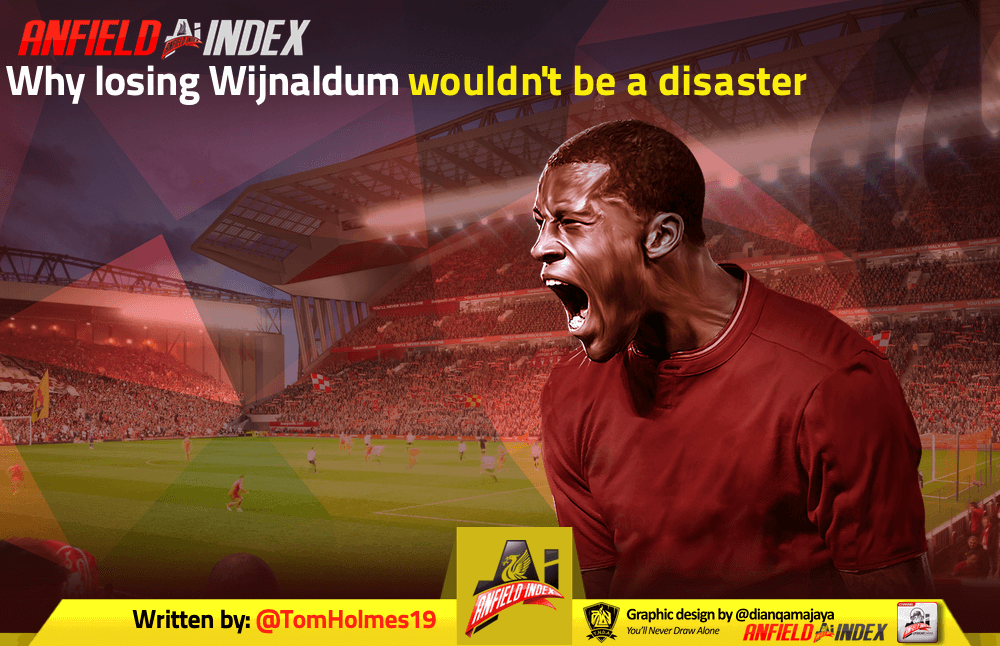 Why Losing Wijnaldum Wouldn't be a Disaster
Georginio Wijnaldum is an incredibly versatile, incredibly intelligent, and above all else incredibly important midfielder in this Liverpool team. He never gets injured, he never puts in less than a 6/10, he does the job that Klopp asks him to do week in, week out and there's a reason that he is almost always on the team sheet when fit.
Wijnaldum has started 19 of Liverpool's 20 league games this season and started 32 last season, on top of 11 Champions League starts in last year's run. He's a dependable and reliable player to have around.
But then you already knew all of that. What's potentially interesting about Wijnaldum is the latest rumblings from David Ornstein about his transfer situation.

I'm not going to delve too deeply into that piece, I don't think anything said in it was particularly ground-breaking nor was it meant to be. Wijnaldum has 18 months left on his contract, we knew that. Liverpool's preference would be for him to sign a new contract. Obviously. If he doesn't sign a new contract, the club would have to let him go on a free. Obviously. And then the interesting bit – if someone made a substantial offer for him this summer Liverpool would let him go.
Again, obviously. Of course Liverpool are happy to sell a 29-year-old with one year left on his contract if they get an offer that's way above his market value. That's just common sense. I love Gini and think he's a terrific player but is one season of him worth not selling for say £50m plus? Of course not.
And then of course the player came out and said he wants to stay because, again, of course he does. He's a regular starter for the best team in Europe, a well-respected member of the dressing room where he's been for a while, is happy and has several Dutch players around him. Why would he want to leave? Wages are obviously going to be a factor when the new contract talk rolls around but is he likely to get paid significantly more if he leaves LFC? Probably not but that remains to seen.
I'm not going to speculate too much on what happens next with Gini, but right now the signs suggest player and club will both be happy to recommit, it's just about the terms. But there are 18 months left on his contract, there's no clear indications a new one has been agreed yet so of course there's going to be speculation. Everyone remembers what happened with Emre Can.
But here's the thing. I remember what happened with Emre Can.
Losing Emre Can sucked. I loved Emre Can, I desperately wanted him to sign a new contract and I was really frustrated when he didn't and I thought it was a mistake to let him walk to Juventus.
And I stand by that, I stand by all of that. Revisionist history does nobody any favours. Emre Can would still be doing an absolutely solid job in our midfield now, and he's comfortably the youngest of the Henderson, Wijnaldum, Milner, Can quartet.
But he left, and that happens and the club responded by moving on, winning the Champions League and now amassing a Premier League title campaign so slick it feels like it was plucked from one of Klopp's dreams.
Can himself of course has quickly fallen out of favour at Juventus and seems to be looking for the escape hatch. I don't buy into the sneering grass is greener response to this and I don't really care either way, but much like Phil Coutinho, there is a sense that players that leave Liverpool end up wishing they didn't.
So back to Gini Wijnaldum, although I'm sure you can see what my point is going to be.
To quote David Ornstein, there are three possibilities. Either Wijnaldum signs a new contract, he leaves on a free in 18 months or Liverpool sell him at some point in-between.
Obviously, like Liverpool, I want him to sign an extension. That's only marginally less of a stupid thing to have to type than when Ornstein says Liverpool want him to sign. Water is wet.
But if we sell him in the summer that will be on our terms, and it will be because we got an offer that we would have to seriously consider.
Losing Wijnaldum would be a blow, albeit an unlikely one this summer. But Liverpool would have a chunk of money, and they would still have a midfield of Fabinho, Henderson, Keita and Oxlade-Chamberlain to build on.
As for summer 2021?
Well football is cyclical. Liverpool will have to buy new players eventually, have to replace the core of this squad that won them trophies eventually. Wijnaldum is at the older end of this squad core, as is Henderson and whilst Fabinho, Keita and Ox are all younger, by summer 2021 the midfield will need a revamp anyway. Lallana and Milner will both probably be on their way out by then. On the other end of the scale, Curtis Jones and Marko Grujic may be stamping their authority on the midfield by then.
Basically my point is, don't worry about Gini Wijnaldum leaving in 2021. It probably won't happen anyway, but even if it does, it will be sad but it won't be a problem. There's a fair rebuttal to this that replacing players like Gini is easier said than done and that's very true, but equally, Klopp and Edwards have already shown that replacing players like Wijnaldum is something they are very, very good at.
Not to put too fine a point on it, but everyone is expendable, except Klopp and Edwards and a few others. I love Gini Wijnaldum, but if he leaves at the end of the season, Liverpool will be able to deal with it. They have done before and they will again.