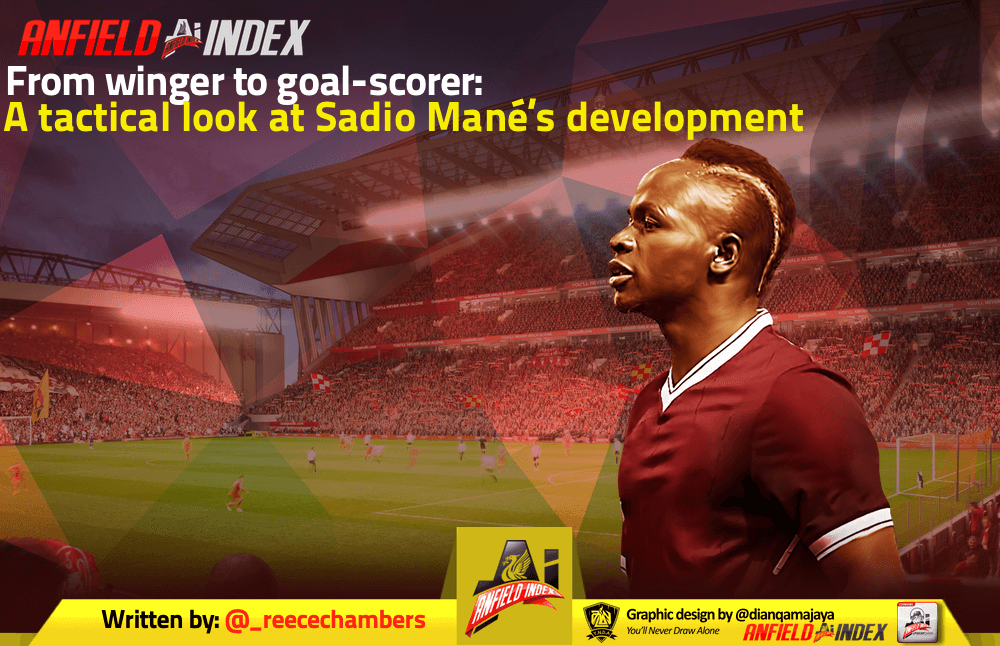 From winger to goal-scorer: A tactical look at Sadio Mané's development
When Liverpool signed Sadio Mané from Southampton in the summer of 2016, many would have been forgiven for thinking that he would be just another Southampton signing on Merseyside.
Around the same time, the Club had signed others from the South coast including Dejan Lovren, Nathaniel Clyne, Adam Lallana and, previously, Rickie Lambert. Some of which failed to live up to their hefty price tags.
However, the development of Sadio Mané over the last three years has turned him into one of Liverpool's most astute signings in modern history. Of course, Virgil van Dijk and Alisson have been vital additions to Klopp's squad in the last two seasons but Mané's development from a Premier League regular to one of the world's best has been mightily impressive.

In his first two seasons in the Premier League for Southampton, he showcased his wonderfully unpredictable attacking flair yet failed to sustain that quality over a prolonged period of time. For example, in the 15/16 season the forward registered 258 dribbles and 61 progressive runs and scored 10 goals. After last season's 181 dribbles and 81 progressive runs, his Golden Boot tally of 22 goals highlights a noticeable shift in the way that he is used in attacking situations.
A key part of this is Mané's evolving awareness of how to get into dangerous attacking positions for goal-scoring opportunities. With considerable wide attacking influence from Trent Alexander-Arnold and Andrew Robertson, Liverpool's wingers have the freedom of finding space further in-field. Mané's attempt to make threatening runs often comes from within the width of the goalposts when teams perform a low block.
As shown above, Mané occupies a position that allows him to slip between Ashley Young and Victor Lindelöf to open the scoring against Manchester United. Such awareness of how to penetrate a predominantly defensive team shows how the Reds have found new ways to adapt their tactics within game.
To a large extent, the development of Mané and Liverpool's overall game is a key indicator of why they have had such success over the last 18 months. Klopp's use of his forwards against defensive opposition has evolved to present defences with numerous threats at any given time.
Most importantly, the foundations of success for any sporting side is being on the same wavelength. This last 18-month period for Klopp and his team has been crucial in building up a level of understanding that exemplifies combinations across the pitch.
Despite much tabloid speculation that suggests unrest, the relationship between Mané and Mohamed Salah is one of the most lethal in world football. Such understanding only comes through consistently playing together and both have been vital parts of this Liverpool team for a prolonged period.
The speed of thought combined with their physical speed makes Mané and Salah a near-unstoppable combination. As shown above, their interplay is decisive in Mané eventually scoring a decisive second goal to wrap up the game against Sheffield United.
What we see now is a more balanced Liverpool team that win matches through control and smart decision making. That's in stark contrast to Klopp's first two seasons on Merseyside, where the Reds would often win 5-4 and 4-3 but then lose by similar high-scoring margins.
Yet their machine-like mentality over the last two season has produced great success and continues to do so. The way in which Liverpool control games is largely down to the likes of van Dijk, Jordan Henderson and Fabinho. Yet the evolving goal-scoring ability of Mané kaes the 27-year-old one of the world's best forwards.
There's overwhelming evidence to say that Mané's development at Anfield mirrors that of Klopp's regime as a whole. From the wonderfully unpredictable to the consistently brilliant, Sadio Mané has become a game-changer for Liverpool and could – whisper it quietly – be a key part of Klopp's Liverpool making history.