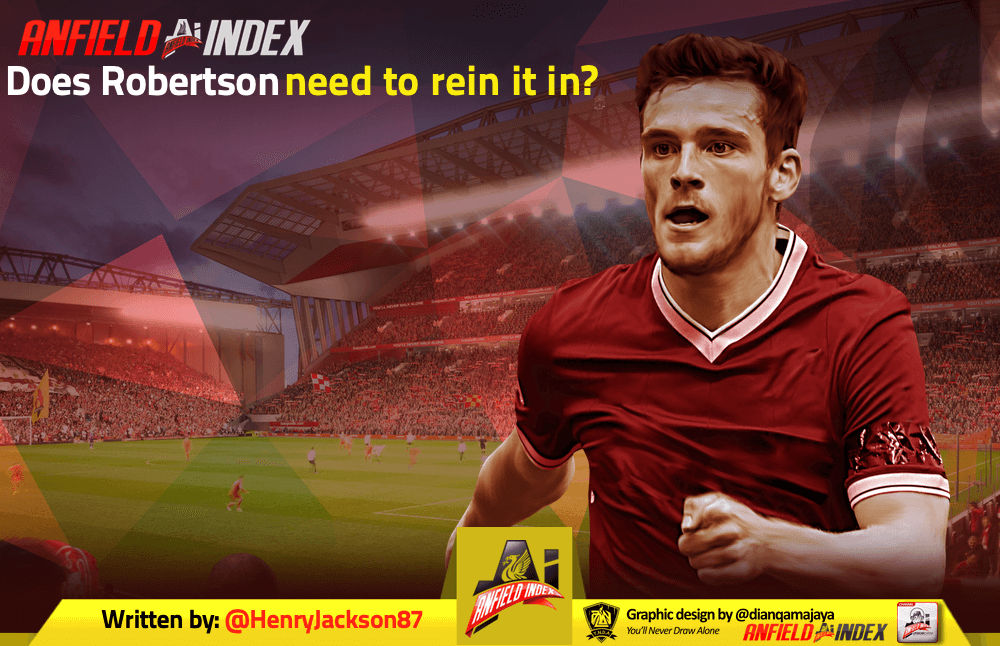 Does Robertson Need To Rein It In?

Something changed the night Liverpool lost to Real Madrid in the 2018 Champions League final.
At that point, the Reds were still seen as plucky underdogs – a team who played fantastic football and were as entertaining as anyone, both for good and bad.
Unless you were a rival supporter, they were easy to like, and it will have been hard not to feel some level of sympathy for them after their nightmare in Kiev.
That defeat hurt and Liverpool have been a different animal ever since.
Having experienced yet more final heartbreak from a personal point of view, Jurgen Klopp ensured he and his team didn't suffer the same fate the following year, getting over the finish line in gritty fashion in the final against Tottenham.
Having become a winning machine in 2018/19, despite somehow missing out on Premier League glory with a club record points haul of 97, they have now gone up a further level.
Liverpool are 14 points clear of Man City with a game in hand, having racked up 61 points from a possible 63 – a tally that no team in the history in Europe's top five leagues has achieved after 21 matches.
Some of the entertainment value has made way for relentless pragmatism, as the Reds threaten to dismantle records left, right and centre.
This is not only an all-time great Liverpool team we are watching, but potentially one of the best in the history of English football. The next four months will determine whether or not that ends up being the case.
In a squad littered with big characters, the player who epitomises the post-Kiev change in approach more than anyone is Andy Robertson.
Back in May 2018, it was hard not to like 'Robbo', who was about to complete a wonderful first season at Liverpool. He was a likeable character whose humility and sportsmanship were admired by the masses, not just those of a Reds persuasion.
Robertson changed as much as anyone that evening in Kiev, however, at least from the outside looking in.
On a night that saw Sergio Ramos master the dark arts and Madrid display their winning mentality, the left-back appeared to take note and add steel to his character.
Twenty months on from that loss and Robertson is surely the most disliked of this current Liverpool crop, away from the red half of Merseyside.
Their seems to be a growing level of loathing by the week, as he showcases his new-found style.
If you Google the word 'snide', Robertson's face should appear.
He has become one of the most fiery characters in the Premier League, showing tenacious character down the left flank and getting into scrapes with opposition players on a regular basis.
In fact, Robertson is gathering quite a collection of players who have every right to dislike him, with Lionel Messi and Luis Suarez the obvious examples, as well as Neymar.
After going head-to-head with former Red Suarez at the Nou Camp, he then delivered a slap to the head of the greatest footballer of all time in the return leg, causing a stir.
Robertson and Bernardo Silva have also enjoyed a couple of duels when Liverpool and City have locked horns, pitting two of the most spirited, must-win-at-all-costs footballers in the country against one another.
There are more examples, though.
Ayoze Perez was driven into a frenzy after the final whistle against Leicester at Anfield, Tom Davies was grinned at by the Scot after he 'left a little bit in on him' and Flamengo defender Rafinha was on the receiving end of his wrath in the Club World Cup final.
This ability to get under opponents' skins is part of what makes us all love Robertson – you'd hate him if he played for City or United, which is a compliment in many ways – but for the first time there is a feeling that he might be taking it a little too far.
On Saturday, he needlessly left a leg dangling on Toby Alderweireld, deliberately catching the Spurs defender late when there was little to gain from it.
On another day, a VAR check could easily have deemed it worthy of a red card, costing Liverpool dearly in their attempts to finally be crowned champions of England.
Robertson is a footballer playing on the edge, and while his performances continue to be influential, it does feel as though he isn't far away from an incident backfiring on him.
Even his tackle on Japhet Tanganga, which although ultimately fair, was bordering on reckless and risked serious injury both to himself and the Spurs debutant.
Whereas Robertson's antics previously went under the radar – something the really snide players are experts at – he is now emerging as a more mainstream wind-up merchant, with referees surely taking note.
This certainly isn't encouraging Liverpool's brilliant left-back to change drastically, considering how important his character is to this team, but just to rein it in.
There is a fine line between producing sneaky fouls and riling opponents and simply going too far – for the first time, Robertson may have crossed into the latter.
It would be a huge shame if we are ruing something avoidable Robertson has done come the end of the season, when he should be celebrating his brilliance instead.
This new side to his game is great, as long as he keeps it in check.