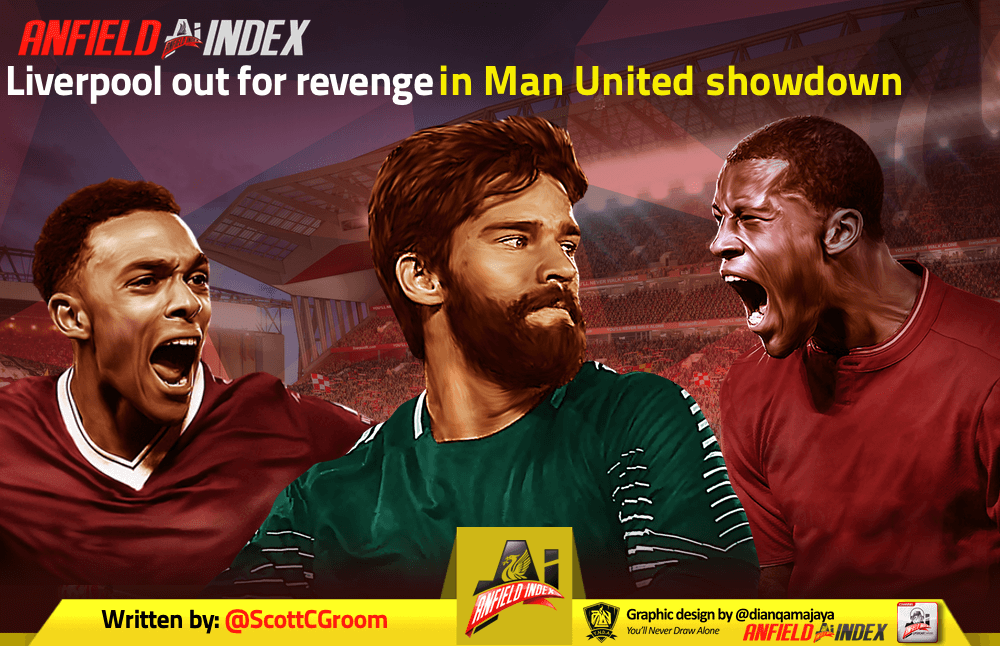 Liverpool out for revenge in Man United showdown
It's the only blip on Liverpool's near perfect league record this season.
A frustrating 1-1 draw at Old Trafford is the only fixture in which Klopp's side have dropped points in the Premier League, and is likely the only thing worth bragging about if you're unfortunate enough to be a Manchester United fan at present.
The game was scrappy for the first 60 minutes, and Liverpool will still be aggrieved that Rashford's opener was allowed to stand after a foul on Origi in the build-up.

However, Liverpool bossed the game and really should have made their superiority count in the final 30 minutes, but Lallana's 85th minute tap-in earned the Reds a point with his only goal of the campaign so far.
Now, with the return fixture at Anfield on the horizon, Liverpool will be baying for blood.
Since their last meeting in October, Liverpool have gone from strength to strength, remaining unbeaten and setting a new European record for the best start to a domestic league season ever.
20 wins from 21 games sees the Reds flying high at the top, while United's struggles continue with their topsy-turvy season under Solskjaer showing no signs of letting up.
This in itself speaks volumes as to just how strongly ingrained in this squad the 'mentality monsters' model truly is.
In years gone by, Liverpool may even have lost that game at Old Trafford and had to traipse back along the M62 with their tails between their legs. Not this squad.
They kept battling until the end, got the least that they deserved and have put it behind them.
Now the chance comes around to rectify that, and you can be sure that – even if Klopp says it's not even crossed their minds – that at least on a personal level, those players will want to set the record straight.
It's a derby match, so anything could happen, but you can be sure Liverpool will arguably be more up for this than many other showdowns with their old rivals in recent times.
To put to bed that draw and to really stamp their authority on the league table once more, and on United, will serve as the best motivation for those players.
Considering the sorry state of United's season so far, there will also be the desire from Liverpool fans to add insult to injury at this stage, and really rub salt into Solksjaer's wounds.
If a heavy defeat is inflicted on his side, could he be the second manager in successive seasons to be sacked after a defeat at Anfield?
But more important than pride and bragging rights comes business as usual – and we circle back to the mentality monsters that Klopp has created in the last four-and-a-bit years.
Every week, we hear Klopp in his press conferences and post-match interviews telling us how they are taking things one game at a time.
The squad just keeps soldiering on, securing win after win. This game against United will be no different.
It's 90 minutes, 11 vs 11 and Klopp will be drilling that into his players. He won't let them forget this.
But to think that he doesn't use things like seeking revenge for the draw earlier in the season as a source of motivation.
There will be personal jinxes to put to bed, and individual wins craved for, too.
Mo Salah is yet to score against United and has won once, lost once and drawn twice against them, so he will desperately want to get on the score sheet.
The Scouser in our team, Trent Alexander-Arnold, would love nothing more than to put United to the sword as a life-long Red.
Jordan Henderson too may still feel like he wants to make people take notice after Sir Alex Ferguson's jibe about his running style all those years ago.
The motivation, if ever any extra was needed, is there in abundance.
And what better team to prove a point against than United? That will be the thought coursing through the minds of the whole squad this weekend.
And let's be honest, who out of us fans wouldn't want to see that, too?