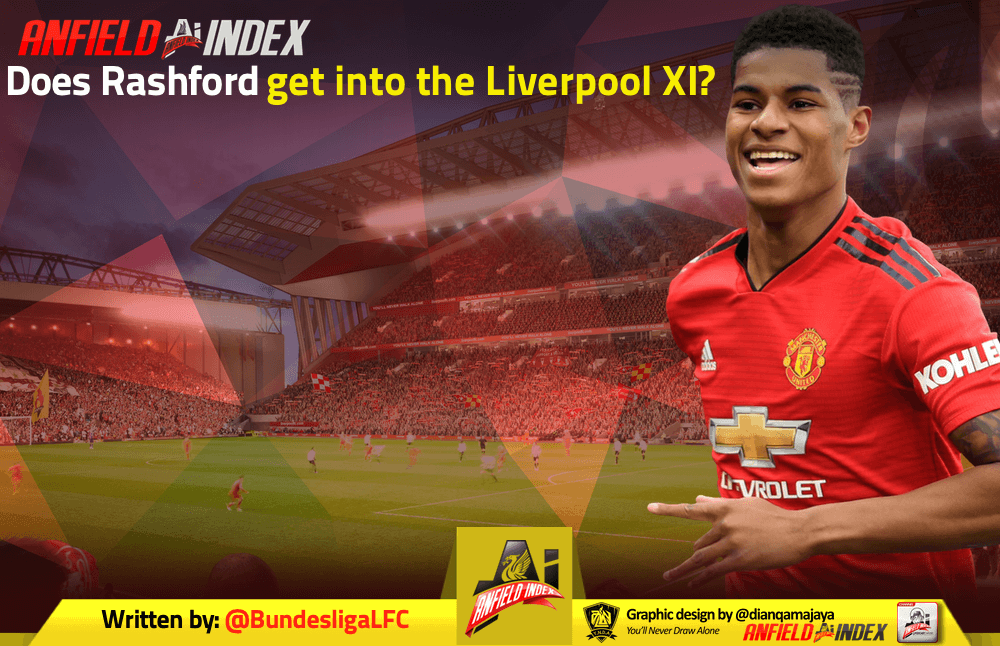 Does Rashford get into the Liverpool XI?

We're in 2020 yet people are still judging players on goals scored. 
Heading into Liverpool's clash with Manchester United, the big talking point centred around whether or not Marcus Rashford would get into Jurgen Klopp's starting XI. As outlandish as it sounds, some genuinely believed that to be the case. Their argument was based around the fact the United No.10 had more goals to his name than any of the starting trio the Reds, and that on current form he'd push Roberto Firmino out of the team. 
The problem with combined XIs is that they're all theoretical. They're viewed from an individual point of view as opposed to how teams are usually put together. There's no thought process into the balance or the dynamic. 
For example, if Rashford started in place of Firmino with Mohamed Salah and Sadio Mane on either side of him, the wide players wouldn't be as effective as they are now. It really is as simple as that. If those two aren't scoring as often then there's an over-reliance on the 22-year-old England international and this is the first time he's surpassed the 15-goal mark in a season. What is a dangerous system quickly becomes one dimensional and easier to defend against. 
And that is why you can't just go around saying Rashford is better than Firmino. He may start ahead of the Brazilian in certain systems but generally speaking, the United man would thrive in the space created by the Liverpool No.9, not in place of him. 
So then the talk turns to him vying for a spot currently occupied by Mane on the left. Rashford is in good form but can he do what the former Southampton man does on a regular and consistent? Right now, it is highly unlikely. 
Can the England international take the place of a two-time Golden Boot winner who is currently averaging a goal or an assist every 99 minutes in the Premier League? Entertaining that idea seems pointless. There will only be one winner. 
Having looked at these properly instead of purely on paper, it's pretty obvious Rashford wouldn't bench any of the front three for Liverpool. Now, a look at his goal record so many are talking about. 
His return of 14 goals from 1,881 minutes in the Premier League is impressive. In fact, it's a total only Jamie Vardy can currently better. Of Klopp's attacking trident, Mane is the closest to that tally with 11, Salah has 10 and Firmino trails with seven. On a per 90 basis, Rashford leads the way with 0.67, Salah and Mane are close behind on 0.59 while Firmino has averaged just 0.37. 
However, Rashford has been fortunate in the sense United have been awarded a number of penalties this season. When looking at open-play goals only per 90, he's behind Mane (0.54) and Salah (0.49) on the list with 0.43. 
Looking at expected goals, this does Rashford no favours. The United man has a per 90 average of 0.41, the lowest on the four. Firmino pips him (0.44), Salah is slightly ahead (0.49) while Mane leads the way, again (0.51). It isn't much better when looking at post-shot expected goals. The United forward decreases the value of his chances with poor finishing, Firmino is par, Mane improves his by 0.04 while Salah adds 0.15 to his efforts on a per 90 basis. 
Essentially, the underlying numbers paint Rashford as someone who is as dangerous, at least in terms of expected goals, as Firmino but with the added bonus of penalties. Of the four, his expected assists per 90 is also the lowest. He's performing well but it is quite clear he's not in the same league as the Liverpool trio.