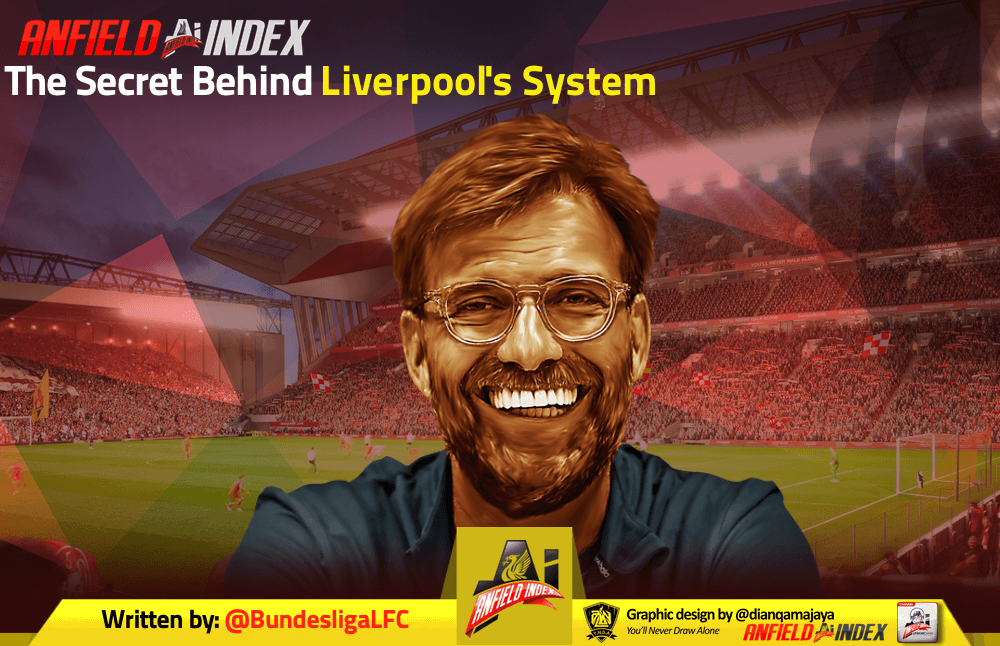 The Secret Behind Liverpool's System
People are going out of their way to not credit Liverpool for their ridiculous season to date. As things stand, VAR has been used as a reason the Reds find themselves 14 points clear with a game in hand. Rival fans have also claimed Jurgen Klopp has been lucky, with the table-toppers avoiding serious injuries, apparently.
The latest narrative is that the European champions have few world-class players and that the majority of those being praised are only impressing because of the system they're being deployed in. It is levelled at Trent Alexander-Arnold, with rivals fans saying he's only as good as he is now because Liverpool have built their team around getting him onto the ball and that any competent ball-playing full-back could do that job.
The same people claim Gini Wijnaldum, Mohamed Salah, Jordan Henderson, Andrew Robertson and Roberto Firmino are system players, too. And that away from Anfield, they'd be nowhere near as good and their stock wouldn't be anywhere near as high as it is now. People use it as a stick to beat these players with. They claim this is the case purely so they don't have to admit a team full of players they don't rate have broken league records. It's one of those yeah, but moments.
Liverpool have won 20 of their 21 Premier League matches this season. Yeah, but they're a team of average players performing well in a system. 
As if that is a negative.
What Klopp and the recruitment team have done is identified players with certain profiles to play in a specific style. It sounds straightforward, and to an extent it is, but few other teams do that. They get blinded my egos, reputations and names. The result is often an imbalanced XI with an over-reliance on individuals.
Liverpool, on the other hand, have a clear vision. They identify players to make those plans a reality. And that isn't a bad thing.
Salah is allowed to be an output merchant because the Reds create so many opportunities for him. Alexander-Arnold is able to be the creative hub from right-back because those in the middle third for Klopp's side cover defensively and create space offensively for their No.66 to play in.
Firmino isn't the most prolific forward in the world. This is no great secret. But in the Liverpool team, he doesn't have to be. Instead, he's allowed to be a No.9, a No.10 and at times a wide forward. He's encouraged to do his thing due to the fact Salah and Mane do their thing.
But these players aren't the only elite ones who rely on a specific system to be at their best. Take Lionel Messi, if he was used in a Tony Pulis side, would he be a six-time Ballon d'Or winner? Juventus tweaked their style to accommodate Cristiano Ronaldo at the expense of others. Spurs ensure Harry Kane gets a number of opportunities on a per 90 basis, after all, he, like Salah, is a bit of a volume merchant. He isn't prolific but scores a high number of goals because he's averaging in excess of 3.5 shots per 90. Does he get the same number of chances in a defensive system? No. Would he be one of the most feared strikers in the world in a different system? No. He looks a shadow of himself playing for England and that isn't a coincidence.
Raheem Sterling has crafted out a name for himself as someone who scores a high number of tap-ins. He is the definition of a system player but it doesn't matter because Manchester City play to his strengths. For years, Eden Hazard was excused for failing to perform consistently because of the system he was being utilised in. Jose Mourinho and Antonio Conte aren't Pep Guardiola, and this was always used as a reason for the Belgian maestro failing to his Messi numbers.
The point is, 99.9% of world-class players are only effective because of the system they're being used in. Liverpool and their players are no different. However, unlike others, the Reds have multiple world-class players at their disposal right now. But they're only playing to such a high level because of the style Klopp has implemented. The Premier League leaders are system merchants, but that isn't a bad thing.