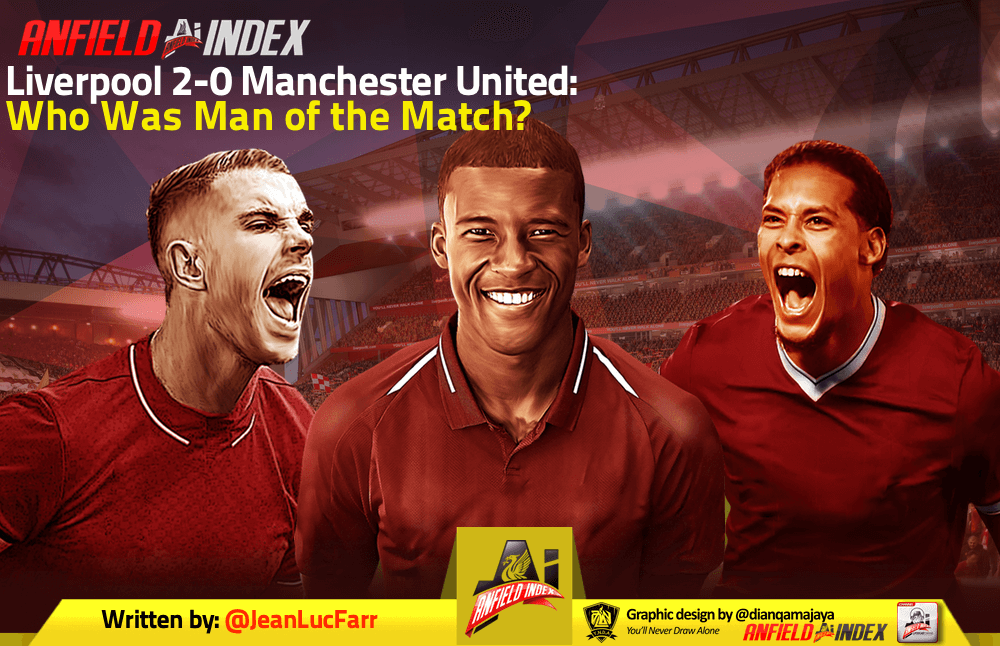 Liverpool 2-0 Manchester United: Who Was Man of the Match?
Liverpool move 16 points clear at the top of the Premier League with a game in hand after a 2-0 victory over Manchester United at Anfield. The match should have been wrapped up long before it was, leading to a nervous final 10 or 15 minutes. The Reds held on, though, and the 3 points were sealed in second half injury time by Mo Salah.
Alisson had very little to do, but the few shots that did come his way he dealt with calmly and confidently.
Defensively, the back four were very solid. Despite Manchester United's late pressure, they created very few good chances – Martial second half and Pereira in the first the only notable ones. Going forward, United's shape prevented Robertson and Alexander-Arnold from getting too involved. Virgil van Dijk was comfortably the standout, imperious at the back and even opening the scoring with a dominant header 15 minutes in.

In midfield, Oxlade-Chamberlain started again alongside Jordan Henderson and Gini Wijnaldum. The latter pair were exceptional throughout the 90 minutes. They worked hard, posed some threat going forward and constantly hounded down the opposition, winning the ball back quickly and keeping hold of it under pressure. The Ox had some good moments but wasn't as influential as Henderson or Wijnaldum. It was great to see Fabinho come on for the last 10 minutes – the best holding midfielder in Europe has returned to further improve our starting 11 and, in turn, help the squad depth.
In attack, the usual suspects started and all 3 were heavily involved. Firmino should have put us 2-0 up in the first half after a sensational finish. However, VAR came to the conclusion that Virgil van Dijk had fouled David De Gea in the build up, so it was (wrongly) ruled out. Sadio Mane had a good chance saved late on in the first half but, although he didn't manage to get on the score sheet, he was a constant threat. Mo Salah confirmed the win for the Reds deep into added time after a fast break, courtesy of a brilliant pass by Alisson following a Manchester United corner. The Egyptian King wasn't at his best during the game, missing one gilt-edged sitter and not being as effective as you might expect otherwise. He came in clutch when it mattered, though, sending the Kop wild.
As for Man of the Match, there were a few contenders. Wijnaldum, Henderson and Firmino all played very well, but it has to go to the big man, Virgil van Dijk. A goal and a clean sheet to go along with a superb performance.