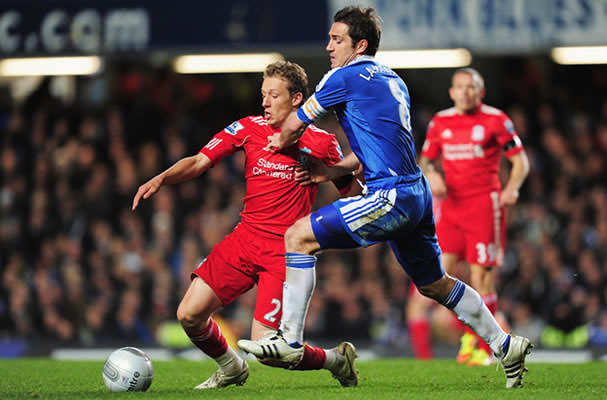 Quantifying Lucas' Absence
The widespread disappointment that met the news of Lucas' injury is a reflection on the Brazilian's progress; his tale of zero to hero is now well-repeated in mainstream discussion.
Statistics have justified his continued role in the team. He's been the league's most prolific tackler both this and last season, and also produced a fine ball-winning display in his most recent league match.
His sudden absence has sparked speculation as to how Liverpool will cope. It's entirely fair to suggest areas where Liverpool may be weakened, but what isn't fair is to release misleading information.
 Shortly after the news, a prominent football tweeter posted:

Liverpool have a 48% win rate when Lucas starts and 29% when he doesn't [since the start of the 2010/11 season]. He's almost impossible to replace.
Such is the nature of social media that said statistic was perpetuated through over 100 retweets, undoubtedly frenzying already concerned fans, including initially myself. 19% sounds like a heck of a difference.
But as the table below begins to clarify, there are all sorts of issues with this statistic, issues that I have previously addressed in assessing Mikel Arteta's absence at Everton:
Lucas has only failed to start 7 league games in 18 months, remarkable in itself but also ultimately the problem with the aforementioned statistic: 7 games, or even 13 for that matter, are simply not enough to draw conclusions from.
Liverpool have won 2 of their 7 matches without Lucas starting since the beginning of the 2010/11 season – but what if Pepe Reina hadn't scored an unfortunate own goal against Arsenal, and what if Liverpool had converted another one of 20-odd chances at home to Norwich? One more win and Liverpool would've had a 43% win percentage without Lucas; two more (57%) and we'd be saying Liverpool are better off without him!
Essentially, the difference in win percentages is attributed to chance, and Liverpool fans (or fans of other clubs for that matter) needn't pay attention to scare-mongering statistics.
Of course Lucas' injury will be felt, but the fact is Liverpool have not yet played enough without the fully-matured Brazilian to draw any causal conclusions from previous absences. Even over the span of his entire Liverpool career, results cannot be attributed to the presence of Lucas on the field, much like Arteta at Everton.
Let the results speak for themselves, and analyse the effects rationally ex-post. I must stress that I do think Liverpool will suffer from Lucas' injury; this is merely an exercise in getting the facts straight.
This post is also available on 5 Added Minutes. Opponents' average points per game is a measure of the strength of opponents in each scenario.