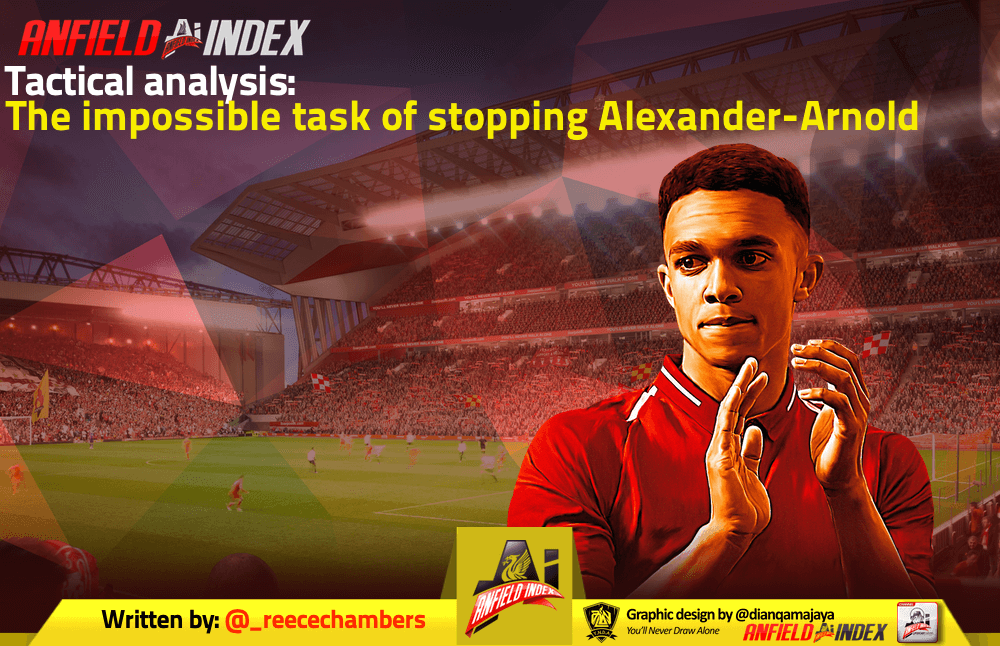 Tactical analysis: The impossible task of stopping Alexander-Arnold
Liverpool's march towards a highly anticipated first Premier League title seemed to take a significant step on Sunday evening when they defeated old rivals Manchester United 2-0 at Anfield. 
The win saw the Reds extend their lead at the top of the Premier League to 16 points but it didn't come as so usually seen at Anfield these days. Jurgen Klopp's men created the best chances of the game against a depleted United side but the scoreline remained on a knife edge at 1-0 until Mohamed Salah's stoppage time settler. 
On another day, Salah would have converted an earlier chance and Roberto Firmino's disallowed goal might not have been ruled out by VAR. Klopp's side could have been three or four to the good by half time, but United ultimately stayed in the game. 

Whilst such big chances must be remembered, it's also worth outlining that United's performance was one of the best from any opposition at Anfield this season. That isn't to say that Ole Gunnar Solskjaer is a tactical genius by any stretch of the imagination. But with high intensity, a willingness to match up against the Reds and, of course, several slices of luck, the away side might well have snatched a point if they converted their chances in front of goal. 
Liverpool were far from their best against United when it came to taking chances. The full-time xG registered at 2.11 – 1.22 in favour of the home side, but that's without two goals marginally ruled out by VAR from Firmino and Wijnaldum. One thing that United did well for the majority of the match was limiting Trent Alexander-Arnold and Andrew Robertson's creative influence in attack.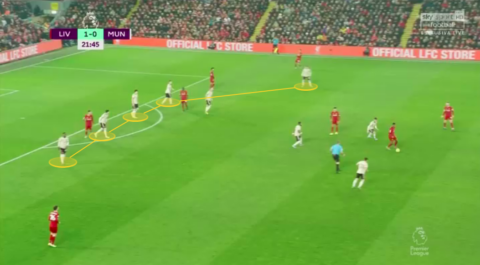 United's use of a back five offered a different challenge for Liverpool (Image: Wyscout)
Opting to use a back five has been a frequent theme for teams against Liverpool this season. Manchester United's use of two wing-backs on Sunday was perhaps one of the most successful attempts at using it against the Reds. With such attacking threat all over the pitch, Liverpool are one of the most potent attacking forces in world football which means that the decision to play with five defenders would often appear to be a wise choice. Jose Mourinho had opted for a similar method a week earlier, using Serge Aurier in front of right-back Japhet Tanganga for additional protection. 
Interestingly, though, United's use of five defenders on the weekend wasn't an attempt to sit in for 90 minutes. Instead, it saw Brandon Williams and Aaron Wan-Bissaka attempting to stop Liverpool's Alexander-Arnold and Robertson at source.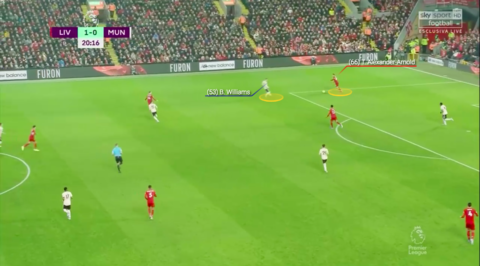 Brandon Williams' high press stopped Alexander-Arnold advancing (Image: Wyscout)
Starting in only his eighth league match this season, Brandon Williams was tasked with stopping Alexander-Arnold high up the pitch. Through pressing deep in Liverpool's half, the United wing-back halted Alexander-Arnold's advancement with the ball.
Alexander-Arnold has registered 65.97 passes p90 this season but only had 42 versus Manchester United. In addition, his nine league assists this season have seen him build on creativity from last season – only Kevin De Bruyne has more (13). 
Such figures are unrivalled by full-backs across Europe's top five leagues and opposing team should be trying to stop his output above anyone else on the pitch. What is most impressive is the 21-year-old's 15.57 progressive passes p90 which is the best in the league. High pressing from Williams, then, illustrates that United were trying to thwart the attacking influence of Alexander-Arnold who averages a league high of 7.05 crosses p90.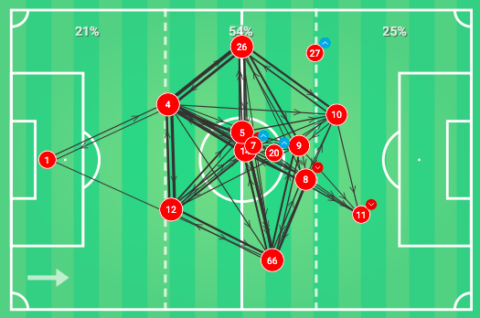 Liverpool's passing network versus Manchester United (Image: Wyscout). 
One noticeable takeaway from Sunday's game was Liverpool's passing network. The dark lines indicate a higher volume of passes which shows that United allowed much more play down Liverpool's left through Robertson than on Alexander-Arnold's right. 
The defensive solidity of a back five enabled Williams to push higher up the pitch to pressure Alexander-Arnold in possession. Notice, below, Luke Shaw's average positioning over the 90 minutes as the deepest of any United player as the left-sided centre-back. 

Luke Shaw's average positioning illustrates an awareness of Liverpool's long-ball threat (Image: Wyscout)
Whilst that highlights his focus on marking Salah, it further illustrates United's focus on stopping Liverpool's threat down the right – Alexander-Arnold has registered 12.4 long passes p90 this season which is higher than any other player in the league, including goalkeepers. 
Alexander-Arnold's decrease in overall activity indicates how highly United rate Liverpool's full-back and such focus on stopping him is a compliment to the right-back. But one key thing to emphasise is that the young full-back offers an attacking threat from many areas of the pitch.
To showcase his influence to this Liverpool side, he is just four assists away from beating his own record for most Premier League assists by a defender in a single season (12). Such a number of assists can't simply be stopped by trying man-mark the right-back. 
Therefore, you must give some credit to United who successfully curbed the threat of the most creative full-back in the world right now. Williams, playing left-wing back, stood up to the task well with high intensity on Alexander-Arnold who wasn't allowed the time or space to find key passes. 
But Alexander-Arnold provided the vital assist for van Dijk's opening goal of the game. United's method of marking may be questioned, but the way in which Alexander-Arnold placed that corner onto van Dijk's head shows that the opposition can succeed in stopping Alexander-Arnold in many aspects of play, but set-pieces isn't one of them. 
United should be praised for the way they dealt with Alexander-Arnold's creative threat throughout the game. But, if this game showed anything, it is that the young English right-back can have a decisive impact on a match even when the opposition try to completely shut him down.