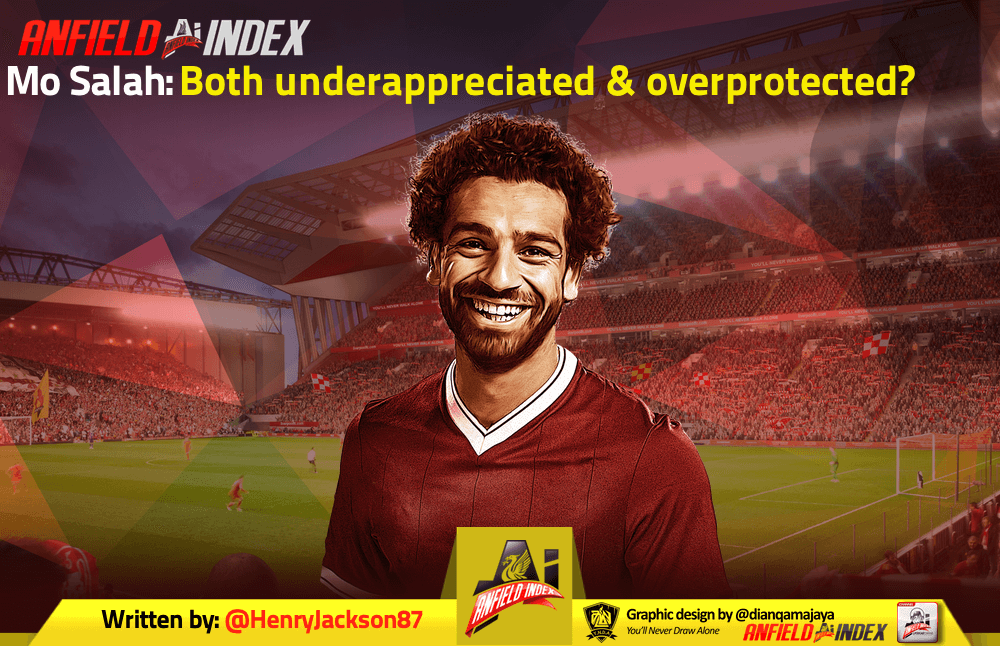 Mo Salah: Both underappreciated & overprotected?
Contrary to popular belief, Mohamed Salah is much more like Cristiano Ronaldo than Lionel Messi.
The Egyptian superstar may possess the latter's gorgeous left foot and low centre of gravity, but there is so much more about him that screams Ronaldo.
Away from the grinning face and all-round likeable personality, there is a huge ego where Salah is concerned – he is someone who knows exactly how good he is, precisely how many goals he has scored and is well aware that he is a global brand.

Take Sunday, for example, when the 27-year-old produced the most iconic moment of the season at Liverpool so far, killing off the game against Man United, before whipping his shirt off and posing in front of the Kop.
It was trademark Ronaldo, with Salah a master at knowing how to milk big moments. Southampton away last season also springs to mind, as does Chelsea at home.
It was a great moment and one that epitomised this wonderful footballer.
On the face of it, Salah should be the star man at Liverpool, given his worldwide level of fame and remarkable goalscoring ability.
He should be adored more than anyone for the things he has done since joining from Roma in 2017, smashing records and producing endless special moments.
But he isn't.
In fact, there is a growing feeling that Salah is becoming criminally underrated in a Reds shirt, and more importantly, underappreciated.
In a squad littered with huge characters, the Egyptian King feels left behind in the popularity stakes.
Maybe it's because he isn't quite as adorable as Sadio Mane; maybe Trent Alexander-Arnold and Jordan Henderson are that little bit more down-to-earth; maybe it's because some see him as most likely to leave for Spain eventually; maybe it's because he's Dejan Lovren's best mate (that's a joke!).
Whatever it is, he isn't doted on as much as he deserves to be.
Salah merits as much adulation as anyone, doing as much as any player to take Liverpool back to the pinnacle of world football.
He has 15 goals this season – the joint-most, along with Mane – as well as seven assists, proving that he is far more than the 'greedy' footballer he is occasionally labelled as.
There is a flip side when it comes to Salah, however – a siege mentality, if you will.
While Salah deserves to be cherished as a true modern Reds great, there is also a section of the fanbase incapable of criticising him, also acting aghast if anyone says something negative about him.
The former Roma star may be an indispensable figure, but he also hasn't been among Liverpool's best players this season.
As the business end of the campaign approaches, and the Reds' Premier League title triumph hopefully draws nearer, talk inevitably turns to who Liverpool's outstanding performer has been in 2019/20.
Salah shouldn't be in that conversation, for all his quality.
Mane has been the standout individual, despite a mini-dip by his incredibly high standards – he has only scored two goals in his last nine appearances – while Alexander-Arnold isn't far behind, following another assist-laden campaign.
Virgil van Dijk has arguably been every bit as good as he was last season, but we now simply expect that level from him, otherwise he could be favourite for back-to-back PFA Player of the Year crowns.
Then there's Henderson and Gini Wijnaldum, who have been outstanding in Liverpool's midfield over the past couple of months, in particular.
They dragged the Reds through a number of matches, whether it be courtesy of Henderson's magnificent leadership and quality, or Wijnaldum's immense physical strength and tactical intelligence.
Many will point to Salah's goal return, and the fact he the most chances created, assists and expected assists since the start of 2017/18, but he hasn't been on his aforementioned teammates' level since August.
He has been largely good, without question, and sometimes excellent, but his all-round game has left plenty to be desired on a few too many occasions.
Salah's touch has evaded him at times, his passing has been erratic – his pass completion rate is poorer than Mane and Roberto Firmino's – and his decision-making has been unpredictable, summed up by the 'spat' between himself and Mane away to Burnley in August.
Essentially, we are watching a footballer who is both somehow underappreciated by many, despite all that he has done, but also overprotected by others.
It is absolutely fine to say that he has been good this season despite ever hitting the heights of previous terms, failing to match some of his colleagues in process. That past genius is also working against him, because expectations are now so high.
It is wrong to go overboard about Salah's shortcomings, when he has evidently brought so much to an unforgettable season. The positives have outweighed the negatives by a mile.
In the next three months, Salah can become a true Liverpool legend forever, like Jurgen Klopp and his rest of his players. That's how big winning the league will be.
If that happens, which it now surely will, Salah should always be seen as one of the true leading men of this remarkable era under Klopp.
He belongs to be in the same conversations as Van Dijk and Mane when it comes to those who spearheaded this period of dominance – a special shout out to Alisson, Alexander-Arnold, Andy Robertson, Fabinho, Henderson, Wijnaldum and Firmino, too – but with the caveat that this season hasn't been his best.
A stunning final three months of the campaign from Salah would be fitting – his Ronaldo-esque penchant for creating his own headlines could well ensure that happens between now and May.