And what a week that was. From Chelsea to City and back again. Two fantastic performances put in by the players. Then right back down to earth with the hide-under-the-duvet moment when we found out the unfortunate news of Lucas's bad injury. After putting in a couple of bone crunching displays against City and Chelsea, Lucas was just starting to get the far reaching acclaim most of us thought he should have been getting a year ago. Sod's law they say, or Murphy's law where I hail from. Whatever law it is, it's suddenly caused me to be prone to muttering "it's not fair, it's not fair" sporadically throughout my working day. I'm sure all LFC fans will join me in wishing the lad good luck, and reiterating our most prestigious adage to him: you'll not walk alone on this journey Lucas. Get well soon.
Next up is Monday night football with the fuzzy upper-lipped Neville one.  A tactically aware guilty pleasure anyone? As mentioned above Liverpool go into the game on the back of, well not two, but three very promising displays, the two away games against Chelsea, and the home game against the runaway league leaders City at Anfield. If we can maintain that kind of elevated performance level against Fulham then we might not have too much to worry about. Liverpool's form in all competitions reads something like this: WDWDWWDDWWW that makes 11 games unbeaten in all competitions. Our last defeat, nearly 3 months ago, now fading into distance, was against Tottenham on 18th September 2011. We are most definitely on a roll people, and after the madness of the H & G and Hodgson era's who could begrudge us. Our December fixtures which includes 6 games are: Fulham (away), QPR (home), Villa (away), Wigan (away), Blackburn (home) and Newcastle (home). Certainly if we can just sort out our home form against supposedly teams we should beat then these are all games that are very winnable. Certainly we should be aiming to be still unbeaten come January. If we can win the majority of these games I would expect us to be in at least third place come the turn of the year. Currently we are sixth in the table on 23 points. With two teams above us, Newcastle and Chelsea meeting this weekend, on 26 and 25 points respectively, a loss for either one may give us a chance of moving up a place in the table if we beat Fulham on Monday night. Whatever the result, if we win our game we will have gained some points on those two above us.
Fulham go into the game on the back of an away 1-0 loss in the Europa League against FC Twente on Thursday. Preceding that though, in the Premier League they had an impressive away performance against Arsenal at the Emirates where the game ended 1-1. Fulham led the game from the 65th minute with Arsenal equalising in the 82nd, so Fulham fans were probably a little dis-heartened that they didn't come away with the win in the end. Fulham's form and with only one win in the last 6 reads: DDLWLL – that one and only win a 2-0 away win against Wigan. The losses were against Spurs, Everton and Stoke. You wouldn't say that was very impressive form at the moment. They sit 15th in the table on 13 points with Swansea and WBA immediately above them on 15 points. So they could conceivably go above those two teams with a win against ourselves at Craven Cottage.

Fulham Scouting Report
So let's take a look at how Fulham set up, their formation, and who their key men have been so far this season. Martin Jol plays a pretty solid 4-4-2, with the standard 2 full backs and holding player in midfield alongside a more attacking minded midfielder that will link defence with attack.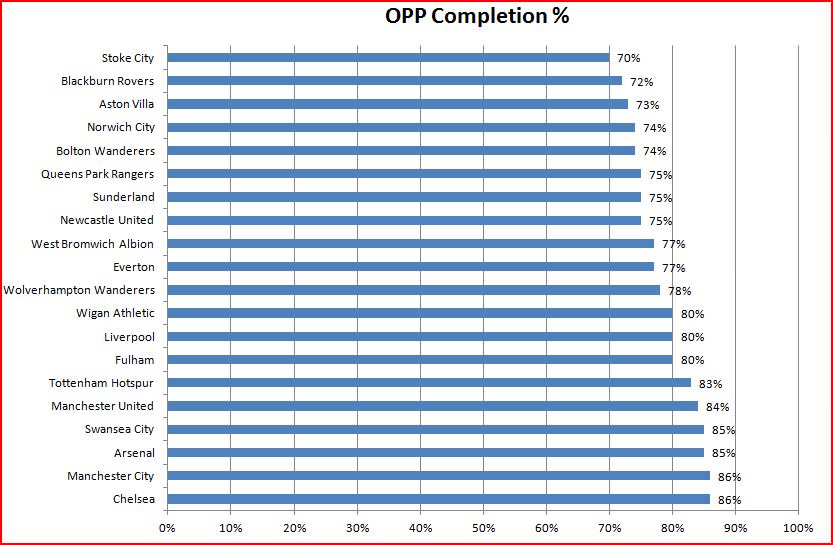 Jol is another advocate of the passing game, and he likes his teams to keep the ball on the ground – for a team sitting in 15th place it's quite surprising they have completed 4523 accurate open play passes, the average in the Premier League so far this season per team is 4253. That gives them a pass completion rate of 80% and as you can see from the Open Play Pass Completion chart, it puts them on a par with us for the season. Along with Swansea it's nice to see some of the teams outside the top six adapting this more aesthetically pleasing approach to the game. Certainly since Barcelona have started to dominate it's giving teams more confidence to try this passing game rather than the kick and hope physical game the Premier League has become known for the last few years.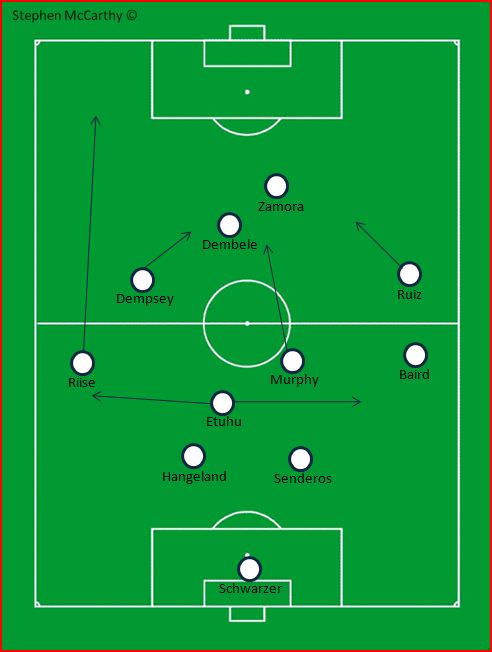 This is how I think Fulham will line up. Senderos and Hangeland should occupy the two centre back positions with Riise and Baird as full backs who will try to get forward and provide width and support the attack when they can. Etuhu should patrol in front of the back four and come across to cover any of the full backs who get caught out of position when up field. Murphy will sit slightly advanced from Etuhu and try to provide some through balls for Fulham's forward line. He'll keep Fulham's game ticking over and will also look for long passes out to the wings when he can. Due to Duff being injured, Ruiz started away against Arsenal so I'm assuming he will start against us out on the right wing. He won't only provide width as he is comfortable at coming inside, shooting with his left foot and linking up with Dembele and Zamora up front. Dembele will occupy that zone in between the lines in front of the back four and don't be surprised to see him drop back beyond the halfway line to get an extra man in midfield for Fulham. Zamora will fill the target man role up front and he will give Fulham quite a physical presence in that area. He is a clever player who has been around a while, he can hold the ball up well, will run into the channels and fight and scrap for every ball. He will also bring players into the game with his hold up play. Something our centre halves will need to be wary off.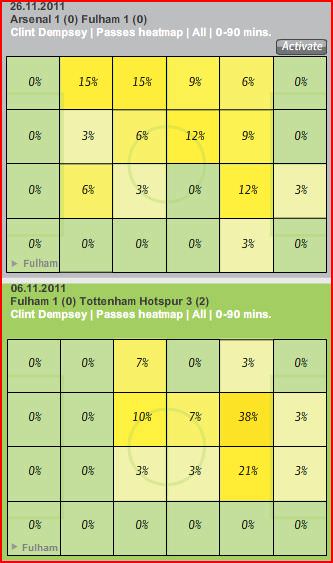 Lastly, and most interestingly is Dempsey's position. He will start out on the left but if you study his average positions in the games he has played, he quite often drifts inside and will make a lot of his passes in the zone Dembele occupies – as you can see from the Guardian Chalkboard's heatmap above – in both the games against Fulham and Tottenham. Particularly in the game against Spurs, you can see his passing percentages of 38% and 21%, so 49% of his passes were actually so far forward you could mistake them for Zamora's. Furthermore, with 0/3 accurate crosses for the season, this may be as result of his emphasis to come inside, either way, we don't have to worry too much about Dempsey getting to the byline and putting crosses into our box.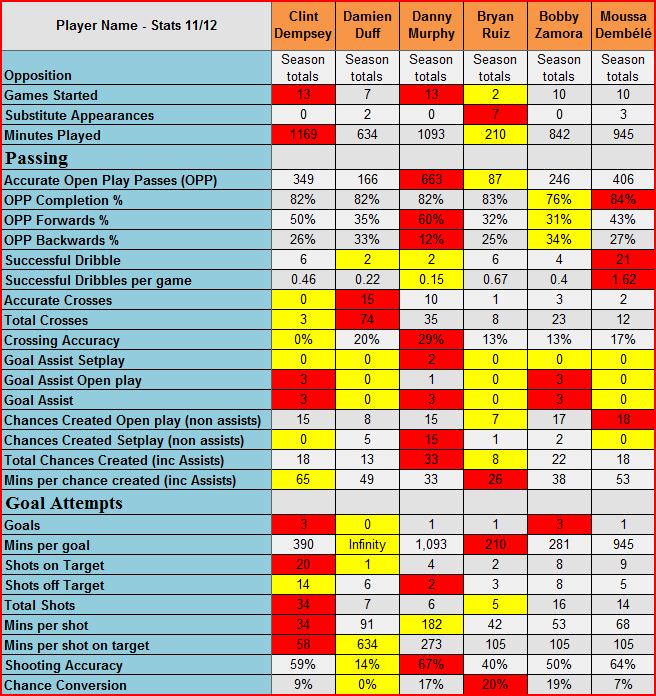 In the above table the red highlighted areas indicate a stat which is best in that particular area and the yellow indicates who has the the worst stat. For example Clint Dempsey has the worst amount of shots off target at 14, while Danny Murphy only has 2 shots off target all season. Just taking a quick glance at the table you can notice the amount of stats that Murphy comes out top on, with Dempsey coming in a close second.  Both Murphy and Dempsey have played 13 games this season, however, Murphy has completed 663 passes, almost twice the amount of Dempsey on 349. 60% of Murphy's passes also go forward – coming out top in that area. He also has the best crossing accuracy and chances created on the table at 29% and 33 chances created respectively. He shoots the least often, every 180 minutes, but is the most accurate with his shooting with 67%. It's clear that a lot of Fulham's midfield play comes through Murphy so it will be imperative both our centre midfield players close him down and not give him too much time on the ball.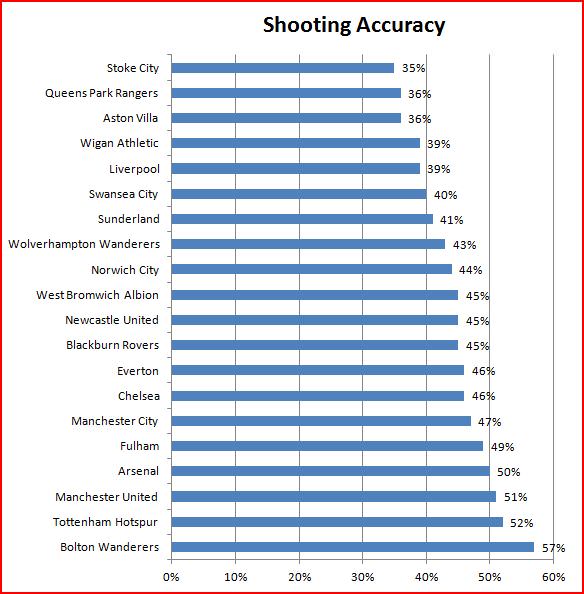 Not to be overlooked is Clint Dempsey, as in the Goal attempts section on the table he comes out top in most areas. Dempsey has scored 3 goals, equal with Zamora who is a centre forward, has had more shots on target at 20, shoots more often with a shot every 34 minutes and also has a shot on target every 58 minutes. Again, clear that Dempsey, despite playing in midfield, is the most danger in front of goal. So it will be extremely important that the right side of our defence and our holding midfielder are prepared for his shooting and try to get out and close down them shots. In fact it's not just Dempsey who is accurate when it comes to shooting – from the chart attached you can see Fulham are fifth best in the Premier League table of shooting accuracy with 49%.
Liverpool Offensive/Defensive Formation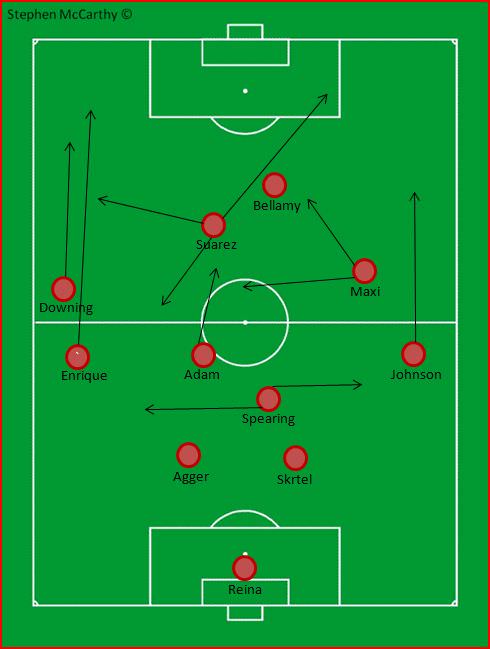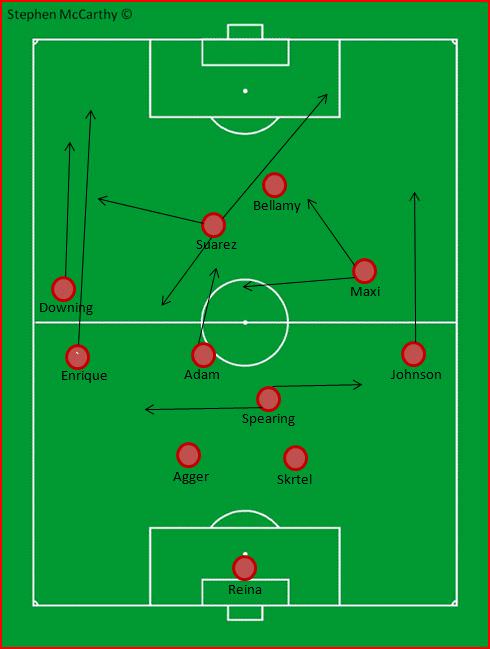 In the last 3 games we have managed to beat Chelsea away twice, and matched, if not bettered City's billionaire backed team at Anfield. So what has changed from the dull bore draws against Swansea and Norwich et al. The team has been set up mostly with quick thinking players who have a keen footballing brain and can spot when to pass and when not to pass. Including Maxi and Bellamy in the games has been the catalyst to linking up our whole attacking sense of being. As a result, here is my graphic in how I would set up our team against Fulham. At this stage of the season I think the back four just picks itself. Although Carra & Coates came in and done brilliantly against Chelsea in the Carling Cup I just don't see the point in changing the back four when they performed so well against a full strength City and Chelsea side in the league games. Maybe I'm just old school – but you don't change a performing back four. Agger has been outstanding in recent games and we missed his passing skills at the back when he was out injured. Enrique has been a revelation on the left side, and with Johnson coming back into form and scoring a brilliant goal against Chelsea, I see no need to change the full backs. That leaves Skrtel fighting for a place with Carra. However, as the below table of stats show – Skrtel has been holding his own at the centre of our defence. He comes out top on tackles % won at 93% and aerial duels % won at 86.9%. Not to mention 20 headed clearances and 34 successful clearances. When you throw in the partnership he is beginning to form with Agger I believe at this moment in time they are the centre back pairing to go with.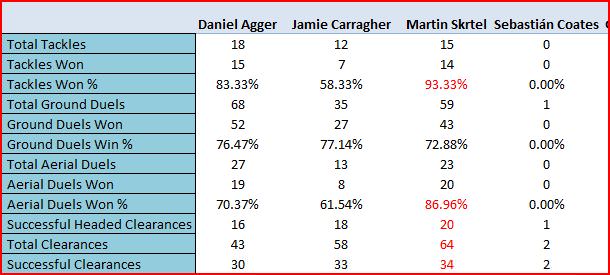 When it comes to the midfield I believe Adam picks himself at the moment. The other position is open up to more debate. With Lucas's unfortunate injury it leaves a space open for somebody to really stake their claim. For me, with this game being played away, and against Etuhu and Danny Murphy in the Fulham midfield, I would go with Spearing. I believe we really need his tenacity in midfield for this game. At the moment I think Henderson might be slightly lightweight for the centre midfield role. Especially away in a game like this. Perhaps if it was a home game against Fulham, I would try Adam in the Alonso role, sitting in front of the back four, and have Henderson in his usual position as an attacking midfielder, linking defence with attack. I just feel this is a game too soon for Henderson to step in. I could be very wrong, but it is just my opinion for the moment.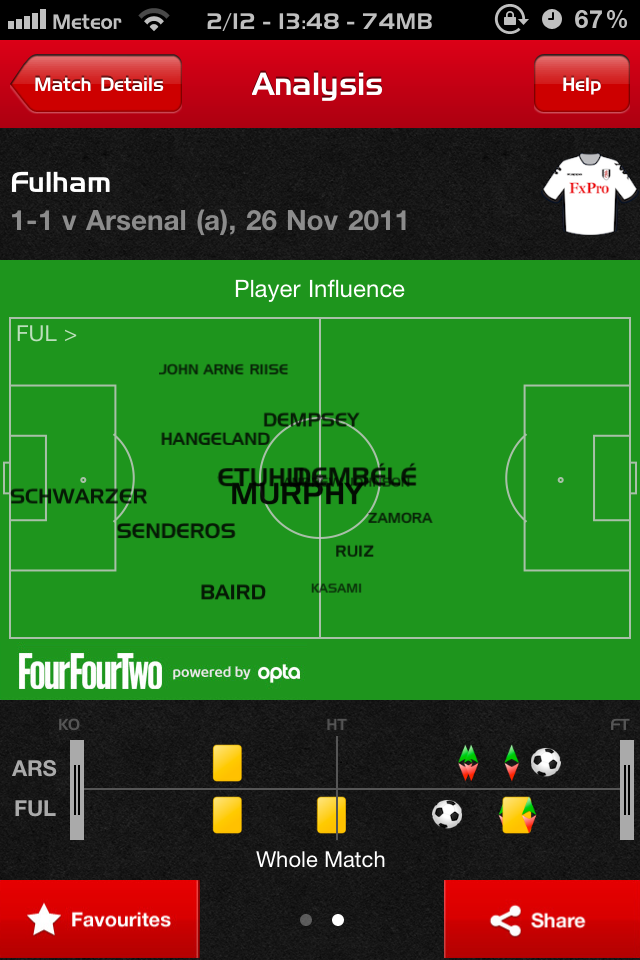 Another player I would like to see continue in the team is Maxi. At the heart of our most recent revival his passing accuracy and incisive runs might be the difference against Fulham. In the above proposed team graphic I have Maxi on the right, but I would like himself and Downing to switch positions during the game, as I believe Fulham could be vulnerable to a more traditional winger. That is why I've included Downing in the team as opposed to Kuyt. Fulham are a team who play quite narrow and when you look at their average positions (see StatsZone graphic) in games their midfield can become quite congested. Arsenal who also like to play through the centre, had a hard time breaking them down due to this congested midfield. This is something we have to try to avoid happening in our game with them. Notice how far infield both Dempsey and Ruiz are in the Statzone graphic. This is where I think Downing will be important. If he can hug the touchline on either side then it will drag either Ruiz or Dempsey out wide to cover his full back. This in turn will leave some much needed space in midfield for Suarez and Bellamy to operate.
Lastly I would like to see Bellamy and Suarez given the chance to let their partnership up front develop some more. In the league game against Chelsea, in particular they really did flourish. With Bellamy scoring and providing goals now it would seem he has a bit more form than Andy Carroll at the moment. Add that to the fact that Maxi, Bellamy and Suarez are starting to develop an understanding up front, I believe this is the frontline we should start with against Fulham.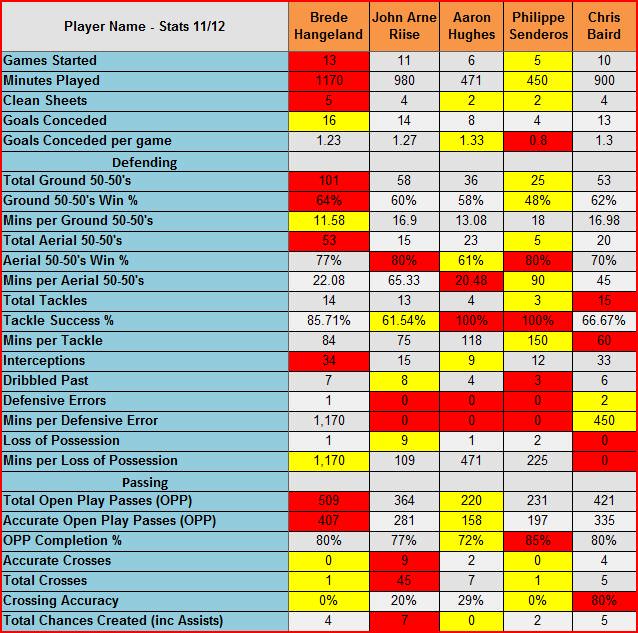 So is there an area of the Fulham defence that can be exploited? Let's take a look at the stats for the Fulham defence for this season. Again, red highlighted is a positive, yellow a negative. Quite a mixed bag in the table. From the stats it would seem that Hangeland is the more combative of the centre halves. He has 101 ground 50-50's in total from 13 games played, nearly twice as much as Riise with 58 in second place. That is 7.7 ground 50-50's per game. Hangeland also comes out tops in the aerial 50-50's with 53, again nearly twice as much as his nearest team-mate.  With Senderos with only 25 ground 50-50's with 5 games played he is averaging only 5 per game. Senderos has also only made 3 tackles from his 5 games played. From this we can conclude that maybe Senderos doesn't get involved too much in the physical side of defending, and rather than jumping into tackles, likes to jockey his player and try to nick the ball from him. For that reason it would seem Bellamy and Suarez would be the perfect forwards for him to go up against. As a consequence I believe if we can get Suarez and Bellamy to drift away from Senderos and try to receive the ball in and around Hangeland, we may get some success from Hangeland's propensity to jump into tackles. Bellamy and Suarez may be too tricky for him on occasions. I expect we might see Hangeland concede a few free kicks from trying to keep up with Bellamy and Suarez if they play.
Summary LFC defence
1. Watch Riise with his left foot – and his crosses. Total of 45 crosses attempted this season. Only Duff with more on 74.
2. Dempsey will come inside and shoot. Has high shooting stats. Right side of our team should be wary of his shooting and playing in between the lines and we should look to close him down.
3. Murphy is the playmaker. Will set up chances. Will get the ball forward quickly and will try incisive through balls to his team-mates. Spearing and Adam must get close to him and try to stop him playing.
4. Zamora – clever at holding the ball up. Will take the ball into his feet and try to bring other players into the game. Our centre halves must be aware of him backing into them and spinning off them. Our defensive midfielder must try to win any second balls that come from him.
Summary LFC attack
1. Adam should try to bring Downing into play with cross-field passes. This will stretch Fulham's narrow midfield and create space in the centre for Suarez and Bellamy to operate.
2. Downing and Maxi to switch wings during the game to try to exploit a weakness in Fulham defence.
3. Maxi to link up with Suarez and Bellamy and make runs beyond the Fulham centre backs who are not the quickest.
4. Suarez and Bellamy to try to receive the ball on Hangeland's side and try to draw tackles so they can win free kicks or dribble past Hangeland as he is prone to jumping in.
If we follow these points I believe we will have a great chance of winning the game. Here's to 3 points and a win.
You can follow me here on twitter: https://twitter.com/#!/artful_dodger74