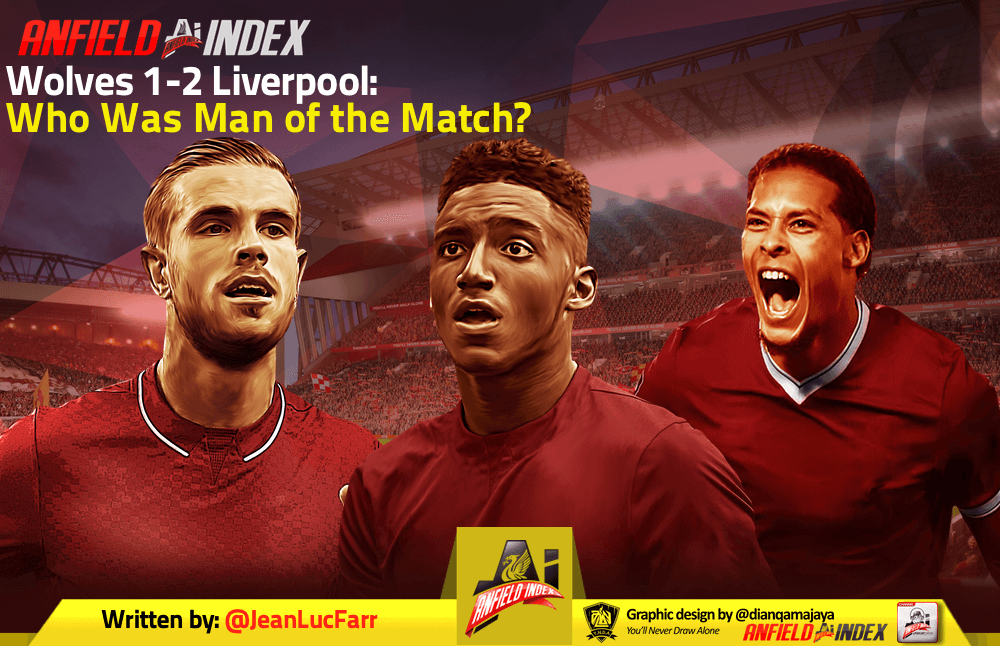 Wolves 1-2 Liverpool: Who Was Man of the Match?
Those dastardly Reds have done it again; the pesky mentality monsters have stolen 3 points at Molineux after a very below-par performance. Roberto Firmino's late winner puts Liverpool a remarkable 16 points clear at the top of the Premier League with a game in hand.
In the net, Alisson could do nothing about the goal. It was an excellent header into the far corner from Raul Jimenez after a good delivery from Adama. Aside from that, our gloved Brazilian dealt with everything else with his usual assurance.
It was a mixed bag in defence. The two centre-backs, Virgil van Dijk and Joe Gomez, both had impressive games. Van Dijk was as dominant as ever in every situation that required him to be, while Gomez showed his incredible pace on numerous occasions to get us out of trouble. The full-backs, however, were not at their best. Alexander-Arnold was decent defensively – although Wolves elected to attack down the other side more often than not. Going forward, he struggled to influence the game and regularly tried to force things. Having said that, he did add yet another assist to his tally for the season when his corner was met by Jordan Henderson. As for Robertson, it was a poor night. Struggled immensely against Adama, his decision-making was off all game long in both halves of the pitch. He has played a lot of football this season and perhaps that is to blame for his poor form over the last few matches.

In midfield, it was the same again with Alex Oxlade-Chamberlain, Jordan Henderson and Gini Wijnaldum. Firstly, The Ox had a disappointing evening. He never really got into the game and made a lot of wrong decisions in the time that he was on the pitch. He has started 3 games in 12 days, though, which must be the first time in years. He'll get a well-deserved rest at the weekend. Speaking of people who'll get a well-deserved rest, Jordan Henderson put in another very good performance. He nodded (and shouldered) in his second goal of the season in the 8th minute, and also played a clever ball into the feet of Roberto Firmino to create the winner in the 84th. Gini Wijnaldum didn't reach the heights of his performance at home to Manchester United and blame could be placed on him for the Jimenez equaliser as he failed to track the Mexican's run.
In attack, the usual front 3 started the game, but Sadio Mane had to be replaced by Takumi Minamino after 33 minutes after the Senegalese pulled up with an injury. Minamino's first Premier League appearance came in a difficult match and he found it understandably tricky to impose himself. Mo Salah wasted a couple of very good chances where he chose to take on the shot himself rather than playing a pass to a teammate in a better position. Roberto Firmino proved to be the match-winner with a lovely finish into the far corner, just moments after missing an even easier opportunity when he found himself one-on-one with Rui Patricio.
As for Man of the Match, I'm going to go with Jordan Henderson. A goal and an assist for the captain to go along with a decent overall performance.