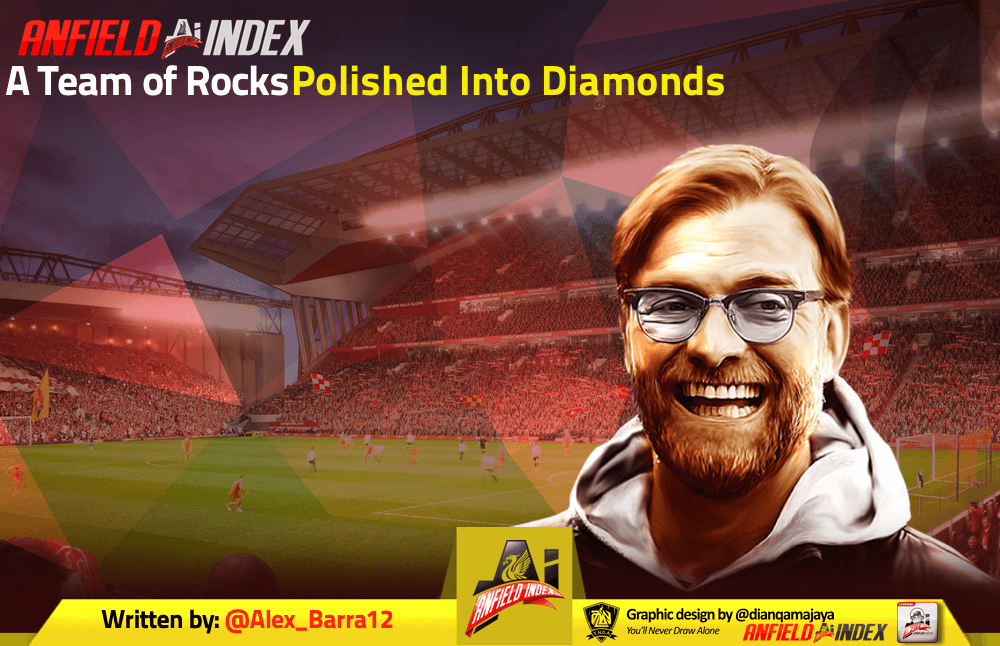 A Team of Rocks Polished Into Diamonds

Ask anyone who the most transformative presence at Liverpool football club has been over the last decade, and the answer will be unanimous.
Jurgen Norbert Klopp.
However, while it's practically indisputable to say that the German has done the best job of any recent Premier League manager, it's often understated exactly how he got there. Liverpool being the best football team in Europe at the moment has become normalised, in a way that no reasonable Liverpool fan could've expected.
Everything about this team, from the scintillating front three to the wingbacks gallivanting up and down the flanks, to the imperious trio at the back and the ultra-efficiency with which the midfield is able to tie the whole thing together, was crafted by Klopp. His side's winning mentality, the kind which has seen every interview this season end with "Nothing's decided yet" was crafted by Klopp.
Rival fans will, of course, mention that the components included a record-breaking fee for a goalkeeper (at the time) and a record-breaking fee for a defender (again, at the time.) They'll also cite Naby Keita's £48 million and Alex Oxlade-Chamberlain's £35 million as evidence to Klopp's willingness to splash the cash.
But, as United trundled off the Anfield pitch, and the entirety of that magical stadium belted out the most satisfying rendition of "We're gonna win the league / and now you're gonna believe us!" what was explicitly clear was not only how substantial a gap exists between England's former colossus' and the current European champions, but how incredibly well this Liverpool side has been put together.
Jamie Carragher said about as much after Liverpool's win against Spurs, before the United game.
"Robertson came from Hull, Wijnaldum was relegated with Newcastle, Salah had been at Chelsea, Mane had been in the Premier League… they are not just going to the best clubs in the world and buying the best players."
"It's okay buying players but it's what you do with them. Sometimes we forget that. Once you have that player you have to improve them, and Jurgen Klopp probably doesn't get enough credit for that, the work he does as a coach."
Naturally, rival fans brought up the huge fees. But in reality, Klopp has done more with less than any manager in the league.
Of course, there's the net spend argument: Liverpool are the 27th highest spenders in Europe since the 2015/16 season: that's lower than Stoke, Newcastle, Watford and Aston Villa. But the more prominent argument is that they've spent almost a quarter, net, of what United have forked out on players in that time period. And there is not a single one of United's players who would get in Liverpool's first team at the moment.
The method is the interesting part, because Carragher was right: Klopp is the master at developing players to reach their highest level. But they only reach the highest level because they've been picked out by the well-cooled Michael Edwards and his fancy laptop as perfectly befitting the Liverpool ethos, and the Liverpool system. Sometimes, they're highly valued, and therefore expensive.
But sometimes, they're cheap.
Liverpool's squad – excluding the backup keepers and youth players – contains ten players who cost less than £20 million. Only Arsenal have more, and that's due to their current position in an abyss, forced to play youth products for a shred of hope.
The difference is Liverpool's contingent have played key roles in getting them to the top of Europe.
Andy Robertson and Trent Alexander-Arnold are the obvious ones. Then there's James Milner and Joel Matip, both of whom arrived on a free and were integral in the Champions League winning team. Xherdan Shaqiri hasn't featured much, but his role in getting Jose Mourinho sacked was worth every penny of his £12 million fee, and Harvey Elliott will almost certainly be included on a "bargain youth prodigies" listicle in years to come. Takumi Minamino will almost certainly prove value for money, even if he only scores a single goal for the rest of his career, and Gini Wijnaldum – who was brought from Newcastle, mind – was turned from unreliable winger to imperious central midfielder.
Then you get onto the ones who arrived before Klopp, the ones he truly developed into something special: Joe Gomez cost £3.5 million from Charlton – thanks for that Mr. O'Driscoll – and nobody in their right mind would've imagined Divock Origi – named in L'Equipe's worst team of the year during his last season at Lille – would win Liverpool the Champions League. Meanwhile Jordan Henderson's fee, when Kenny Dalglish signed him, was one of the many things hampering his promise. Now, it seems like a pittance.
Eleven players, all of whom were signed for less than £20 million, most of whom have played key roles in elevating this Liverpool team to a deific status.
Manchester City, meanwhile, have purchased three of their current squad for less than £20 million: Oleksandr Zinchenko, Angelino, and Phil Foden.
Manchester United's squad includes ten players who cost less than £20 million, three of whom (Rashford, Greenwood, McTominay) will likely be features in their team as they look to rebuild. The rest, almost certainly, won't.
That's the magic of Klopp, though. No matter how much the player costs, whether it be Virgil van Dijk's £75 million or James Milner's £0, he makes them look a bargain.