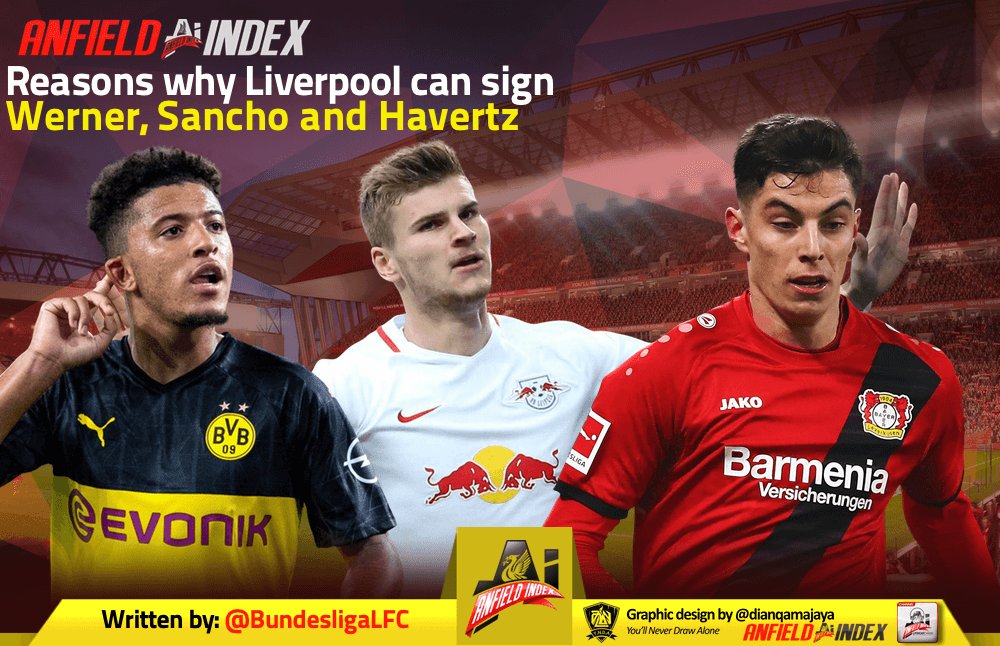 Reasons why Liverpool can sign Werner, Sancho and Havertz
It feels as though Liverpool are the only top team not allowed to have more than eleven good players. Whenever there's a link to a top player, the media and countless pundits pipe up to claim they'd struggle to break into Jurgen Klopp's starting XI so they shouldn't be signed. 
It's happened recently with Timo Werner. He's been linked with a move to Merseyside for the best part of three years now but reports claiming he's set to leave RB Leipzig seem to carry more weight this time around. A number of clubs are keen on the prolific German forward but stylistically he seems readymade for Liverpool. 
However, various outlets have reported that the 23-year-old isn't sold on the idea of joining compatriot Klopp at Anfield due to fears over playing time. According to the Athletic, Werner told the Premier League leaders that there was no room for him.  

But it isn't just Werner. Jadon Sancho is also a target for Liverpool and he's another who has been told by the media that he won't be breaking into Klopp's favoured XI anytime soon. The same goes for Kai Havertz and basically any other player being linked with a move to the European champions. 
While this may have been the case in the past, squads win trophies now, not starting XIs. The Reds no longer just need depth, they need quality throughout, too. Furthermore, there are enough fronts to challenge on in order to give ample players enough minutes. For example, we're still in January yet Divock Origi has made 30 appearances for Liverpool this term already. He hasn't started 30 times but he's still seen minutes in all of the competitions the Reds are involved in. And this is Origi we're talking about. He may be a cult icon but he's far from a perfect fit for this Liverpool side. 
Takumi Minamino only arrived at the start of the month yet he's got two starts under his belt already as well as 60 minutes in the Premier League. So far this term, 23 players have been used by Liverpool in the English top flight. It is safe to assume that given better players, Klopp would put more trust into those individuals to play more minutes. The German tactician also needs more durable players at his disposal, too. 
Alex Oxlade-Chamberlain, Adam Lallana and Naby Keita all pick up the odd niggle here and there. Same goes for Dejan Lovren and Joel Matip. Klopp probably would rotate a bit more if he had the players. He doesn't, so he can't. He isn't married to the idea of using the same group of players in every single match. There are just occasions he simply doesn't have any other choice and this feeds the narrative that potential signings won't get the opportunity to flourish at Anfield. 
But Mohamed Salah played with an injury for a while. Others have taken to the pitch despite not being 100% and this is largely because the champions of the world haven't had other options at the time. Add new faces, improve the quality throughout the squad and it would be completely different. Of course, Klopp has a favoured XI for must not lose matches. All managers do. But he's also switched on enough to realise one team doesn't fit all and in some games, the strengths of certain players will benefit the team more than others. 
The narrative is wrong. The better the squad, the more chances players will get to shine in this talented Liverpool team.