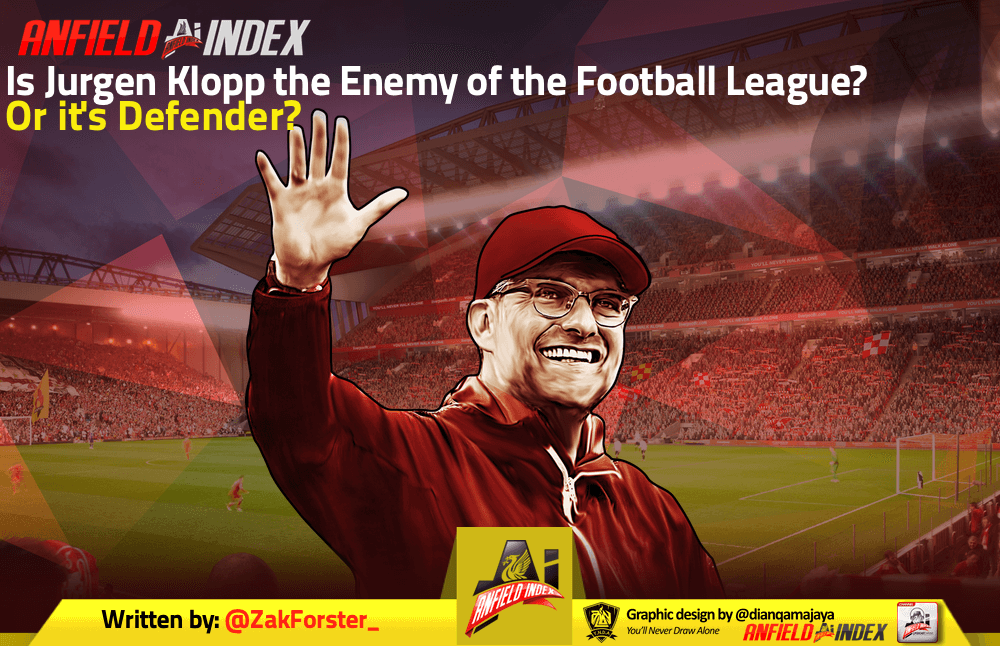 Is Jurgen Klopp the Enemy of the Football League? Or it's Defender?
Whether you're a Liverpool supporter or not, you'll almost certainly have an opinion on Jurgen Klopp's comments after (some) of his world champions drew 2-2 against a battling Shrewsbury at New Meadow Stadium. The main talking point from the game was the upcoming replay the Shrews had just valiantly earned themselves in fighting from 2-0 down. Klopp immediately dampened the tone stating, "We will not be there".
This was the most cutting line he delivered post-match as he used the cameras of the BBC to lay bare to millions his increasing angst at the state of world football's fixture congestion pile-up. You can see his point. The FA told Liverpool, and the other 19 Premier League clubs, that they would be having a winter break for the first time in the competition's history on the condition that they don't play any money-spinning friendlies abroad. Liverpool's is now threatened by the FA's inability to properly arrange its footballing calendar. Not only this, Klopp has already seen his Liverpool side play a League Cup quarter-final and a Club World Cup semi-final on consecutive days.
Pep Guardiola has also spoken along these lines, especially angered by the fact his Manchester City team had less than 48 hours to rest and prepare between fixtures against Wolves and Sheffield United in late December.

The issue here is, this isn't Klopp's fault, or the FA's – not entirely anyway. It definitely isn't Shrewsbury's fault for forcing a replay (although they may end up suffering with Liverpool placing a £15 price tag on adults tickets, £5 on young adults and £1 for children). The fault lies at the feet of the governing body whose sole remit is to protect the values of the game: FIFA.
Recently, the following was said or discussed in public interviews or private meetings:
FIFA want to expand the Club World Cup and offer around £40m to entrants
UEFA (and some of the clubs in it) want to expand the Champions League format by at least four matchdays
Pep Guardiola said England should scrap the League Cup and cut FA Cup replays
As a common fan, let me attempt to tell you why all these ideas are absolutely horrifying whether you support Liverpool, Shrewsbury or Monastir – the club currently second in the Tunisian top flight, obviously.
Firstly, FIFA's attempt at expanding the Club World Cup to once every two years but with more teams, more stars and more money is simply an attempt to knock UEFA off the perch of having the world's premier club competition. It's not to give you, the fan, the viewer, the customer (spews) a new high-quality spectacle. It's so FIFA can be seen as the bastion of club competition and make money off sponsors such as Coca-Cola and Qatar Airways.
So, what's the issue? To achieve this golden spectacle FIFA have to do two things: 1.) offer every entrant stupid amounts of money they cannot afford to turn down and 2.) move the African Cup of Nations (AFCON) back to January-February instead of its summer slot which it has used recently in 2019.
Let's say Liverpool are invited to this new CWC and turn down the guaranteed £40m, they will fall behind other potentially invited parties from their home league such as Manchester City and Manchester United. FFP would not allow Liverpool to simply make up the extra £40m from their owners. Their mission to win titles in England would now be even harder. If Liverpool had to choose between entering the CWC or throwing the FA or League cups, which would they logically have to choose?
If Liverpool, Manchester City and Manchester United accept the invite and pocket the money alongside any other Premier League entrants then the top end of English football will become a big three not a big six (add or subtract whichever big names you want). Give that extra £40m to Bayern Munich, Juventus, Barcelona or Paris Saint Germain and you've successfully closed off the top five European leagues for good. No Atletico come-ups. No Borussia Dortmund title charges. No Jamie Vardy parties.
The other side to that coin is equally as ghastly. Let's say all the English clubs shun the CWC and say they won't enter. The above mentioned foreign clubs will begin systematically hoovering up all the top talent and dominating the continental tournaments. Goodbye English clubs making European finals. The talent drain on the English game would be drastic, leading to lower TV rights money for all clubs, not just the high-flyers, and it would destroy the economic models of the Premier League. But, at least we'd have competitive FA Cup replays on muddy pitches.
Furthermore, please imagine what these figures would do to the games in Africa, South America and Asia. If Esperance de Tunis, who have won the last two African Champions League tournaments, took home their proposed £40m CWC entrance fee they'd be multiplying their yearly income by an incredible number – paying higher fees, paying higher wages and they'd dominate Tunisian football forever with any level of reasonable management. This would be incredibly bad news for Monastir, the aforementioned second-placed Tunisian side currently trying to dethrone Esperance.
Now, back to the AFCON briefly mentioned earlier, FIFA have decided to move the competition back to the European winter to help slot in this expanded CWC. This not only reduces the size of the European squads containing elite African talent at a vital part of a gruelling season but it will actively stop elite European clubs from scouting African players in the future. Liverpool won't sign the next Sadio Mane and Arsenal won't sign the next Pierre-Emerick Aubameyang. This will damage the African game on a continental level – although it might spread the talent to mid-table clubs a little more.
But it's not just FIFA, UEFA are chasing the cash, too. It's no secret that the president of UEFA, Aleksander Ceferin wants to bring about the invention of a European super league. Essentially robbing the Premier League's bottom 14 clubs of the £100m dividends they get from equal sharing of the Premier League TV rights sale. Take out Liverpool, Manchester United, Manchester City, Chelsea, Arsenal and Tottenham and you're left with 14 clubs that no neutral will regularly tune into watching with much smaller fan bases of their own – I'm afraid that these TV rights just lost 90% of their value to broadcasters.
Now, this isn't happening any time soon. At the moment, fans are against it and clubs aren't going to risk upsetting their supporters – especially match-going ones who can't afford Real Madrid away followed by Bayern Munich away followed by Inter Milan away in early January. But, UEFA are trying to force through an additional four matchdays to increase the buffet of "high-quality" games on show because there cannot be a week without a blockbuster for Gazprom to leach onto. Nobody knows where these fixtures are going to fit but I can tell you who will be told to do one: Shrewsbury, the EFL and the FA.
At the risk of going full-Brexit on anyone still reading this, let me finally get to the point. Football does not belong to Coca-Cola, it does not belong to Ceferin or Gianni Infantino, the guy who used to present Champions League draws but now runs FIFA. The game of football belongs to the fans. For starters, at no point does it appear that any fan body or base has been given a platform to voice their opinions on this consistent negligence in the growth of the world game.
Don't be mistaken football players are well compensated for their efforts but the constant addition of games and tournaments is horrible for their fitness and it's leading to lower quality games as managers aim to minimise any wasted energy. Not only that, but to cope with these demands, elite clubs are hoovering up more and more talent to boost their squad depths meaning the best players are locked into only a handful of clubs.
It should not be the FA Cup, the League Cup or the soon to be defunct French League Cup that has to make way for genital measuring competitions between two governing bodies. FIFA's job is to take care of the game not decide the merits of national footballing competitions by throwing more money at clubs than they can afford to turn down. The people losing out here are the Shrewsbury players who won't be playing in front of a sell-out Anfield and against world renowned star Mohamed Salah, Shrewbury as a club who will almost certainly lose some of the payday as a result of Klopp's decision to shield the first team from further burnout and the fans who will probably enjoy Anfield regardless but will it be as special as it could've been?
This is one story. One club. One small drop in the several billion dollar game of world football. But to Shrewsbury it's massive and could mean massive steps forward or standing still for years. Take away the replays or scrap the League Cup – what's next? Scrap the FA Cup? And after that?
It should not be England or France bending over backwards to suit FIFA's new agenda, it should be down to FIFA to create a streamlined plan in co-operation with the various leading FA's and governing bodies of the world to MAYBE fit in new tournaments. Then we can move forward with a plan and a calendar that suits everyone and has the players at the front of any considerations – alongside fans and way, way, way before sponsors and presidents looking for legacy leaving projects.
Jurgen Klopp is going to take all the flak for FIFA, UEFA and the FA's lack of foresight because he has a face and he sells papers and generates clicks but the game is coming to a head and nightmares endured by the likes of Bury and Bolton Wanderers will soon become more common if any of the these vanity projects come to fruition without change. Klopp played his entire playing career away from the glamour of the modern game. He comes from a working class background. He couldn't be more left-wing if he tried. He's not out to kill this competition or that team. In a roundabout way, Klopp is actually sticking up for the Shrewsburys of the world, he's just hurting Shrewsbury in the short term to do it. The stand from inside and outside the game must be taken sooner rather later. The long term threat is FIFA, not Jurgen Klopp.