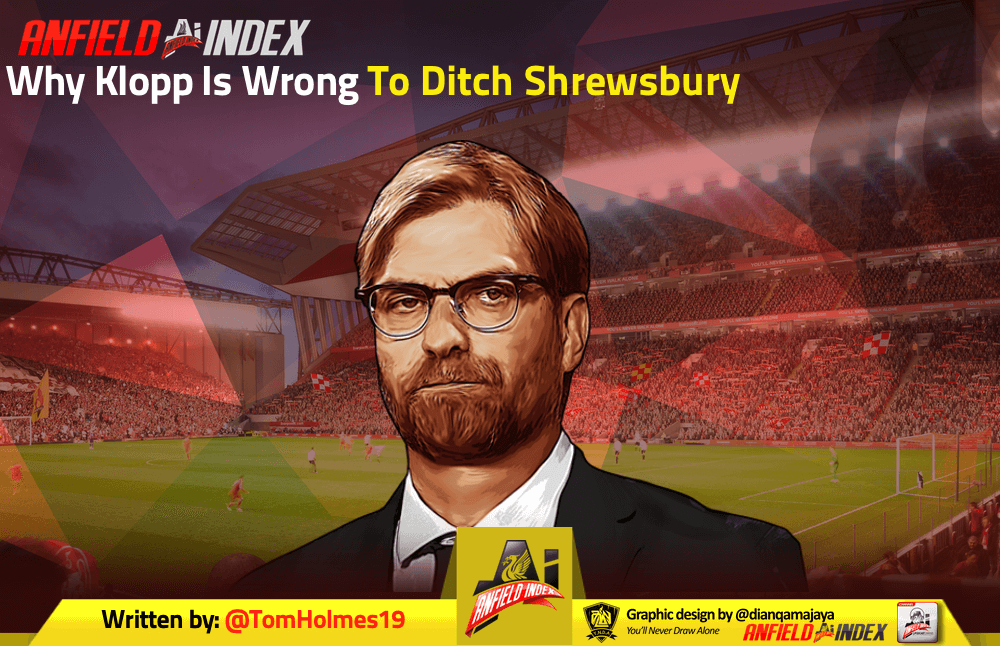 Why Klopp Is Wrong To Ditch Shrewsbury
So, Jürgen Klopp has announced that he is refusing to manage Liverpool's FA Cup fourth round replay against Shrewsbury because it takes place during Liverpool's scheduled winter break and that no first team players will take part.
There's going to be a lot of white noise around this one in the media for a while, and this argument has been boiling up for a while, you'll remember Liverpool had to play two games in two days back in December and thus the kids were unceremoniously dumped out of the Carabao Cup to Aston Villa.
I have a lot of thoughts about this, as you might well imagine. So to reel off a short list of points: yes it's annoying that the FA told Liverpool not to schedule any competitive games during the break and then did it anyway. Yes, Klopp probably would have made 10 or 11 changes anyway. Yes it's a winter break and the players have already been told they could have a week off. Yes this whole thing is going to be overblown because it's Klopp saying it. And yes the argument of just beat them in the first match is also stupid.

And yes it's entirely perverse that the same people overjoyed Shrewsbury took us to a replay in the first place and if they beat our kids will get another lucrative game against Chelsea next up will be the same people to complain Liverpool don't take the cup seriously, even though we'd probably stomp Shrewsbury with our best XI or if we're being frank and honest even with a good referee.
Nevertheless, that's an argument I've made before and despite all of that, I still think Klopp is wrong.
Gasp.
Okay, so usual disclaimers. No I don't hate Klopp, no I don't usually question Klopp, no the fact that I've supported Klopp's disdain for the FA Cup in the past does not mean I'm not allowed to have a different opinion on it this year and before we even go there, yes I can question one of Klopp's decisions without questioning the method that took us on the verge of a Premier League title.
But I also completely and utterly disagree with how Klopp has handled this.
So to tackle the points. First of all, Liverpool were told in April that they should not schedule any games during the winter break because the players needed a physical and mental break. Then they were told before the season started that that was not the case after all and if they reached an FA Cup fourth round replay they would be shafted.
Yeah that's not great. But it's not as if they were told last week and it's not as if it makes a drastic difference to the season. Frankly, it doesn't make Klopp's response any more proportionate or come across as any less petty.
Klopp has been vocal about the team's schedule this year and has shown complete disdain for both domestic competitions repeatedly since joining Liverpool, so none of this is a big surprise.
But the simple fact is the club knew that this was a possibility. So Klopp isn't upholding the sanctity of the winter break because that sanctity never really existed. He's making a point and publicly calling out the FA.
Do I think that's necessarily a bad thing?
I think there's no way of making this argument or having this conversation where Liverpool don't come across as a big club putting their interests first and not giving a single solitary care for any other club in the pyramid. For all the talk of scrapping replays, Shrewsbury getting a replay at Anfield is exactly the reason why they shouldn't be scrapped.
That being said, when you've got your team being forced to play two different games on two different continents in two days and when your planned sacrosanct winter break doesn't even get off the ground, maybe there's some scheduling issues to be worked out.
But the point stands that Liverpool are coming at it from the perspective of a big club, and whilst some would argue that that means they have a responsibility to stand up to the FA, others would argue it's not their place to say what the majority of English football wants and needs.
Basically, I think the ideological side of it is questionable at best, but I can understand why Klopp holds the view that he holds and why he's doing what he's doing. I also think it comes across as very flimsy from the perspective of anyone that isn't Liverpool.
As much as the views of Liverpool fans are broadly in favour of Klopp on this one, it's also fair to say that the vast majority of other people in the world think he's wrong.
Liverpool fans could rightly say that it's not their problem and not their business, but I really don't think the optics on this one are very clever.
Which isn't my issue with it to be perfectly honest. I'm always wary of these sorts of things, but I don't really care what your local Chelsea fan thinks about whether Klopp is disrespecting the FA Cup.
My issue is that I want Liverpool to win the damn thing.
In the past few seasons I've stringently argued that the FA Cup should be a third priority for Liverpool, behind winning the Premier League and Champions League which meant that the domestic cups would have to be sacrificed.
However, this season, the picture is very different. Liverpool can afford to lose SIX of their last fifteen Premier League games and deliver the trophy.
Liverpool's potential fifth round tie is against Chelsea at the start of March. If Liverpool win the five league games between now and then, they will have at least a 19 point lead at the top of the Premier League with 10 games to go. There is absolutely no reason in the world not to throw the kitchen sink at that tie, as balancing the FA Cup and Champions League is a far less difficult task than balancing the league and UCL, as Liverpool did so deftly at the back end of last season.
If Klopp genuinely believes that every single first team player needs two weeks off between Southampton and Norwich then fair enough. If he's scheduled his entire season around that two week break then fair enough. But given Liverpool have Joël Matip, Dejan Lovren, Fabinho, Naby Keita, James Milner, Xherdan Shaqiri, Sadio Mané and Adam Lallana who you would say are all coming back from injuries of certain descriptions and need minutes under their belt, it's hard to believe that they, along with backup keeper Adrian need 14 days off and not 10 or 11.
Which brings me back to one of the other points made. Klopp is going to make 11 changes anyway.
And yes, that's very true. But let's briefly compare the line-ups against Shrewsbury, which would be similar in the second leg to the first, one might surmise, and the team that got tanked by Villa, which is likely to be the actual team we see now.
Liverpool XI v Shrewsbury: Adrian, Williams, Matip, Lovren, Larouci, Fabinho, Chirivella, Jones, Minamino, Origi, Elliott
Liverpool XI v Villa: Kelleher, Hoever, van den Berg, Boyes, Gallacher, Christie-Davies, Chirivella, Kane, Elliott, Longstaff, Hill
There may be a few additions to that latter side, as you would expect Jones to play, along with Larouci and Williams, but the difference level in quality is frankly staggering. Liverpool can put out an entire second string of their first team that would look something like:
Adrian, Williams, Matip, Lovren, Milner, Fabinho, Keita, Lallana, Shaqiri, Minamino, Origi
All players who are either getting back to first team fitness or just haven't had that many minutes for Liverpool this season. But that team would flatten Shrewsbury whereas the kids will probably lose.
Even a team of: Kelleher, Williams, Hoever, van den Berg, Larouci, Chirivella, Christie-Davies, Jones, Elliott, Longstaff, Hill is incomparable.
So Klopp is essentially sacrificing a domestic trophy that could hand Liverpool a historic treble to make a point.
If we get past Shrewsbury then fair play. Klopp will once again be proven to be smarter than I.
But to me, this decision appears narrow-sighted and looks set to cost Liverpool their chance at real history.