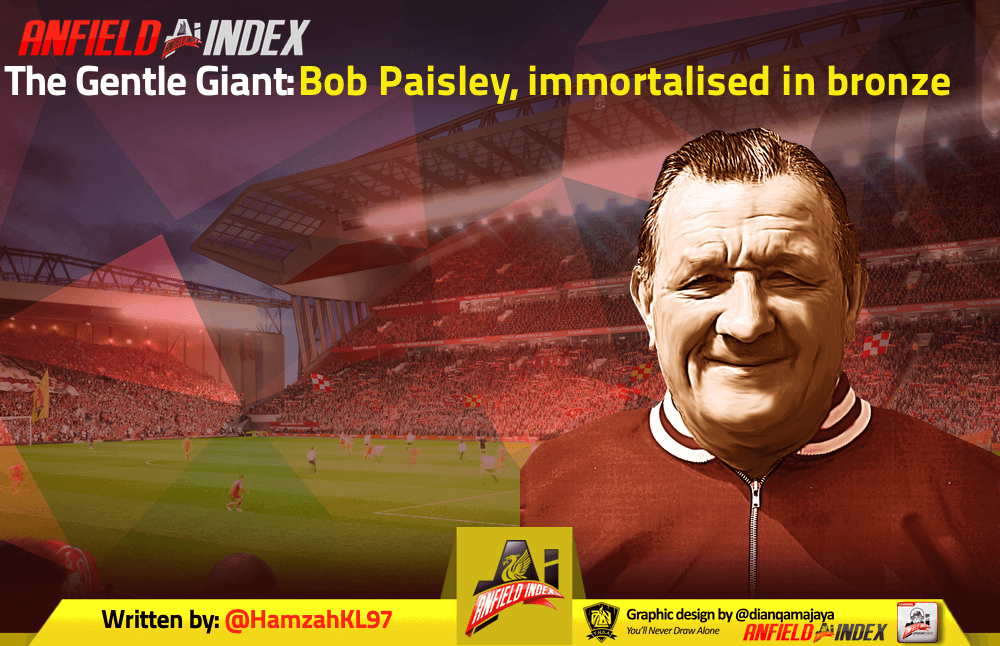 The Gentle Giant: Bob Paisley, immortalised in bronze
dynasty (noun.)
"a series of rulers or leaders who are all from the same family, or a period when a country is ruled by them"

– The Cambridge Dictionary
Spanish newspaper AS led with the headline, "eterno Liverpool", after the club won its sixth European Cup, in Madrid, last June. That achievement placed Liverpool third in European Cups won, behind AC Milan (6) and Real Madrid (13). Liverpool's greatest rivals, Manchester United have only half of Liverpool's European titles in their entire history, the same total as the man responsible for taking Bill Shankly's Liverpool team, and turning them into the best side the country had ever seen: Bob Paisley.
With three European Cups to his name, he stands alone as a British manager in that unique feat. Only Zinedine Zidane and Carlo Ancelotti have matched that record. Josep Guardiola and Jose Mourinho, two of the greatest managers of the modern era, only have two. In his last season at Manchester United, Jose Mourinho spoke about something he called "football heritage". Liverpool FC owes a great deal of its own "football heritage" to one man: Bob Paisley.

Paisley made his debut for Liverpool in 1946, an occasion that would mark the beginning of nearly half a century of service to the club he would win the league for, captain, and ultimately manage. Before management, he served as Bill Shankly's assistant manager. The assistant manager is perhaps one of the most mysterious and misunderstood positions in football clubs. The bridge between the players and the manager, the role requires emotional skill and an appreciation of the mechanics of the club, but unlike the manager who must detach himself in an emotive sense to achieve his goals, the assistant still must empathise and precariously balance himself as a friend and professional for both the manager and players. Paisley's contribution to Shankly's Liverpool side did not stop there though, he was the tactical mind to which Shankly would turn to. This was the man who curated a gorgeous, fluid and breathtaking style of playing football, elevated the game and the way it was played. He facilitated the genius of Dalglish and Rush. The latter, in an interview with LFCHistory, when questioned about Paisley reportedly saying the striker was close to leaving Liverpool said,
"Yeah that's true. I gave myself two years to get into the Liverpool first team. I played in the last seven games of my first season in the first team because Steve Heighway and David Johnson were injured. I thought I had done very well but the only problem was that I hadn't scored a goal. The next season I was back in the reserves. Heighway and Johnson were fit. I went to see Bob Paisley and told him I wanted to leave because I felt I deserved a place in the team. Bob Paisley said, 'Yeah, you can leave but the reason why you're not in the team is you're not selfish enough. If you had been scoring goals you had been in the team. No matter how well you played you didn't score goals. You can go on the transfer list.' As I was going out I said 'I'll show you I can score goals'.

"I scored 7-8 goals for the reserves and fortunately for me David Johnson got injured. Bob Paisley gave me a chance. I came on as a sub against Oulu and scored my first goal, scored two against Exeter City in the cup and two against Leeds United. As you say the rest is history, but later when you find out when I spoke to Bob Paisley, he never had the intention to put me on the transfer list. That's typical how Bob Paisley knew to get the best out of his players. Bob Paisley was very good at his job. If players wanted to sort out matters with Bob Paisley they could be in his office for an hour and the players come out happy. You ask them 'What happened?' 'I don't know.', they would say. They would come out really happy, but he still hasn't answered. That goes to show how good he was."
His expertise spanned far more than tactics, and understanding players: Paisley was a physiotherapist, and his unrivalled knowledge of the game, the players, the club and the city made him a bespoke and utterly magical fit, and to some degree explains to why he was as good as he was. But many a manager has had an intricate understanding of these aspects, perhaps not all of them, but it was Paisley's own unique ability which sets him apart from other managers. In the space of nine years, Paisley won nineteen trophies, most impressively six First Division titles and three European Cups. Between 1975 and 1984, Liverpool played 263 home games, losing only fifteen and featuring a remarkable 85 match unbeaten streak spanning three years.
Bob Paisley took Bill Shankly's team, and made it the best side football fans would see for decades. It was a phenomenon. From a side that, under Shankly, was the best in England, Paisley led his own team to undisputed and serial European Champions. Dalglish, Hansen and Souness joined after Liverpool's first European Cup success, and under the tutelage of Paisley and would become mainstays and legends in their own right. In the process, Paisley fought off competition from Nigel Clough's brilliant Nottingham Forest side, and established himself as the most successful manager the English game would ever see, with a win rate of 57 per cent. As he did so, he created memories between friends and families that would remain with them for the rest of their lives. He made the people happy. In what would become a dark time for the country, with industrial unrest, deep political divisions and challenges to the welfare and wellbeing of the people of Liverpool, Paisley was a shining light of hope, and one who provided a deeply needed catharsis in difficult times.
Alongside Joe Fagan, Ronnie Moran and Roy Evans, Paisley shaped Liverpool FC into the giant it is today. Very few people have ever defined and shaped any institution as much as Paisley did, and in many ways, fans today owe so much to this man.
Often, when considering great managers, the achievements of Sir Alex Ferguson will be cited, with his longevity and success examples of something that will never be repeated again. The truth is, since Bob Paisley, no manager has come close to the unprecedented success and glory he led Liverpool FC to, and no manager ever will either. Paisley stands alone, in achievements, yet such was his humble personality, he would never wish to be considered above his peers, to whom he attributed so much of the club's success. Liverpool fans knew he was unique though, and now, with the unveiling of an eight-foot tall statue, in Paisley Square, his remarkable achievements are immortalised in bronze.
Today, in his pre-match press conference, current manager Jürgen Klopp remarked,
"We are Liverpool and we have a proper history, the motivation is to reach that."
Even now, with one of the greatest football sides ever assembled, Bob Paisley's side shapes what we strive to achieve, and how the manager and the team contextualise themselves. Taking a great side, and moving from that to a dynasty is the most difficult of challenges, yet Paisley set the bar, and to a level that will never be touched.
A manager unlike any other. His commitment to his club personified in his bronze cast, forever carrying his injured teammate, Emlyn Hughes, on his back. The gentle giant, with the heart of a lion, and the legacy of Caesar.