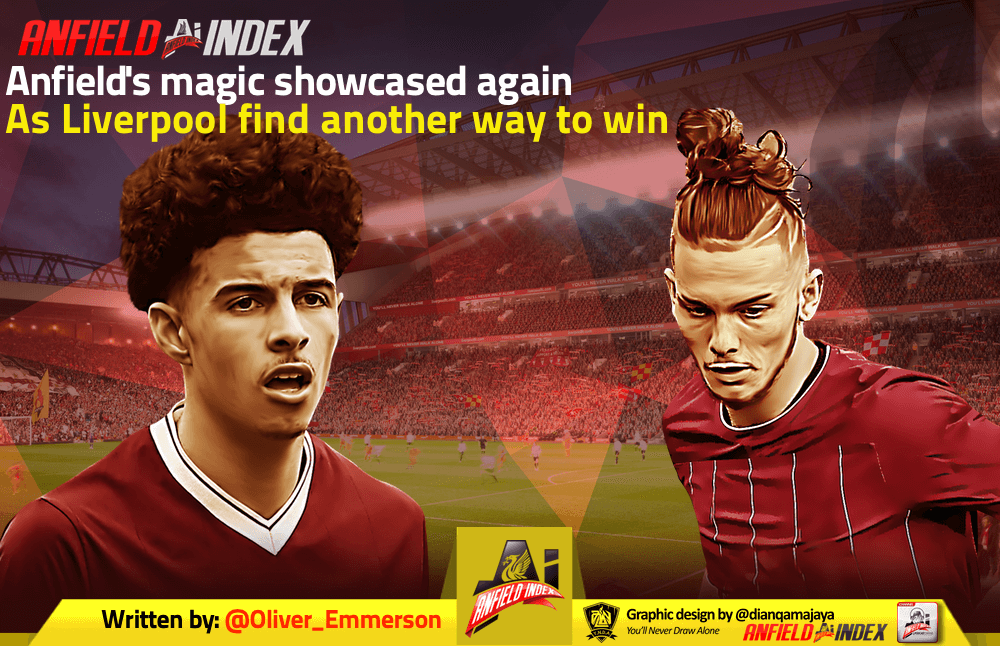 Anfield's magic showcased again as Liverpool find another way to win
What a night. We've had a few of those now, haven't we? Maybe none like this though.
Liverpool 1-0 Shrewsbury Town in an FA Cup fourth round replay isn't exactly a headline score when taken out of context, but oh the context involved in this one is quite something.
A Liverpool team where the oldest player was 22, with 19-year-old Curtis Jones the youngest captain in Liverpool's history. Against a League One side full of grown men, looking to seize the biggest chance of their careers. In front of a packed house.

Let's go into that one for a minute – a packed house! 54,000 people clambered inside Anfield and whipped up an atmosphere that your average 3pm Saturday kick-off would die for, all in aid of a bunch of lads, of whom only a few will clock up more than 10 league appearances for Liverpool over the course of their careers.
And in front of that packed house, they marvelled. From the get-go, the gap in technical quality between the sides was apparent, even more so given the crisp nature of the pitch. However, it was how Liverpool stood up to the physical test that impressed.
Keeping the ball for the first 10 minutes whilst the opposition get a feel for the match is one thing, but keeping the Salopians penned in for most of the 90 was a much trickier task, made possible by a huge improvement in the performance levels of Sepp van der Berg. Whenever Shrewsbury went long in an attempt to release pressure and build an attack, the young Dutchman was there to beat their attempts away, in a way that we hadn't seen so far in his short Liverpool career.
Partnering VDB (yeah, that's what we're going for) was his countryman Ki-Jana Hoever, who swept up superbly with a calm assurance whenever he was on the ball. Adam Lewis and Neco Williams put in fine impressions of Robertson and TAA at full-back, Williams somehow not getting himself on the scoresheet at the start of the second-half after a spell-binding move that ended with the Welshman getting in at the back post.
Shrewsbury's travelling contingent, having been held up by the traffic on their way to L4, were also made to wait for a decent attack by their team, only to find themselves putting the ball in the net on the hour mark, Shaun Walley heading in to spark mass jubilation (and a smoke bomb), all for it to be ruled out for an offside.
You'd be forgiven for thinking that the goal, even though it was disallowed, would have shaken the young Liverpool team. Pedro Chirivella would beg to differ, the 'experienced' 22-year-old anchoring Liverpool through a tricky period, allowing them to go back through the gears.
Harvey Elliott and Curtis Jones continued to threaten, despite the referee's seeming unwillingness to dish out yellow cards for the plethora of fouls against the pair. Jones especially stood out, again, looking far beyond his years as he took responsibility for attack after attack.
The hard work of that exciting pair and their young teammates eventually got reward, thanks to a deserved slice of luck, as another daring ball by Nico Williams was too hot for Ro-Shaun Williams to handle, the Manchester United academy product nodding the ball over his 'keeper and into the net.
And with that, Liverpool had their lead, 15 minutes to hold onto it. You'd imagine that it would have been the Liverpool kids that tired first, yet it was their Shropshire opponents that were pulling up with cramp, manager Sam Ricketts admitting post-match that they struggled to meet the physical test.
Joe Hardy was sent on for his debut, replacing the hardworking Liam Miller. Using everything he had in those 15 minutes, the striker put in a number of gut-busting runs to pressurise the Shrews defence, leaving them unable to build any real momentum in the final stages.
One final individual mention, for Caoimhin Kelleher, who produced his finest action of the match with a terrific claim as Shrewsbury launched a hopeful ball into the area. And with that, the game was done. Wild celebrations in front of the Kop followed, the Liverpool faithful adoring their youngsters just as they do their European Champions.
A special night, a kind of evening is rare for even Anfield. One that won't be forgotten.