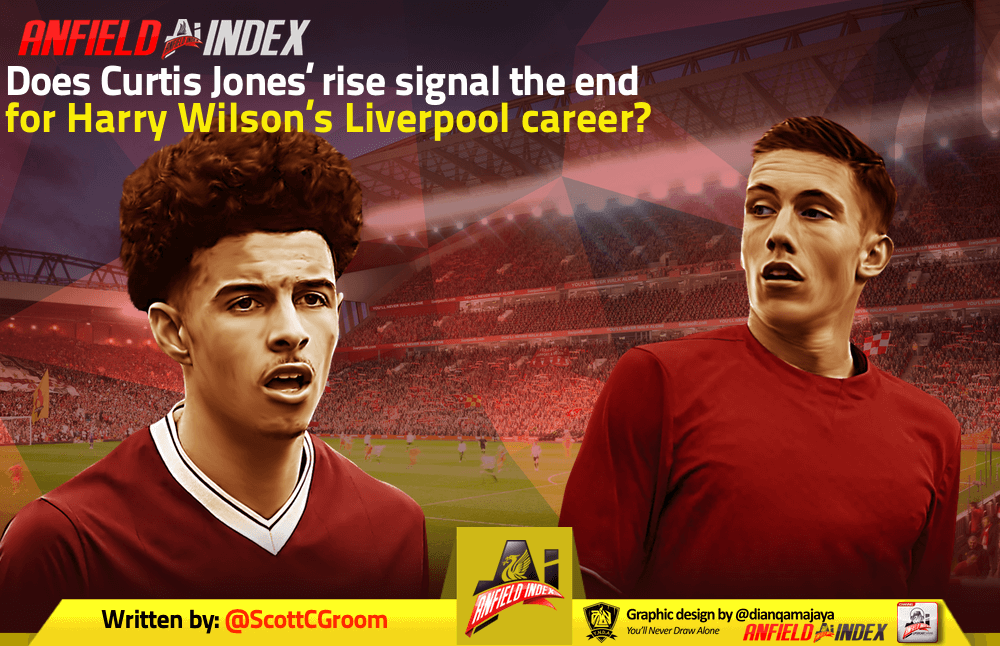 Does Curtis Jones' rise signal the end for Harry Wilson's Liverpool career?
Among his growing list of plaudits, 19-year-old Curtis Jones can now add captaining his boyhood Liverpool into the fifth round of the FA Cup after this week's triumph over Shrewsbury.
After long being touted as one of the many academy graduates who looks more than capable of playing a major role in the first team, Jones is now really starting to add fuel to that fire.
Jones has impressed in each of his three showings in the FA Cup this season, with intelligent movement, skill, vision, work-rate, poise and confidence that far outweigh his years. And let's not forget that wonder-goal against Everton in the third round.

All of this has earned him an even higher reputation than at the start of the season as one of the leading lights in Liverpool's youth system – and he looks increasingly likely to make the jump into becoming a fully fledged first team member.
While this is utterly thrilling and the prospect of another young Scouser coming through the ranks is brilliant, one player might not be thinking quite along the same lines.
That man is Harry Wilson.
The Welshman is currently on loan at Premier League strugglers Bournemouth and has impressed, with six goals in 21 appearances so far.
This is good form to say the least, but his nagging inconsistent nature that was his biggest criticism during his loan spell at Derby County is once again proving to be his Achilles' heel.
Given the amount of loan spells he's been sent on (he was at Hull for a while before joining Derby), it's tricky to see how much faith Klopp has in Wilson, especially considering he's already 22.
Jones has already been afforded more trust and responsibilities at just 19 and is showing more signs of living up to that promise early on in his senior career.
Klopp hinted at it being a decisive pre-season for Harry Wilson and his future was up in the air at that point, so what does Jones' further emergence do to his future?
Another loan season would hint that Klopp thinks Wilson isn't ready for the big time in his team, at least, and needed further experience elsewhere.
But for him to think that at Wilson's age is a concern, for me at least, as to how high Klopp sees his ceiling of potential.
This is made even more puzzling when you consider the likes of Harvey Elliott, Neco Williams and Curtis Jones are regularly being drafted into squads on match days, and it makes you wonder how and where Wilson would now fit into this without stunting the growth of the others, who are showing just as much potential as he.
But it also makes you wonder if the same fate awaits young Jones as what Wilson is currently doing. It is highly possible, although at this stage, Klopp seems to want to keep him closer to home.
Personally, I think this is because Klopp wants him involved for the reds sooner rather than later because he has an edge over Wilson in his raw ability.
What better place for Jones to ply his trade and earn his stripes while learning from the best in the business and some of the best in Liverpool history in the current squad.
If Klopp was thinking the same way about Wilson, he'd be back on Merseyside too.
But Jones is at home, has his feet under the table, and inadvertently in doing so, has put Wilson out in the cold.