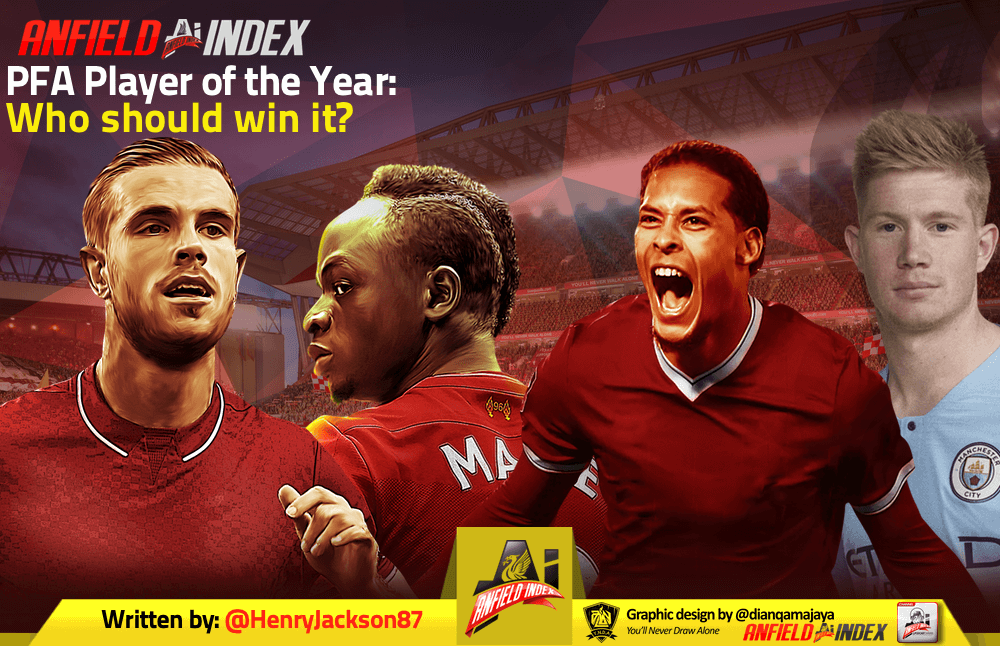 PFA Player of the Year: Who should win it?
The PFA Player of the Year award really isn't something we should fret over – it's just an award at the end of the day.
Us football fans are not logical human beings, however, so it should be no surprise that it is dominating topics of conversation while the Reds dismiss everyone that stands in their way.
It would be boring if we had nothing to argue about, wouldn't it?

First thing's first, a Liverpool player will surely take home the PFA Player of the Year and Footballer of the Year awards later in the campaign, given what the Reds have achieved.
To drop just two points by the time February comes around is almost impossible to comprehend – if Celtic were doing this it would be hugely impressive, but to be achieving it in the Premier League is something else.
Ignore the hilariously bitter remarks from rival fans about this being the 'worst league ever' – this is a truly generation team producing greatness on a football pitch.
In terms of non-Liverpool players in the mix to take home the end-of-season awards, Kevin De Bruyne is the only individual worthy of a mention.
The Man City creator supreme has been fantastic for much of the campaign, registering 15 assists in the league, as well as chipping in with seven goals.
He is the best midfielder in the world, in my opinion, and one of the few footballers who could take this Liverpool team to even greater heights.
De Bruyne shouldn't win PFA Player of the Year, though, but who should?
This has been a remarkable season at Liverpool – perhaps the best in the club's history come May – with a vast array of individuals performing superbly.
Brazilian pair Alisson and Fabinho have been colossal when at the peak of their powers – Alisson currently, Fabinho in the autumn – but long-term injuries have put paid to their chances.
Joel Matip was in the best form of his career before an injury of his own, while Joe Gomez has been impeccable since replacing the Cameroonian. Neither have played regularly enough to justify winning the prize, though.
Andy Robertson has been typically consistent and influential at left-back, prior to a slight dip in the New Year, while Gini Wijnaldum has excelled in his own way inimitable way.
At times, the Dutchman has been as tactically-sound and important as anyone, but just one goal and not a single league assist are proof that naming him Player of the Year would be going a step too far, even if that is far from his primary job.
Mohamed Salah has been back to his devastating best in recent weeks, leading the scoring charts for Liverpool and tearing opposition defences to shreds.
His all-round game hasn't always been on the money this season, however, whether it be his touch, his choice of pass or a penchant for being too greedy.
Salah is a world-class player, and between now and May I think he could be as good as anyone, but he has been a slight step down from the main contenders, with the same applying to the brilliantly unique Roberto Firmino, who has thrived since scoring the winner against Flamengo in the Club World Cup final.
Essentially, there are four Liverpool favourites who deserve to make the final cut: Trent Alexander-Arnold, Virgil van Dijk, Jordan Henderson and Sadio Mane.
Alexander-Arnold is an outrageously gifted footballer who is almost redefining the role of a right-back, particularly in terms of English players in that position.
The 21-year-old has laid-on 10 assists in the league and his technical quality, energy and consistency down the right flank have been a joy to watch.
On top of that, Alexander-Arnold has produced the best individual performance of the season so far – a masterful goal and assist-laden display away to Leicester City on Boxing Day.
Van Dijk has been every bit as good as he was last season – a year in which he won PFA Player of the Year and also finished second in the Ballon d'Or vote.
The reason the Dutchman isn't earning more acclaim is that this is the norm these days – a world-class performance is simply accepted as par for the course.
That isn't fair, of course, and Van Dijk merits being showered with exactly the same amount of praise as he was at this stage 12 months ago.
Then there's Henderson, who has jumped from 200/1 to the 5/4 favourite to be named PFA Player of the Year – a potential achievement that would have felt impossible in years gone by.
It shouldn't be forgotten that the Liverpool skipper made a sluggish start to the season, but from the moment he equalised against Tottenham in October, he has reached an outstanding level.
Not only is Henderson now producing the goods in the final third more regularly – two goals and two assists in his last three appearances – he also filled the huge void by left by Fabinho in the No.6 role, at a time when few wanted him in that position ever again.
His leadership has been the best it has ever been, with Henderson carrying an aura on the pitch, dragging his side through games and showing freakish levels of energy and desire.
Mane rounds off the main nominees – it is so important that his current absence through injury doesn't mean his previous impact gets forgotten about.
Before Christmas, the 27-year-old was Liverpool's star man and I firmly believe Lionel Messi was the only player in the world having a greater impact on his team.
It felt like Mane wanted the Premier League title more than any other squad member, and as much as the many millions of Reds fanatics across the globe.
Thirteen goals and seven assists, with some of his strikes season-defining moments – Aston Villa away, in particular – the Senegalese is an extraordinary talent who is rightly in the mix for the awards.
Statistics may point towards Salah being better this season, but in terms of how polished his game has been, and the moments in which he has delivered, Mane is on another level.
There can only be one winner from all of those mentioned above, however, and when you weigh everything up, the correct answer has to be Van Dijk.
While everyone has either had a dip or an injury at some point, the 28-year-old has played every minute in the Premier League, performing at a faultless level.
He is the man who holds this Liverpool team together more than anyone, and the player the Reds could least do without for a long period.
Van Dijk isn't only the world's best centre-back currently, but one of the finest of his generation. I would go one step further and say that he will be one of the best of all time in his position, assuming he retains this level for four or five more years, avoiding serious injury at the same time.
My money would be on Henderson to win PFA Player of the Year, though, given the respect he has among his peers, but I tip Van Dijk to take home Footballer of the Year.
It is all inconsequential compared to how Liverpool function as a team with all these star names, of course, but it still makes for an interesting debate.
Who would your PFA Player of the Year award winner be?