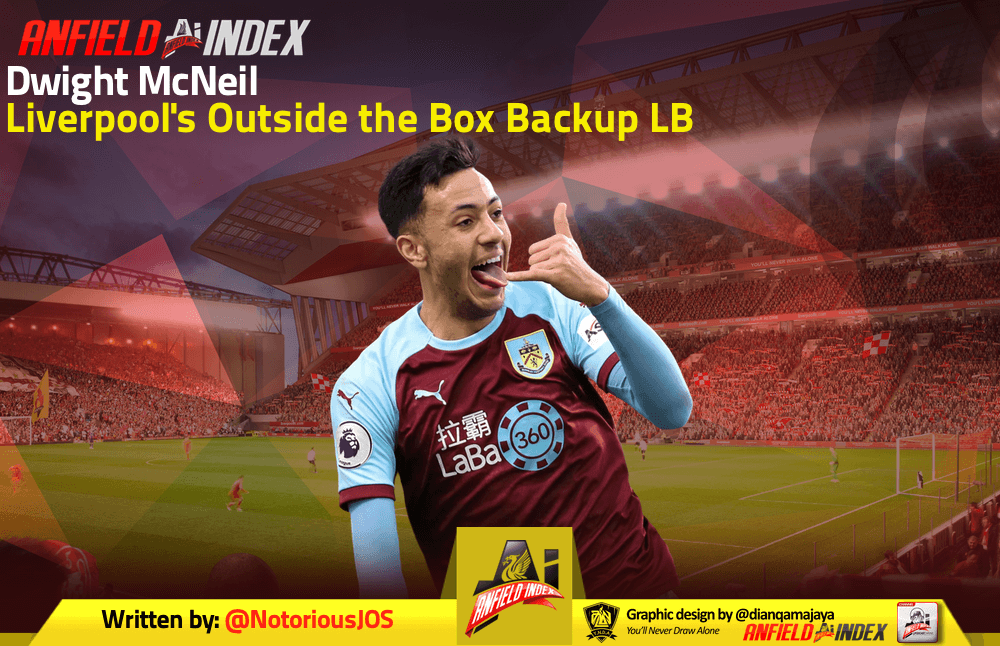 Dwight McNeil Liverpool's Outside the Box Backup LB
Looking at Liverpool's squad, it is clear to see that the Reds aren't afraid to think outside the box when developing players into new tactical roles.
After all, Georginio Wijnaldum, Trent Alexander Arnold and Roberto Firmino — three of the European Champions' most important players — either signed for the club or played their formative years in different positions and or roles than those they now occupy in Jurgen Klopp's juggernauts.
Wijnaldum, who operated mostly as an attacking midfielder — with Feyenoord, PSV Eindhoven and Newcastle United — has been converted into an all encompassing, tactically astute midfielder whose ability stretches much farther than just providing attacking thrust from midfield.
Alexander Arnold, noting that there was an easier pathway into the first team at right back rather than the backlogged engine room, developed from a central midfielder into arguably the premier right sided full back in world football.
Firmino, who excelled in the Bundesliga with Hoffenheim as a second striker and or attacking midfielder, was tasked as being the spear head of Klopp's attack, moving to the number 9 position and proving to be a brilliant facilitator for Mohamed Salah and Sadio Mane. The Brazilian, known for his insatiable appetite for work, is also an extremely effective first line of defence in the Reds high octane, counterpressing system.
Liverpool could repeat this trick again and in their quest to fill the one area in their squad that they do not have quality in depth: back up left back.
Andrew Robertson is rightly regarded as the best left back in the Premier League, but the Scotsman rarely — due to a lack of a left back rotational option — gets a break and this almost incessant level of football could eventually lead to both an injury and fatigue induced drops of form.
To his immense credit, James Milner has been a solid back up left back in the past, but the midfielder, who is right footed and not overly quick, can often stymie the Reds' attacking flow by having to check onto his stronger foot to cross and this is not ideal for a team who, more often than not, are dominating games and manufacturing a high number of attacking openings.
To fill this vacancy, the Premier League table toppers should turn their attention to Burnley's Dwight McNeil.
The 2o year Englishman, who spent his youth career in the academy of Manchester United, has played on 25 occasions for Sean Dyche's Clarets this season and has notched one goal and plundered four assists for the 11th placed Turf Moor side.
Playing as a left winger in Burnley's deep sitting 442 shape, McNeil is noted for his crossing ability, contributing — per Understat — 0.21 expected assists (xA) per 90. Although the crosses, which are usually aimed long and high at the heads of Chris Wood and Ashley Barnes, are different in style to those played by Robertson and Alexander Arnold — quick, low and arching — at such a young age, the Englishman can work on honing this ability.
The rudimentary style of Burnley is a world away from the slick passing, quick transitioned and skilful style of the Reds, but in McNeil there is a player who could potentially adapt.
From a positional viewpoint, playing as the left winger for the Clarets — who typically employ two deep sitting blocks of four in their rigid 442 composition — isn't wholly different as playing as a left back for Liverpool. Andrew Robertson, due to the dominance and style of play of the European champions, invariably plays high up the pitch and is, for all intents and purposes, a left winger.
Standing at 6'0 McNeil can, hypothetically, hold his own in aerial duels and given the effectiveness of the Reds press, the aerial route is often an area where teams — who have their passing lanes and options cut off — try and target Liverpool's full backs.
A player never plays in a game alone, and the England U21 international's potential development into a left back would be aided by the other players who would share the left flank with him.
There is no better centre half in world football than Virgil van Dijk, with the ludicrously talented number 4 dominant in all aspects of defending. Additionally, the Dutchman is a vocal leader and organiser and would be the ideal left sided defensive foil for any player learning a new role on the fly.
Ahead of the left back — on the left side of the midfield three — is the aforementioned Wijnaldum, whose spatial awareness and tactical intelligence has allowed Robertson to become the attacking force he is, without leaving Liverpool susceptible to the counter attack.
Furthest ahead, on the left hand side of the Reds' renowned front three, is Mane. The Senegalese star is no stranger to dropping deep to help team-mates out and the defensive shift he put in against Barcelona in last season's Champions League semi final is the stuff of Anfield legend.
With Brexit potentially placing quotas on the number of British players in Premier League squads, Liverpool could kill two birds with one stone in acquiring McNeil.