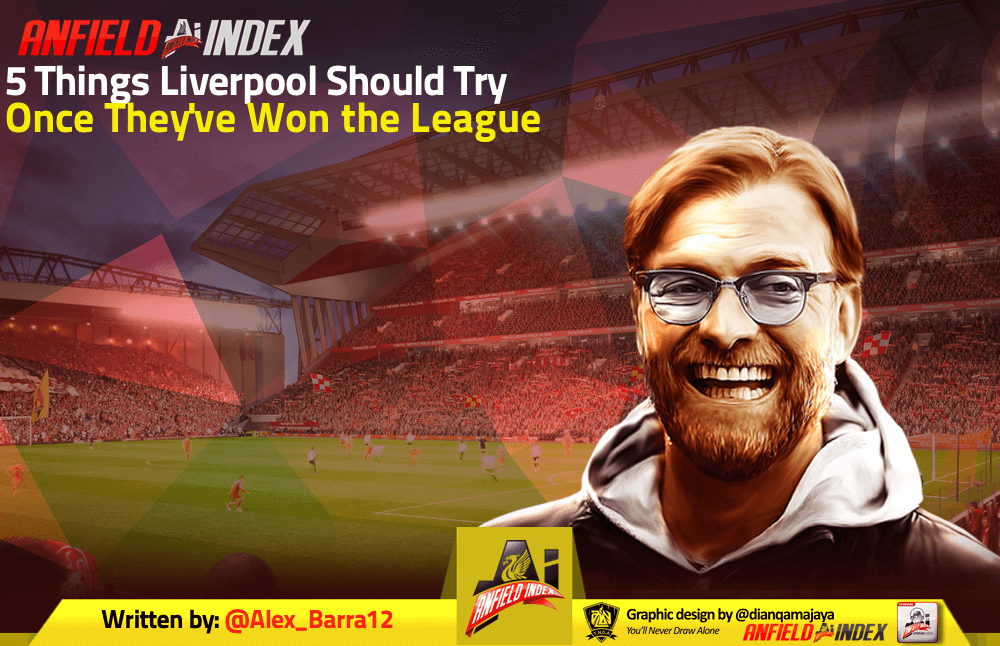 5 Things Liverpool Should Try Once They've Won the League
It feels surreal, really, given absolutely no Liverpool fan is willing to actually say the words. You know the ones. The ones in the title of this article. Liverpool. Premier League champions. It all feels like a huge joke, really.
Then the numbers hit you. An unassailable lead. Not borne out of logic, but of history: no team has ever had a twenty-two-point lead in Europe's top five leagues. This Liverpool side are the most feared in the world at the moment, still going strong in three competitions. European Champions, Club World Champions and English Champions elect.
Of course, the next priority is to keep winning. An invincible season is certainly on the cards and would be the exclamation point on an otherwise already emphatic season. But, should Liverpool slip up after the title is won, then how could they entertain the Reds' supporters?
Put Virgil on free kicks
Everyone knows the video. It was circulated like the Black Plague circa. 14th century when the signing of Virgil van Dijk was announced in late December of 2017. The big, domineering centre half absolutely thwacking a glorious free kick into the top corner for Celtic.
It wasn't a one of a kind incident, either– he scored two in two games (against Hibs and Dundee) in 2014. And it's not like he's rusty – here he is joining Trent Alexander-Arnold, Xherdan Shaqiri and Bobby Firmino for free kick practice at Melwood last year.
Though, as the video shows, van Dijk may face some stiff competition from his partner in crime Joe Gomez. Just imagine the two of them standing over a free kick, completely confounding everyone in the stadium, before the ball arcs perfectly into the top corner.
Bring Kolo Toure Back
The great tragedy of the 2013/14 "debacle" as it will now be known was not, as one may expect, Steven Gerrard seeing his last chance for a Premier League title slip through his fingers. Nor was it the incredible goalscoring efficacy of Luis Suarez going to waste.
It was, in fact, Kolo Toure missing out on winning another Premier League title at a third club, something which would've put him in the history books. 10 players have won the Premier League with two clubs, but none have ever done it with three. Kolo would've ascended above names such as Ashley Cole and N'Golo Kante.
He was a cult hero for a reason: despite somehow inverting the laws of gravity with an incredulous own goal against Fulham, he really does deserve that third Premier League title.
He's currently on Brendan Rodgers' coaching staff. Surely Brendan would understand.
Play Dejan Lovren Up Front
It's safe to say that Dejan Lovren's long-term experiment with playing as a centre half hasn't gone all that well. Sure, he was a staple in the back four for a while, but he also caused as many heart attacks as high blood pressure and regularly made himself look foolish.
However, look closer at Lovren and one may see a prolific striker just waiting to be unleashed.
Think about it; his best trait is his effectiveness in the air, and he's proven time and again that he knows where the opposition goal is. He might not know where his own is, at times, but that's a minor thing for a striker. He comes up in the big moments: when none of Liverpool's attackers looked like getting the equaliser against Napoli, Big Dejan came up big.
He's not great at stepovers, but that's fine, neither was Christian Benteke.
Play the Under-15's against Chelsea in the FA Cup
This is probably the only one of these that's bordering on the "likely" side.
Everyone knows what Klopp thinks of the domestic cups. His tried-and-true method of sending out the "kids" worked tremendously well against Aston Villa. But Shrewsbury foiled his best laid plans with an unfortunate own goal.
So, with Chelsea next, there's nothing left but to send out the Under 15's. The FA probably won't be happy, but if Klopp gets his way they won't have to deal with Liverpool again this season, so it'll be fine.
For Heaven's Sake, Build an Understated Divock Origi Statue
He deserves it, doesn't he? The man only scores goals when the occasion is beyond dramatic. Sending out Barcelona was one thing but scoring the sealing goal in the Champions League final and celebrating like he's just netted the fourth in a substitute appearance at West Ham truly consecrated his legendary status at Liverpool Football Club.
Just make sure the statue isn't too animated. For Divock Origi to be truly immortalised in time, he needs to look like he'd rather be on the couch watching Bake Off and all this football stuff is getting in the way.
Obviously very little of this would happen, but it'd be fun, wouldn't it? Then again, next few months will be full of revelry anyway, so none of it particularly matters.
Thanks for reading, though.