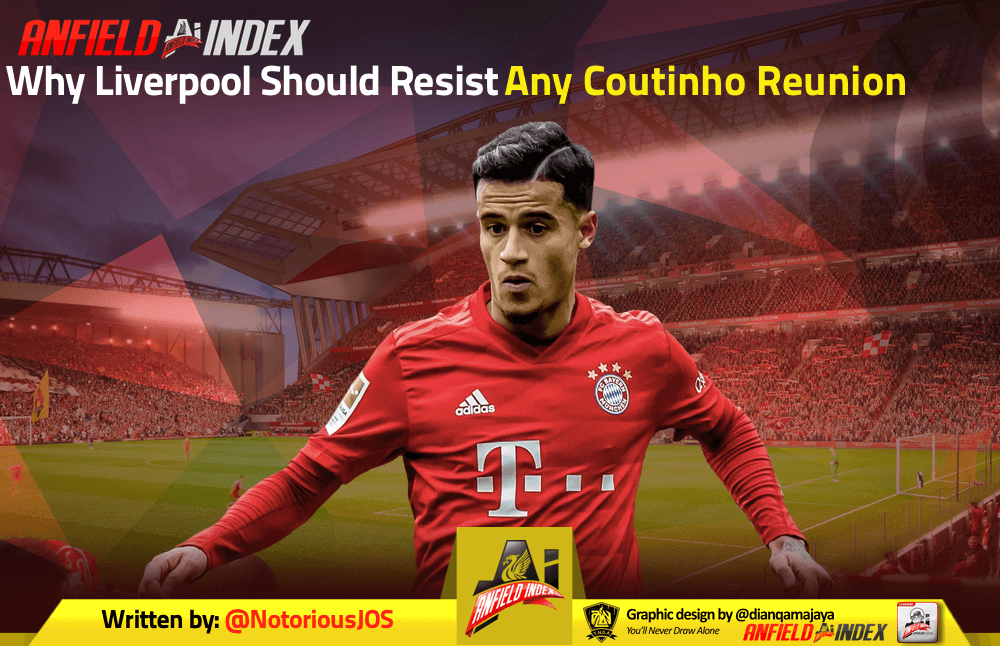 Why Liverpool Should Resist Any Coutinho Reunion
Liverpool should resist the temptation to sign Phillipe Coutinho next summer.
According to reports in Spanish publication Mundo Deportivo, Barcelona will look to cut their losses on Coutinho in the next transfer window.
Since the Brazilian's acrimonious £142M departure from Liverpool in January 2018, the 27 year old's switch to Barcelona has been nothing short of an unmitigated disaster.
Struggling to fit into the tactical blueprint of the Nou Camp sides former manager, Ernesto Valverde, the attacking midfielder struggled to the extent that he was allowed to join FC Bayern on loan at the beginning of the season, after being unsuccessfully hawked around Europe all summer.
And, despite some noteworthy showings with the Bavarians — including home and away against Spurs in the Champions League — it now appears that they will not activate their €120M permanent transfer clause and the attacking midfielder will return to Catalonia this coming summer.
And now Barcelona, under the managerial stewardship of Quique Setien, will reportedly — per the aforementioned reports in Mundo Deportivo — accept offers as low as £67M for the 61 times capped Brazilian international.
A player of Coutinho's calibre being available relatively inexpensively has prompted debate among many Liverpool fans as to whether they would take the player — affectionately dubbed the "little magician" during his five year stint on Merseyside — back next summer.
For financial, tactical and squad morale purposes, however, Jurgen Klopp and co. should not sign the former Inter Milan player.
Firstly, spending that much money — without even factoring in the presumable high wages he would demand — on a player who will turn 28 in June is the antithesis of FSG's transfer policy; one which has served the Reds to extent that it has brought them from the drifting obscurity of scraping top half finishes to winning the European Cup.
With Virgil van Dijk and Alisson, two bona fide game changing signings in what were previously problem positions, being the exceptions, Liverpool will typically only look to spend big on players in their early to mid 20's. Signing footballers of this age profile gives the club the protection of resale value.
If a transfer doesn't work out, clubs can at least expect to recoup some or all of their money back because it is more likely that other teams think they can improve a younger player; who, after all, is more malleable to coaching and new tactical ideas.
With Coutinho, you would struggle to think of a club — except, perhaps, PSG — who would take the Brazilian off Liverpool's hands if any hypothetical switch to Anfield materialised and the former Vasco Da Gama academy player failed to live up to the lofty expectations pinned on him for the third big move in a row, after not hitting the heralded heights in both Barcelona and Munich.
Coutinho is a brilliant footballer, there can be no debate. But that talent alone doesn't mean he will succeed wherever he goes, as evidenced by his failed stint at Barcelona.
Whether a player fits into a team's tactical blueprint trumps their natural ability in terms of importance and, despite playing the best football of his career under Klopp, Coutinho is not an ideal fit for the European Champions' well calibrated machine.
After the Brazilian's move to Barcelona, Diego Torres — a reputed Spanish journalist — wrote that Klopp was shocked that the Los Cules were prepared to pay so handsomely for Coutinho. The midfielder's physical limitations meant he was never ideal for the Reds' system or, as earmarked, to replace Andres Iniesta at the Nou Camp.
Torres said:
"Explosive and decisive in short spaces, Coutinho lacked the heart and lungs to perform consistently in the great spaces of the midfield. In the physical tests that simulated situations of the game, after two sprints of 60 meters Coutinho could not recover without remaining half a minute completely stopped. Too much, given the tactical demands. With the emphasis on permanent dynamism, Klopp discarded Coutinho to integrate the midfield in 4-3-3. Even when he placed it as an end, he found that it disengaged in the folds. During several days he tried a 4-2-3-1 to place him behind the point, with a smaller radius of action to avoid suffering. If he played as a second point he could stay off the hook without generating serious imbalances, while the rest of the team was ordered 20 meters back. But the 4-2-3-1, in Klopp's opinion, did not allow the team to occupy the spaces in the most efficient way possible.
"Barça's first offer for Coutinho amounted to 60 million euros, about a year ago. Klopp's reaction was perplexing. He thought that Barcelona had the three attack squares covered with Messi, Suarez and Neymar.
"When they told him that [Josep] Bartomeu would sign [Ousmane] Dembelé to replace Neymar and offer more than 100 million for Coutinho to act as relay for [Andres] Iniesta, his amazement broke into hilarity. According to an employee of the English club, Klopp was blunt: "Coutinho is a fabulous forward but he will never feel comfortable in 4-3-3 as an inside; and much less if he has to play in the post of Iniesta in the 4-4-2 that [Ernesto] Valverde practices in the defensive phase, where the longer runs should be done by the wings. Iniesta is a long distance runner. Coutinho no."
With Sadio Mane a superior left sided attacking player in a 433 and the apparent reservations Klopp has over the Brazilians suitability to play in a midfield three, Liverpool would have to chance tact — ie, switch to a 4231 — to fit Coutinho into their team.
But why would a side who, if their current form carries, can break Premier League records alter a winning system to fit in a player whose departure facilitated their marked improvement over the last 18 months?
And there is no way the prudence and financial acumen that has seen Liverpool's owners transform the club off the pitch would allow the £67m purchase of a player who will be used as a rotational option.
Players sometimes want to move clubs; especially, like in the case of Coutinho, when their previous club isn't their boyhood club and they do not have a natural, fan like affinity with it. That is a fact of life.
Latin players will almost always have a move to either Barcelona or Real Madrid as their idyllic destination, should the chance arise. So, it is hard to blame Coutinho for wanting to move to the claret and blue La Liga powerhouse and team up with arguably the greatest player of all time, Lionel Messi.
But there is a way to go about moving club and the Brazilian let himself down badly when he tried every dirty trick in the book to facilitate his move to Barcelona.
Coutinho feigned injury and leaked his intention to leave Liverpool to the press on the eve of big Champions League matches, a tactic which could have put a spanner in the works of preparation for big games, if it wasn't for the fact Klopp is a world class manager who is well versed in keeping his players' focus absolute.
Should the diminutive attacking midfielder even re-sign with the club, it would set a bad precedent, especially for the younger players. It would suggest that selfishness and putting individual ambitions over those of the team is acceptable.
Liverpool look set to win the Premier League and could well retain their Champions League crown and perhaps even the F.A. Cup. All of these successes were achieved without Coutinho and any future trophies should also come without the Brazilian, a player they evidently don't need.