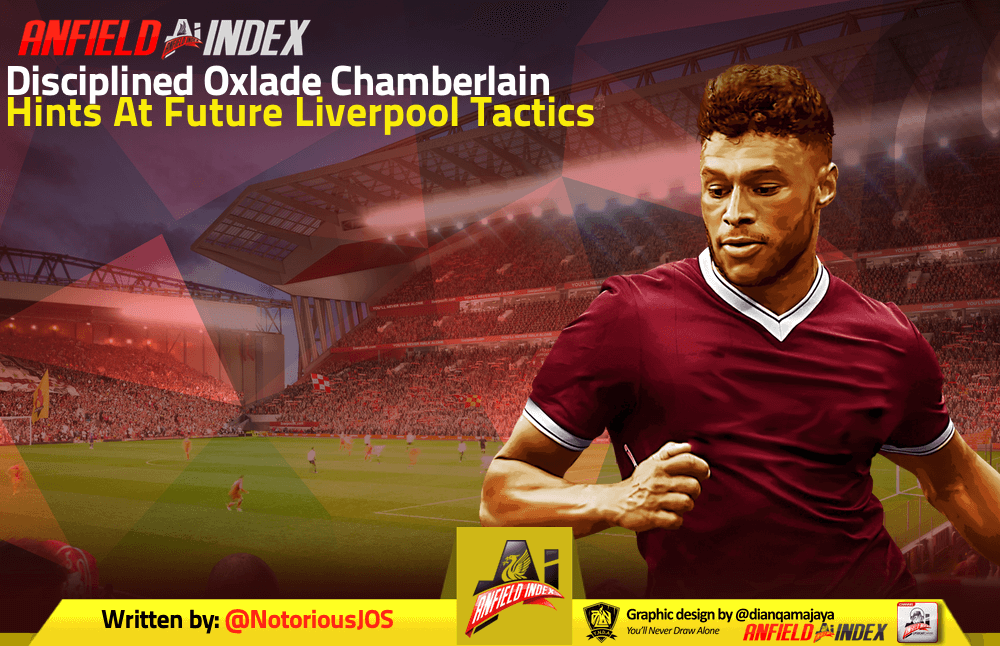 Disciplined Oxlade-Chamberlain Hints At Future Liverpool Tactics
When you think of Alex Oxlade-Chamberlain at Liverpool, the word power quickly comes to mind.
Formerly a winger, the English international — after a couple of months settling into the demands of a Jurgen Klopp midfield — made a big impact with the Reds in the opening months of 2018.
Manchester City at home in the Champions League quarter final of 2018 was a brilliant exhibition of Oxlade-Chamberlain's skillset, fully highlighting his mix of powerful athleticism and technical refinement.
An excellent performance of bustling pressing and quick transition running was capped when the 26 year smacked a long distance drive past Ederson to double the would be finalists' lead on the night.
It wasn't a flash in the pan either as the former Arsenal man followed up with another excellent performance in the away leg at the Etihad; where he contributed a key pass, with the outside of his foot and up the guts of City's defensive structure, before Mohamed Salah's goal.
After whetting the appetite of Liverpool fans with his big games performances — which also included a goal in the Reds' 4-3 victory over Pep Guardiola's men at Anfield in January — Oxlade Chamberlain's season was so cruelly ended by a horrendous knee ligament injury against Roma in the European Cup semi final.
In total, the injury absentee saw the former Southampton academy player miss over a year of action, only returning against Huddersfield Town in April 2019.
Banking a full pre season and, despite a few minor fitness hiccups here and there, the England international has reestablished himself in the Reds' midfield, but playing in a different manner than before; one that could hint towards Klopp employing a different formation this season.
Although the same bursts of bloodyminded ball carrying are still there — take his goal away at West Ham, for example — Oxlade-Chamberlain now plays a more defensive, considered game than before. Showing the kind of tactical nous and positioning that could see him transition into a midfielder playing in a double pivot in a 4231 formation. For comparison, see Georginio Wijnaldum's conversion from an attacking midfielder into the glue that holds the European Champions' midfield together.
Per 90 this season, the Englishman has recorded 1.45 interceptions a game, as well as 6 ball recoveries, 3.74 of which come in the middle third. These statistics paint the picture of a midfielder — either by design or by his injuries limiting his ability to physically dominate big spaces like he could previously — who has adapted his game.
With Liverpool being liked to both Timo Werner and Jadon Sancho, many Reds' fans have wondered how the Anfield side could fit the two Bundesliga flyers — as well as the incumbent front three of Salah, Sadio Mane and Roberto Firmino — into the same team.
The answer is 4231, the shape Klopp used during his successful stint at Borussia Dortmund and in his first season with the Merseysiders.
Hypothetically, the Reds could line up with Salah in the number 9 berth with Firmino off him in the attacking midfield role. Then, on the flanks, Mane, Sancho and Werner could compete for two spots with Takumi Minamino also capable of playing anywhere in the attacking midfield strata or forward line.
With the African Cup of Nations reverting back to being held in the middle of the season and the rumours that Salah will play for Egypt in the summer's Olympic games, the defending European Champions could well be without two thirds of their attacking trident for large chunks of next season.
With justified questions being asked about Xherdan Shaqiri and Divock Origi's capability to fill in for Salah and Mane for an extended period of time, there has been calls for the Reds to invest in more attackers. But you can't — nor Liverpool will — sign players to act as temporary fix. And Oxlade-Chamberlain's potential tactical switch could help solve a potential problem of keeping five quality players happy and with sufficient playing minutes.
Naby Keita and Fabinho both played in similar midfield shapes at their previous clubs, RB Leipzig and Monaco, and Jordan Henderson and Wijnaldum have both showed they can function well in a two man engine room. That means that the only midfield player — excluding James Milner, whose future will probably come as versatile bench cover — who has no history of thriving in a double pivot is Oxlade-Chamberlain.
But the signs are there that the powerhouse midfielder can play that role now and that could be good news not only for him and his first team prospects, but also the club's squad depth, allowing Liverpool to rotate their squad full of quality, versatile players.