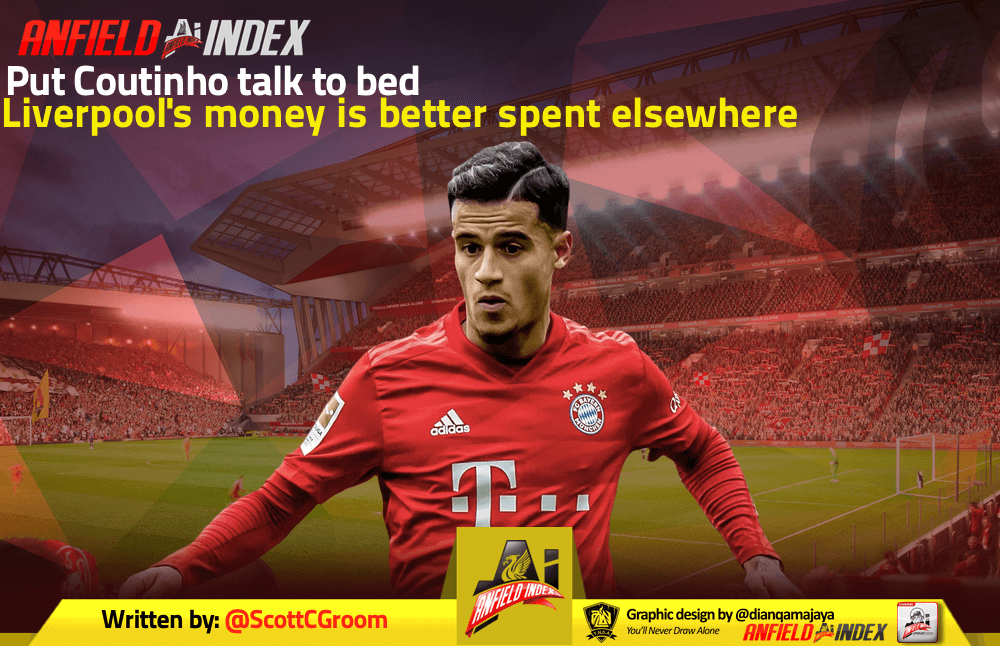 Put Coutinho talk to bed, Liverpool's money is better spent elsewhere

Every time a transfer window has rolled around in the last two years, there a certain buzzwords that just keep cropping up.
It's like Groundhog Day to an extent, with the same reoccurring themes.
Some are more exciting than others, like Liverpool reportedly seeking out the services of Timo Werner, Jadon Sancho and possibly Julian Mbappe.
But then some topics make it feel more like a reoccurring nightmare; namely the mention of the name of former number 10, Philippe Coutinho.
Once more, the Brazilian's name has been touted in the press as his spell at Bayern Munich looks destined to yield very little, and his time at the Camp Nou seemingly drawing to an end.
So inevitably, he's been linked with a return to Anfield in what would be, not just in a footballing sense, but a financial and personal one too, a sensational move.
But in all honesty, it's not going to happen. And in all honesty, Liverpool don't need it to happen.
The Reds were on the verge of something great when Coutinho chose to move to Barcelona in 2018, and now the hard work of everyone at the club is paying dividends as the reigning European champions edge ever closer to a Premier League title.
Their attack is feared, defence is imperious and midfield in unrelenting, but nothing is ever perfect and Klopp will undoubtedly look to strengthen his squad in one or two areas at the end of the season.
If previous seasons are anything to go by, he and Michael Edwards have probably already got something in the pipeline.
And while there may be an attacking player in their consideration (if present rumours are to be believed, it's Sancho), Coutinho isn't and shouldn't be one of those.
The history behind his story, his age and the fact that his blip in form might not be so temporary don't make him an appealing move. For the player you're getting, it's still a heft transfer fee.
While Sancho would reportedly cost Liverpool somewhere in the region of £100 million, it's more of an investment in one of Europe's most talented and exciting forwards who is only 19 and so likely will improve even more. Rather than an acquisition like Coutinho would be, Sancho is an investment in the future.
Going after Coutinho would limit Liverpool's pulling power to sign a name like Sancho as it eats into the kitty and the wage bill, and Klopp won't allow himself to get embroiled in the potential romance of any return.
Even if a landmark signing isn't made, surely that £77 million that is reportedly Barca's asking price for the Brazilian could be better spent elsewhere as well.
A deputy left-back and centre back would be useful while Larouci is still so young and Lovren looks set to depart. Shaqiri and Lallana also look destined to be plying their trade elsewhere next season, so another midfielder may be in order as you'd think Minamino will grow into the fold to not take Shaqiri's place (because he currently doesn't really have one), but to be that special player for rotation and to challenge the front three.
Then that'd probably leave some change knocking about, maybe around £50 million to potentially chase a deal for Timo Werner or someone of similar stature and value to be Roberto Firmino's understudy, as sometimes Origi performs better out wide or doesn't show up as a main striker.
All of these things make any kind of rumours surrounding Coutinho and an Anfield reunion so, so unlikely and just flawed based on the club's recruitment strategy.
Forgetting all of that, let's just remind ourselves of how Coutinho behaved in order to secure a move to Spain in the first place – because Klopp won't have forgotten.
Let's just put it to bed once and for all so we can all focus on the more important matters. He's not coming back and we don't need him back.