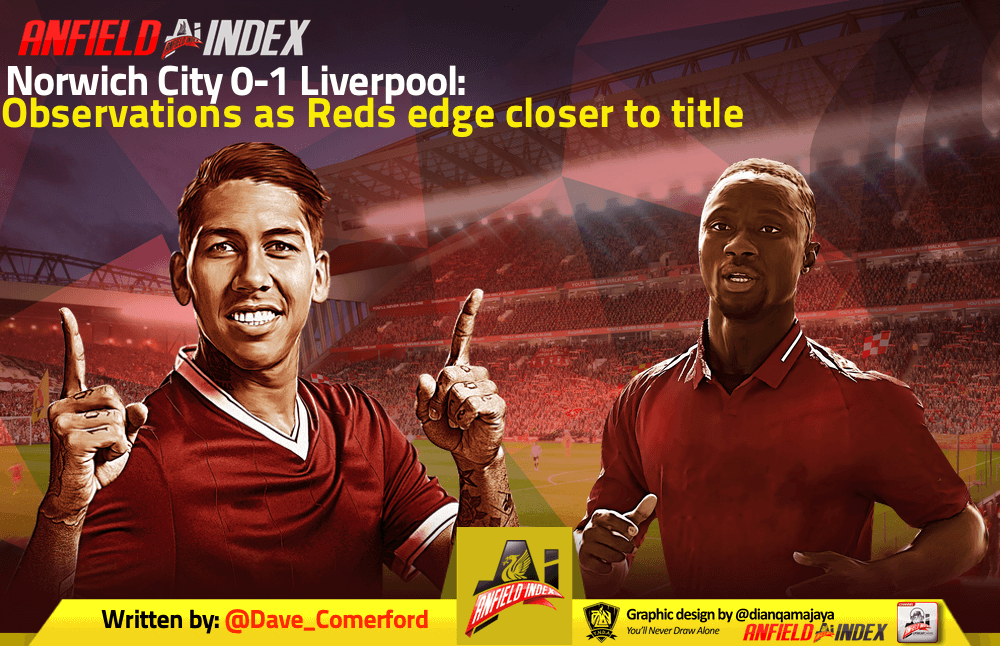 Norwich 0-1 Liverpool: Observations as Reds edge closer to title

Liverpool are just five wins away from Premier League glory after Sadio Mane struck the decisive goal against a doomed Norwich at Carrow Road.
The Reds struggled somewhat in the first half, but were utterly dominant after the break and eventually made it count just over 10 minutes from time.
A 17th win on the bounce continues the relentless march.
We are… inevitable
In the context of the 55-point gap between the two sides, Liverpool made hard work of this. The expectation was that they would cruise to a three or four-goal victory, but the finish line was beginning to come into view for Norwich before Mane's devastating finish.
Yet even at that stage, it seemed to onlookers that it was a question of 'when' rather than 'if'. Naby Keita had spurned a glorious chance, and the attacking play more generally lacked its trademark fluency – a marker, for any other side perhaps, of impending disappointment.
Curiously, though, this result never felt in doubt. Where once there was a creeping and costly frustration, there is now an assured patience. The goal eventually arrived for the 35th league game in succession, and it will only intensify the aura of invincibility surrounding this Liverpool team.
Multifaceted Mane
Mane's winner was his 100th goal in English football, and it was accompanied on Sky Sports' coverage by a fascinating graphic. He has now struck 27 times with his weaker left foot and, despite coming in at only five foot seven, he has scored 14 headed goals. This begs the question: how do you stop him?
I can say with confidence that he's a complete footballer. He's emerged in the last 12 months as one of the very best in the world, and is sure to be Player of the Year/Ballon D'Or contention yet again.
Henderson a pass master
Jordan Henderson's case in that POTY discussion has been boosted in recent games by a spate of headline moments, when typically he is more understated.
His assist here was his fifth goal contribution in his last four matches. It means he's laid on more goals for his team-mates this season (five) than he managed in the whole of the 2017/18 and 2018/19 campaigns combined (one and three respectively).
His long passing was particularly impressive throughout. He superbly picked out Mane for the goal of course, but earlier in the second half he produced an even better ball, a piercing fifty-yarder into the path of a charging Trent Alexander-Arnold, who had the space to send the ball into the area. In an instant, Liverpool went from pedestrian midfield play to one of their most dangerous situations. It was straight out of the Steven Gerrard/Xabi Alonso playbook.
Alisson's very particular skill
It's 10 clean sheets in 11 games for Alisson now, but we shouldn't lose sight of the fact that he's being made to work for them. He only had one save to make – and that came in the dying stages – but in the 36th-minute his vital intervention prevented Liverpool falling behind. He simply swatted the ball away from Lukas Rupp as he went to tee-up Teemu Pukki for an easy finish.
This isn't the first time an attacker has been heroically thwarted with Alisson at his feet. Think back to the 0-0 draw at Old Trafford last year, when Jesse Lingard tried to manoeuvre the ball around the grounded keeper only to have it snatched away. Usually these situations end in goals or penalties, but Alisson is no ordinary goalie.
In fact, we're about to witness a duel between the best in the world when Liverpool face Jan Oblak in the Champions League.
A key period for Keita
Naby Keita's display has split opinion, but there were grounds for real encouragement. He once again demonstrated the qualities that perhaps set him apart among Liverpool midfielders – bravery and invention. It's no surprise that he's found to be invigorating and frustrating in almost equal measure.
What's most important is that, from now until the end of the season, he avoids another injury setback. He's not been allowed to build real momentum since he joined, and a fairly consistent run in the side would bring out his best form. He has an important role to play in the hunt for a treble.