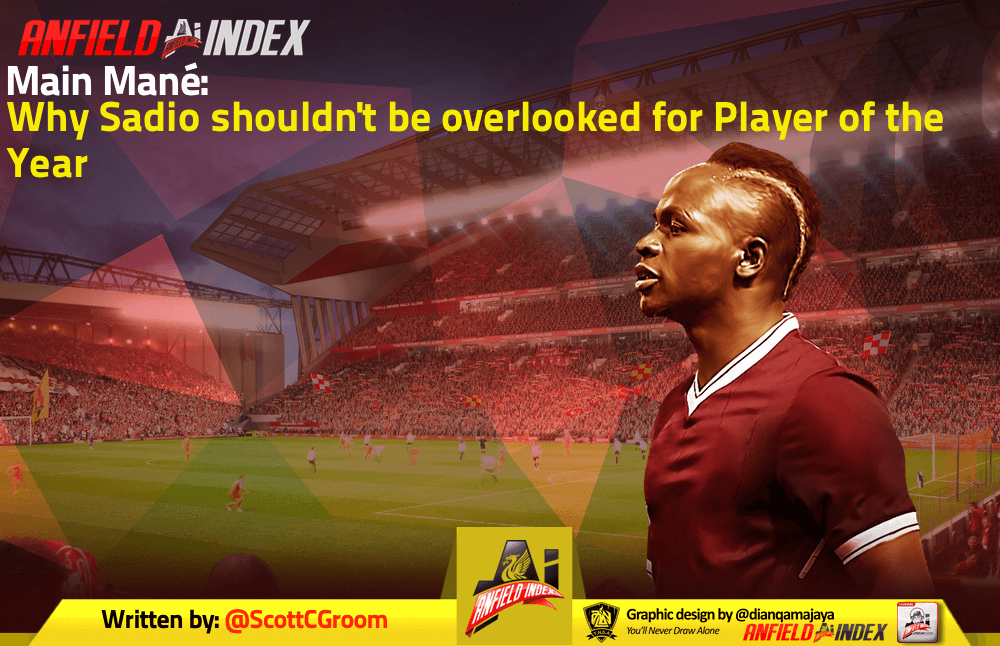 Main Mané: Why Sadio shouldn't be overlooked for Player of the Year
When Liverpool signed Sadio Mané back in 2016 for £34 million, many onlookers scoffed at the price tag.
I must admit, although I didn't quite scoff, I was unsure if the Senegalese was worth the hefty investment. He looked like a promising player, but I wasn't sure if he'd have the desired impact at Anfield.
Fast forward four years, and my scepticism couldn't have been more misplaced.

Liverpool's number 10 started off well with a stunning debut goal against Arsenal and has gone from strength to strength ever since, improving his game every season without fail.
He is now, quite rightly, one of the crown jewels in Klopp's Liverpool side and is the reigning African Footballer of the Year.
He has 14 goals and 10 assists to his name in the Premier and Champions League (make that 16 goals and 11 assists if you include the Club World Cup and the Super Cup).
His performances have been beyond all superlatives all season, with noted improvements being made in front of goal and in his defensive work.
So why aren't more people shouting his name in discussions about Player of the Year?
The accolade will almost certainly be given to one of the men in red this season, which in theory makes picking a winner easier – but it's not due to the amount of standout performers there are in this team.
Van Dijk and Alisson are rightly being thrown into the mix, and Jordan Henderson who is, like Mané, enjoying the best season of his Liverpool career by some way.
But what Mané's done and continues to do is be the difference for Liverpool when they need him the most.
On so many occasions this season, he has been the difference. I was at Anfield when the Reds beat Brendan Rodgers' Leicester 2-1 and Mané was flawless.
He scored a wonderful goal to make it 1-0, worked tirelessly in attack and defence, was a constant threat to Leicester's defence and in the end won the penalty that won Liverpool the game.
Look at the Norwich game from the weekend just gone. Liverpool dominating but toiling to make a breakthrough. With Mané's introduction, things changed, and it was fitting that he was the man to score the goal that made the difference – and what a goal it was, too.
If this wasn't evidence enough as to how good it is to have him back, how it underlines his importance to the team and how good he really is, then let me continue.
He's scored some priceless goals this season; when we were struggling to break through against Southampton away, when Newcastle pegged us back at Anfield and that dramatic 94th minute winner at Villa Park to name but a few.
Not only is he scoring freely and providing chances for his teammates to do the same, he's a constant thorn in the side of any defender he comes up against and he's done this so consistently all season. His form is frightening.
This is why he deserves and totally merits being involved in conversations for Player of the Year.
I'm not for one second downplaying the roles that Henderson, Alisson and van Dijk have all played in this most incredible of seasons, but Mané's impact has been more sustained and more important to this incredible run that Liverpool are on.
He is in the form of his life, and that's been recognised by his crowning as African Player of the Year, and it's about time his peers in the Premier League appreciated just how good he is.
He's one of the world's best and has been the crown jewel for Klopp this season, so he rightly deserves to win this gong.