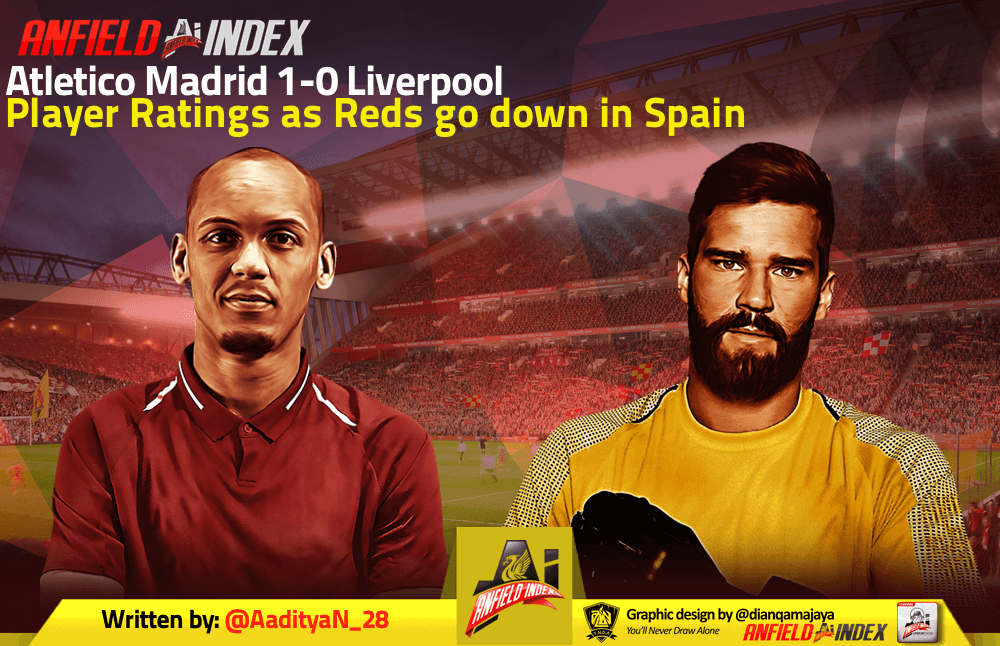 Atletico Madrid 1-0 Liverpool - Player Ratings as Reds go down in Spain
Atletico Madrid. Peak Atletico Madrid. Early goal, defend for their lives, win cheap fouls, and the antics of Diego Simeone on the touchline. This is what we expected when the draw was made, that is what we got. Liverpool went down 1-0, after Saul Niguez's fourth-minute goal was followed by a scrappy game, that ended with the Reds having no shots on target.
The return leg at Anfield on March 12, will now be spicy, with the Reds having it all to do, but as has been the case in recent two-legged ties against Spanish opposition, it is not an insurmountable task.
Here's how each player fared.
Alisson Becker – 7/10
Nothing he could do to stop the goal. Made a crucial save to deny Morata the chance to make it 2-0. Caught crosses reasonably well.
Trent Alexander-Arnold – 4/10
Lodi troubled him all game, Trent's crosses and set-piece deliveries were well below-par, and that meant that Liverpool's attacking threat was halved.
Joe Gomez – 6/10
Covered well on the flank on the rare occasions when Atletico counter-attacked. Allowed Morata in behind him for a big chance that Alisson saved, but was solid apart from that. Great cross, too, that Salah might have done better with.
Virgil van Dijk – 5/10
Some uncharacteristic mistakes in the first half, especially in possession, and sometimes looked a little hesitant going into aerial duels. Will be better at Anfield.
Andy Robertson – 7/10
Probably Liverpool's best player on the night. Non-stop energy down the left flank, did well defensively, and always an outlet when the Reds built up attacks.
Fabinho – 5/10
Looked off the pace again, although he unlucky the officials pulled him up for some perfectly good tackles in the second half.
Jordan Henderson – 6/10
Good energy on the right side as the no.8, but barely enough quality. Went close with a hooked shot shortly before he was taken off with an injury.
Gini Wijnaldum – 4/10
Saw a lot of the ball, but didn't really help Liverpool progress with it. Slowed the play down a little too often for anyone's liking.
Roberto Firmino – 6/10
Dropped deep to get touches on the ball, with Savic and Felipe being a brick-wall. Was instrumental in setting two big Liverpool chances – the ones for Salah and Henderson.
Mohamed Salah – 5/10
Had two big chances that you'd bank on him to at least hit the target. Was a struggle for him against an Atletico side that defended for their lives.
Sadio Mane – 5/10
Klopp said he was being targeted by Atletico, and hence took him off. Vrsaljko going down on the stroke of half-time and the referee being surrounded by a swarm of their players proved that. Not Mane's best game by a distance though.
SUBSTITUTES 
Divock Origi – 4/10
Came on for Mane at half-time. Was poor.
Alex Oxlade-Chamberlain – 5/10
Misplaced a few too many passes after coming on. Should have had a free kick on the edge of the area after Thomas Partey brought him down.
James Milner – 5/10
Took the armband and replaced Henderson, but really did nothing of note in the game.