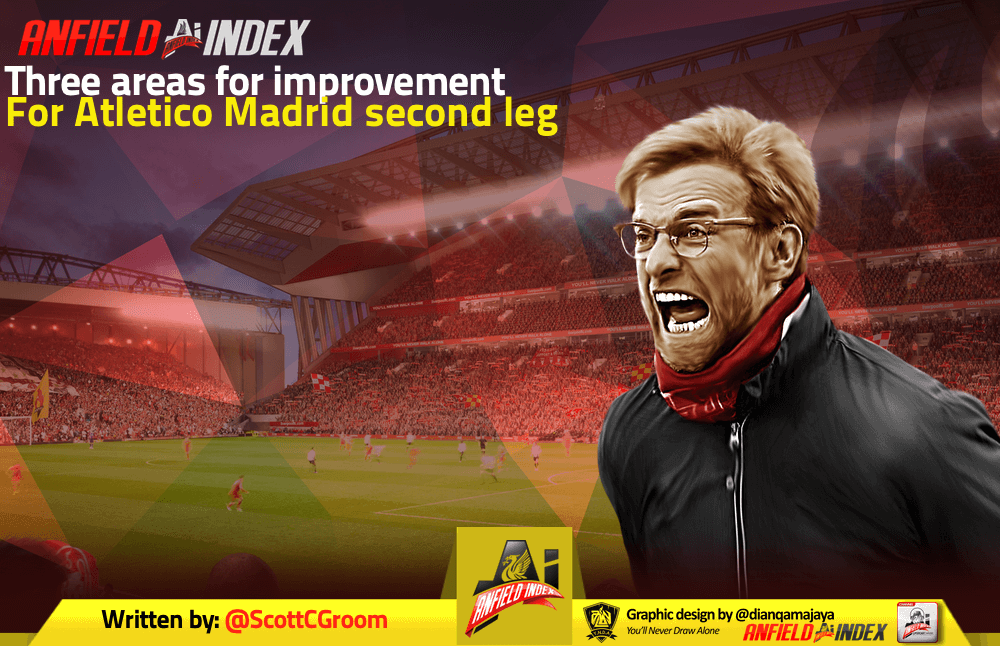 Three areas for improvement for Atletico Madrid second leg
Liverpool's defeat at the Wanda Metropolitano at the hands of Diego Simeone's Atletico Madrid is a bitter pill to swallow.
Jürgen Klopp's men failed to find a solution to the problem in front of them for once this season, as Atleti produced one of their trademark difficult, defensively resolute and irritating performances against the reigning European champions.
There was much left to be desired with Liverpool's all-round performance, and their approach will likely change for the second leg under the lights at Anfield.

Here, from my perspective, are just a few things that I think could be done differently in order to pick the lock to open up Simeone's defence and get the result that will see Liverpool through to the last eight.
Play with more width
One thing that I noticed in Madrid was how Liverpool's midfield three, a signature style of the Klopp era, seemed to be being overrun a little, with Atleti almost beating Liverpool at their own game.
The home side's full backs, Vrsaljko and Lodi, kept their width, and the impressive Thomas and Koke in the middle were able to release them readily – thus giving both Robertson and Alexander-Arnold a lot to think about defensively.
While Robertson was a good attacking outlet in the first half, he was quelled somewhat in the second half, and while Liverpool dominated possession, they didn't stretch Atleti as much as they should have done.
When they did try to move the ball to the flanks to get around the defence, it looked like a viable option to get a goal, with Origi almost turning provider for Henderson who shot narrowly wide.
Getting the ball out to those playing on the wings could well be a way in for the Reds, who despite not looking like it last night, are very adept at scoring from crosses and corners.
It'll also help to stretch Atleti's midfield more as well, give them more ground to cover and hopefully run them into the ground so that more spaces open up all over the park for the likes of Fabinho, Henderson and Wijnaldum to find their way through and make advances towards Oblak's goal.
It didn't help when Klopp sensibly removed Sadio Mané from the action at half time, and then chose to rest Mohamed Salah's legs in the second half, but with the first choice players out there, things might have been a bit different.
Move the ball faster
If you combine the above point with faster transitions, then I really think that Liverpool can exploit Madrid's defence. We've seen how devastating Liverpool can be when they're firing on all cylinders and moving the ball at pace – teams can't cope.
With the dictators in the midfield feeding the front three and the two marauding full-backs, it's fluid watching Liverpool bomb forward and systematically pick their way through their opponents.
We've seen, both this season and last, that Klopp's side aren't all about the self-branded 'heavy metal football' all of the time now, and they've proven themselves just as dangerous when they're allowed to be patient and methodically pick their way through teams in front of them – which is inevitably a slower type of football.
This didn't work at all against Atletico. If anything, it played right into their hands.
The belief that the team could go on and get something by playing this way is strong, but so was that of Madrid that they could soak up this pressure which they certainly did.
The lack of zip and thrust in Liverpool's game allowed Madrid to settle into their regimental lines and block any route that might have been available. They looked like they would've been happy – and relatively comfortable – doing so for another 90 minutes.
But when Klopp was urging his team forward, telling them to really have a go towards the end, the gaps began to appear and you could sense that it was a far more difficult approach for them to deal with.
I've no doubt that this is what the team will be instructed to do when the two meet for the second leg at Anfield on 11 March, but it's imperative that it does and that Liverpool dictate the pace of the game, keep the tempo high and don't play into Atleti's hands.
Don't play as many long balls
Speaking of playing into Atleti's hands, the amount of long balls Liverpool played at the Wanda Metropolitano also made the host's job that bit easier.
I'm not calling Liverpool a long-ball team at all; there's been enough of that nonsense doing the rounds about that recently.
The fact is, Liverpool utilise the long ball so well and effectively a lot of the time, exploiting teams with the pace of Mané and Salah – but the two didn't have any joy with it last night at all. Nor did their replacements, Oxlade-Chamberlain and Origi.
It's something that would've had Simeone's defence licking their lips at the prospect of, and they dealt with the threat all night.
But then, they were so compact and at stages had nine outfield players in their own 18-yard box defending Liverpool attacks, so how are they expected to be played through?
Combine the above two elements with a more intricate passing game, and I think chances will come Liverpool's way.
Playing slower football, lumping hopeful balls for our front three to chase and keeping things narrow will only help to strengthen Atleit's resolve.
Plus, we all saw how much they loved running the clock down, so playing long balls and them trickling out for throw ins and set pieces will only allow them to dictate the game's pace again at Anfield.
So let's be a bit more ferocious, a bit quicker and a bit more dynamic in the return leg, as the opponents (while a very respectable side to say the least) aren't half as much of a good football team as Liverpool.
Anfield awaits and expects, so give it something to savour.