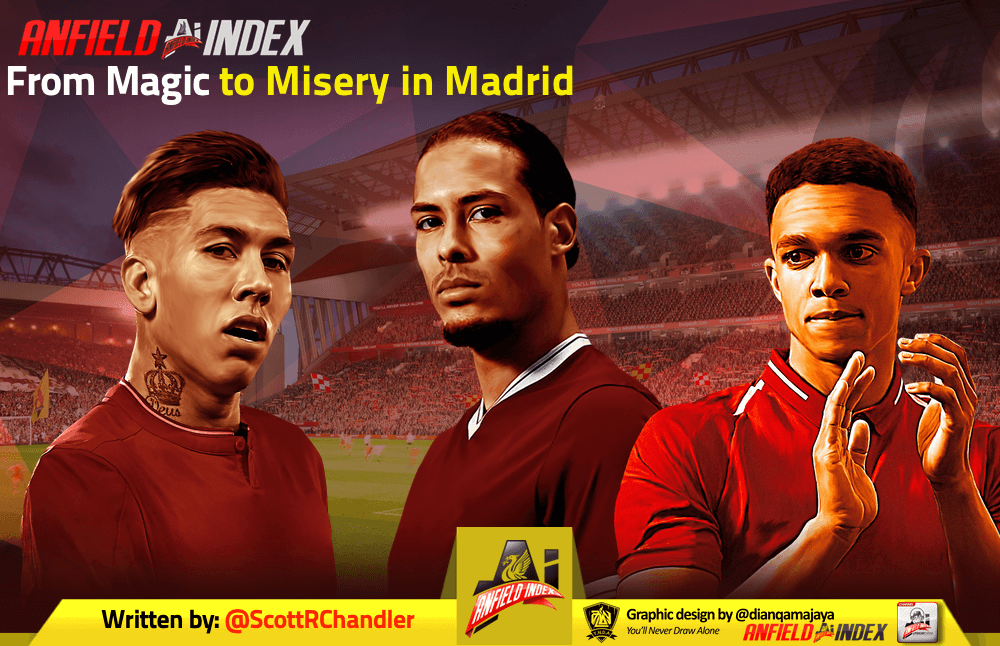 From Magic to Misery in Madrid
Eight and a half months ago, Liverpool Football Club and its supporters enjoyed one of the best nights of their lives at the Wanda Metropolitano in Madrid. The Reds bringing home the club's sixth European Cup left everyone with memories to cherish for a lifetime. So, when the draw for the first knockout round of this season's Champions League competition paired Liverpool with Atletico Madrid, many welcomed the chance to return to the scene of triumph and relive those great moments from a sweltering night in Madrid. However, some – including this website's fearless leader – expressed caution and concern seeing as the Reds would have to defeat one of the cagiest opponents in recent Champions League history in Diego Simeone. And as it would turn out, those fears were well warranted.
From the beginning of the match, Liverpool's return to the Wanda would not be the same as their triumph over Spurs last June. Despite being expected to sit deep and counter, Atleti came out firing and forced Liverpool into some troubles straight from the opening kickoff. That pressure led to an early corner and pretty much the worst possible thing you can do against a Simeone side: conceding an early goal. Thanks to a mixture of bad fortune and sloppy play, Saul Níguez pounced on a deflected ball that fell enticingly in front of goal without any Reds defenders in the vicinity to put one past Alisson and send the Los Rojiblancos supporters into rapture. Somehow, Atletico had managed to score against one of the best defensive sides in Europe despite only having 4 attackers against 8 Liverpool defenders on the corner. Atleti were so concerned by Liverpool's counterattacking prowess off set pieces that they had the same number of players defending immediately outside Liverpool's penalty box as they had actually attacking the ball. From the moment the ball hit the back of the net, it was evident that the Reds were in for a frustrating night.
Eventually, the Reds grew back into the game somewhat after their early shock, but only after Alisson denied Morata from close range to avoid a shocking 2-0 deficit. Bizarre officiating (including one instance where somehow Salah was called for a foul despite simply putting his foot on the ball thanks to the Atletico player going down clutching his leg like a befallen Nancy Kerrigan), wayward touches in the final third, the failure to put even one shot on target the whole match, and zealous defending by Diego's men resulted in Liverpool never looking like they could find the away goal that would give them a crucial advantage heading back to Merseyside for the return leg.
The best summation of Liverpool's miserable night at the Metropolitano was Sadio Mane having to be subbed off at half-time for his own protection. Sadio had picked up a yellow card from a wayward elbow to an opposing player's face, which led to him getting targeted by Atletico players in a desperate attempt to see him sent off. In fairness, Sadio was living on the edge by throwing his arms and elbows up a bit high, but after the match, Jurgen Klopp echoed the distaste of many a Liverpool supporter about the antics of Atletico's players every time there was a foul. It was clear that Simeone's charges would not be merely satisfied with a lead but would be eagerly dabbling in the dark arts of football to prevent any sort of Liverpool comeback.
So, after an unpleasant encounter rife with frustration, Simeone whipping the Metropolitano crowd into a furore, and bizarre substitutions from Klopp in an attempt to find any sort of a breakthrough (can't say bringing on Ox for Mo when down a goal was something I expected to see), Liverpool left Madrid empty-handed but hardly out of the tie. A team that overturned a 3-0 deficit to last season's Spanish champions and one of the sport's greatest ever players absolutely can overcome a 1-0 defeat to the current fourth place side in La Liga. Far crazier things have happened on European nights at Anfield than Liverpool winning by 2 or more goals or just going through on penalties. It's also very clear from post-match comments by Klopp and his players that they fully believe in the power of Anfield and are confident Atletico will be hard-pressed to put up the same opposition in front of the Kop. This is a side that have earned the right to be confident in their own abilities, and Klopp's perfect record in two-leg ties in the UCL during his time at Liverpool further cements that. This team knows they can beat any type of team when they play to their full potential, especially at Anfield where even the most accomplished and experienced of players succumb to the suffocating atmosphere created by faithful Kopites.
But anyone paying attention to who Diego Simeone is and what his teams do knows that even if Liverpool go through, it won't be easy, and it likely won't be a very enjoyable watch either aside from the scoreline and the final whistle. Only time will tell if Liverpool's history at home under the floodlights or Simeone's defense will prove the greater force. In three weeks, Anfield awaits.