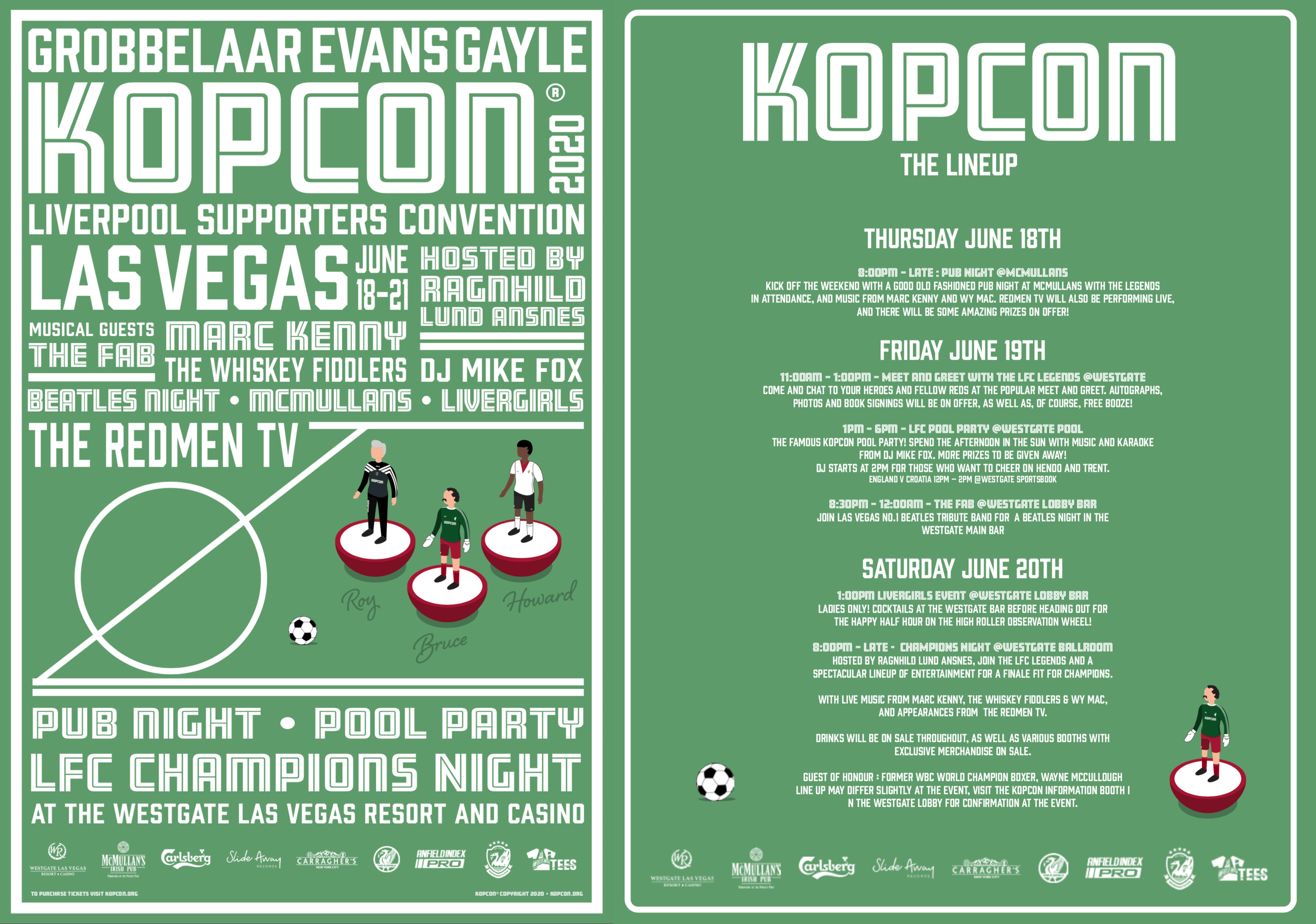 KOPCON 2020 - The LFC Event of the Year

It promises to be a fan event to remember; possibly THE Liverpool fan event of the year outside of Liverpool itself. It's a celebration of the World, UEFA Super Cup & Premier League Champions, it's featuring ex Liverpool players and manager, it's over 3 days, and… it's in Las Vegas.
Welcome to KOPCON 2020, the second successive Liverpool Fan extravaganza to be held at The Westgate Hotel & McMullan's Irish Pub between June 18-21st this year.
What was once only a dream of a handful of dedicated Liverpool fans, became a reality in 2019. The inaugural KOPCON was, by coincidence, held on Champions League final weekend last year. Call it fate, call it luck, but it resulted in 700 Reds fans packed into McMullan's Pub to celebrate #6 along with Roy Evans, Howard Gayle & David Johnson.
Roy and Howard are both returning for the 2020 event, along with new addition, Bruce Grobbelaar. There may well one or two more surprises too.
The event will, of course, be dominated by the fact that we WILL be English League Champions for the first time since 1990. For those old enough to remember it, it has been 30 years of hurt. For those of a younger vintage, you are about to experience a feeling of elation unlike no other.
We are thrilled to announce that joining us for the whole event are the gang from Anfield Index plus Paul Machin & Chris Pajak from Redmen TV as well as one or two of the lads from This Is Anfield.
The Event
To kick off the 3-day celebration on Thursday evening is 'Pub Night' at McMullan's Irish Pub – also the home of the Official Liverpool Fan Club of Las Vegas. Brian McMullan, a lifelong Red, has been a keen supporter of the event from day one. If last year's pub night (when we hadn't actually won anything yet) is anything to go by, this one is not to be missed. A pub packed to the rafters, the drinks flowing, and renowned Liverpool recording artist, Marc Kenny, booming out the LFC Anthems on stage. The ex-players and other celebrities will be in attendance too. It won't be an early night!
Friday's fun begins at 11 am with a meet & greet in The Westgate Hotel. The players, plus Ragnhild Lund Ansnes, well-known LFC related writer and author of Bruce's autobiography, will be there to sign copies of their books, as well as your own Liverpool memorabilia. They'll happily take photos with you too, and it's all accompanied by free drinks. Yes, free! They say nothing in life is free… except for your drinks at the KOPCON meet & greet that is.
Immediately following the meet & greet is the soon-to-be-world-famous KOPCON pool party. We have an entire area cordoned off just for our guests and with our own bar with discounted drink prices. Vegas is gorgeous at this time of year, so soak up the rays, have a few (more) drinks and hob-nob with the players and celebrities. If that's not enough, we have our own Karaoke DJ from 2-6 pm for the frustrate rock stars among us.
After a fun day at the pool, KOPCON moves to The Westgate lobby bar for the evening. We have joined forces with celebrated Beatles tribute band 'The Fab' for an evening of Liverpool related music. Not only will the band be booming out Beatles songs, but also a selection of songs specifically for KOPCON.
After a jam-packed day and a half, Saturday afternoon is the girls-only event at 1 pm – Livergirls. The ladies will be meeting in the lobby bar for a cocktail hour, before heading to the High Roller Observation Wheel. The lads, meanwhile have the afternoon to do, well, whatever you choose!
We all reconvene for the main event in the evening; the KOPCON grand finale – the very appropriately named 'Champions Night' is the pièce de résistance of the weekend.
Hosted by Ragnhild, the evening will be a combination of celebrities, music, singing, dancing, laughter and celebration.
The players will spend some time sharing stories from their illustrious careers with a backdrop of audio & video to relive some of their more 'memorable' moments. Yes, Bruce is likely to feature prominently. It's also your chance to get an answer to that question you've always wanted to ask.
We have no less than 3 artists and bands playing throughout the evening as well as a guest appearance from Redmen TV adding their unique brand of LFC-related humour and banter to the evening's proceedings
There is an Irish flavour to start the music off with local Irish 3-piece band The Whisky Fiddlers performing a set of Irish & Liverpool classics.
Also giving us a solo performance is 'Ireland's Got Talent' participant, Wy Mac. Not only is Wy Mac a fantastic artist in her own right, but she is also the daughter of ex-World Champion boxer and Olympic Silver Medallist, Wayne Pocket Rocket McCullough. We are thrilled to announce that Wayne will also be in attendance throughout the weekend as our guest of honour.
Seeing the night out will be an explosive performance from KOPCON's own Marc Kenny. Think 'pub night on steroids' as the entire KOPCON crowd, celebrities and artists boom out those legendary Anfield Anthems, concluding with what is sure to be a stunning, collaborative grand finale of You'll Never Walk Alone.
How To Book
For event tickets and Westgate room bookings go to kopcon.org
KOPCON has partnered with Westgate for unbelievably low hotel prices. Weekdays are $59 and Fri/Sat are &79 each with NO resort fees, free parking, wifi & use of the gym (for those inclined) – you simply can't get weekend prices in Vegas like this, but to do so you must book directly through kopcon.org.
Tickets for the 3-day event are normally $120 each but through the code supplied by Anfield Index, they are a bargain $100.
It's taken our club 30 years to become WORLD, EUROPEAN AND (soon to be) PREMIER LEAGUE CHAMPIONS.
So, come and celebrate THE Liverpool Fan Event of the year with hundreds of other Reds from around the world in the one and only Las Vegas! You really don't want to miss it.
Cheers, The KOPCON team