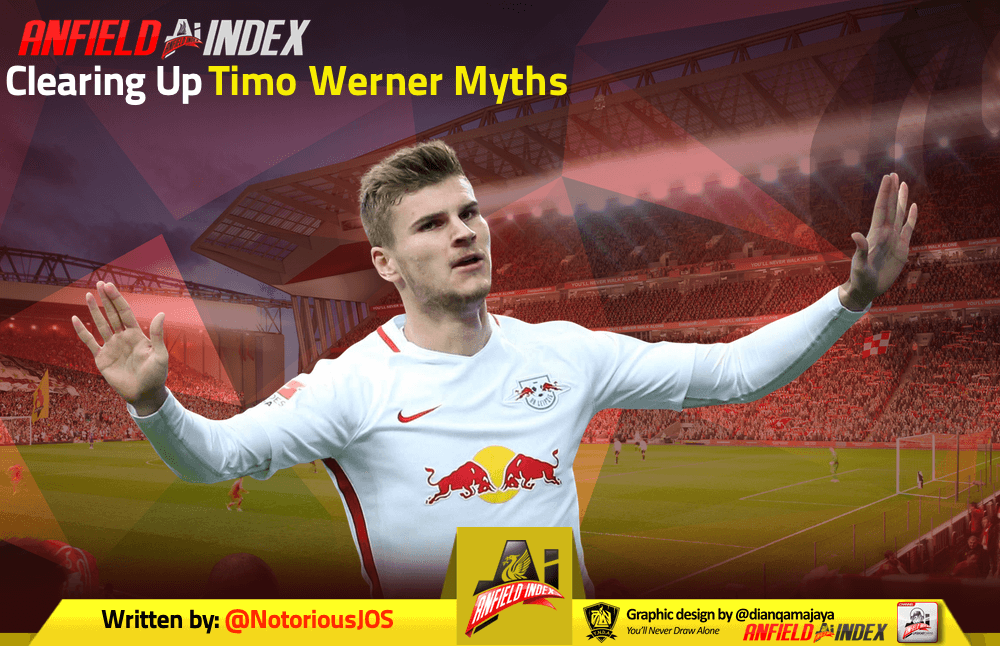 Clearing Up Timo Werner Myths

Timo Werner has not done much in recent days to quell rumours of a summer switch to Liverpool.
Twice in the last week alone, the Red Bull Leipzig striker has publicly stated his admiration for Jurgen Klopp and talked up his ability to fit into his fellow Germans tactical set up at Anfield.
Following Leipzig's 1-0 Champions League away victory away to Tottenham Hotspur last Wednesday, the 23 year old — in perfectly fluent English — had no hesitation in praising the Premier League table toppers.
"Liverpool are the best team in the world at the moment, and when you're linked with that team; yes, it makes me very proud," the match winning penalty taker said.
Werner followed his goal against Spurs with a goal and an assist away to Schalke in a thumping 5-0 win and, once again, waxed lyrical about his rumoured would be club. The former Stuttgart speedster told Sky Germany:
"Jurgen Klopp is the best coach in the world. There is a lot to suggest that my style of play would suit there (Liverpool)."
These quotes sent the Liverpool fan base into an excited overdrive, with plenty of hypothetical XI's — with people showing how they would fit the German international into what they believe is the Reds' best line up —  surfacing on Twitter.
It was noticeable, however, that some supporters feel that Werner would be best served playing on the flanks in the European Champions' team, because a lack of supposed creativity means he would be incapable of linking the play and adding creativity; attributes which are especially useful against the low block defences that Liverpool regularly face.
The pigeonholing of the explosive forward as a player who can only operate effectively in a counter attacking system — a la pre Brendan Rodgers Jamie Vardy or Ciro Immobile — and off the shoulder of the last defender is a disservice to Werner and his steadily improving all round game.
Julian Nagelsmann, the 32 year old former Hoffenheim coach, has done an excellent job to date with Leipzig; with the east German's second in the Bundesliga table — trailing Bayern Munich by a solitary point — and, after their 1-0 win in North London, on course for their first ever appearance in a Champions League quarter final.
The young coach has had a major impact on Werner's game, with the forward's 27 goals and 11 assists in 33 games in all competitions this season a shining endorsement of his individual coaching. The biggest improvement, though, can be seen in the Leipzig number 11's passing.
Werner has averaged 1.61 key passes — which are passes that lead directly to shots — per 90 this season, which represents a big improvement on his averages in the previous two seasons. In 2018/19, the 23 year old completed 1.28 key passes per game; in 2017/18 the number was a relatively meagre 0.87.
Statistically, Werner's key passing stacks up comparably to the players who he will be playing with or jostling for position against in Liverpool red, should the heavily speculated upon transfer ever come to fruition.
Roberto Firmino, the linkman for the Reds deadly attacking trident, has made 1.57 key passes per 90 this season; Sadio Mane, meanwhile, scores at 1.93 and Mohamed Salah, another player whose link up play is underrated, registers 1.94 key passes per 90.
Werner, then, is more than capable as slotting in as the number 9 in the Reds' system, without stymieing the flow of their attacking game and limiting creativity, despite the label of being no more than a jet heeled poacher.
The system employed by Leipzig in an important consideration to make, too, and in the event of any switch to Merseyside, the 29 times capped German — thanks to the counter pressing and intense, hard running style of Nagelsmann — should be well grounded in the comparable tactical demands of Klopp.
It is difficult in football to just supplant a player from one club to another — with the variety of strategies employed across the board — and expect them to contribute to a similar degree in a different style. But Liverpool and Leipzig sing from the same tactical hymn sheet and Werner — who pops up left, right and centrally in his team's fluid line up — should logically fit in well at Anfield.
With a reported £50M release clause in his contract, the Reds making a move for the German should be a no brainer.