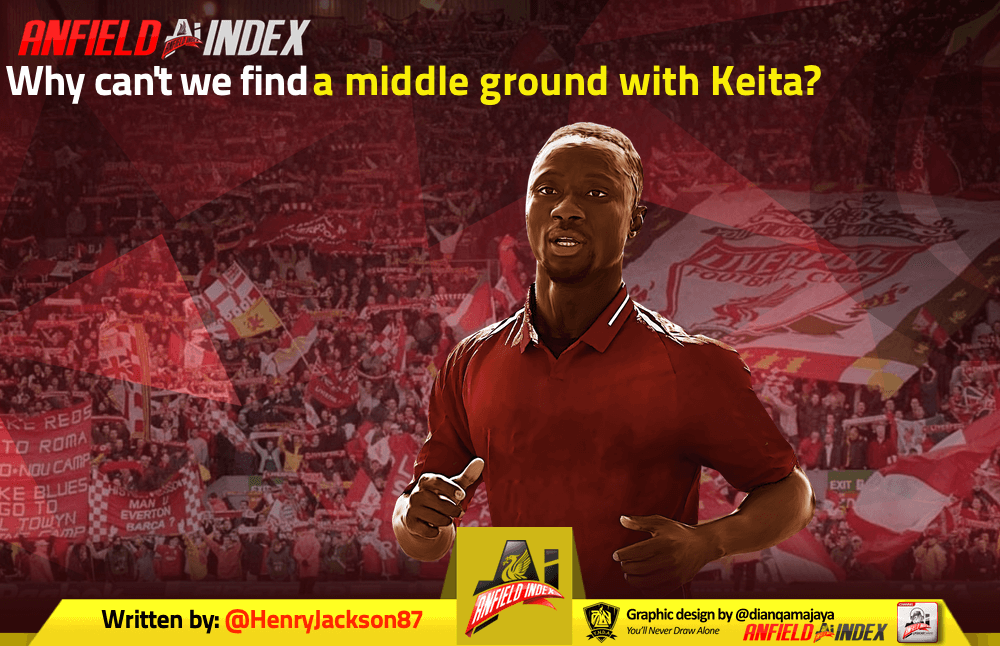 Why can't we find a middle ground with Keita?
Four wins away from Premier League glory, two points dropped all season and various records on the verge of being broken – Liverpool supporters couldn't possibly find anything to argue about, right?
Oh, we can.
There is something ingrained in football fans that means we can never be completely happy, always having to pick holes in something.

At Liverpool, the current 'issue' is Naby Keita, who has taken on the mantle from Jordan Henderson as the most divisive midfielder at the club.
The Guinean was handed a wonderful opportunity to shine in the absence of Henderson on Monday night, as the Reds hosted West Ham at Anfield.
This was his chance to seize the moment and show the world that he is ready to play a key role during the business end of the season.
By the end of the evening, though, you could be forgiven for thinking Keita and his clone had taken to the field, such was the differing nature of assessments surrounding his performance.
In one camp was the Keita ultras – those who rave about him doing the simplest of things well and who still talk him up as one of the world's best midfielders.
Remember the overreaction to a simple pass to Andy Robertson in the lead-up to Adam Lallana's equaliser at Man United? That was the perfect example.
These Keita fanatics raved about his statistics in the win over West Ham, with only Robertson making more key passes than his two, as well as the 25-year-old winning five out of seven tackles, highlighting some of his off-the-ball expertise.
Forget the fact that he was substituted as soon as Liverpool went 2-1 down, with Alex Oxlade-Chamberlain sparking the Reds into life, this was supposedly a positive night at the office.
At the opposite end of the spectrum, however, there were those who now have it in for Keita in a big, and deeply unfair, way.
With surprise man-of-the-moment Henderson out of the starting lineup, they will have been waiting to lay into his replacement from minute one, overly criticising anything he did wrong and failing to notice the positives.
Forget the aforementioned statistics and his involvement in Gini Wijnaldum's opener, and the fact that he was lacking match practice, they viewed this as a woeful showing from a player now potentially heading towards the exit door.
So how does Keita really deserve to be viewed?
The truth is that, like so many aspects of football, there is a middle ground that is so rarely found, with supporters always desperate to go to extremes.
The main disappointment with Keita is that he is not coming close to reaching the expectations of him when he arrived at Liverpool in the summer of 2018.
This isn't necessarily his fault – 'experts' who claimed to watch him every week talked him up so much they made it seem like the next Steven Gerrard was coming to the club – but there is no denying that he has barely had a handful of genuinely excellent performances for the Reds.
That outrageous early Cruyff turn away to Crystal Palace suggested Liverpool had a special talent in their ranks, but moments such as those have become increasingly rare.
We were promised a game-changing midfielder, but instead we appear to have a subtly efficient one.
This is part of what works against Keita. So much of what he does goes under the radar, whether it be threaded passes, clever one-twos or an ability to nick the ball away from opponents. You won't find these moments on highlight reels.
The problem is, Liverpool's No.8 was expected to be much more than this. Gini Wijnaldum does that job and we love him for it, but there were no huge expectations when he arrived, and for all his quality, his ceiling isn't as high.
With Keita, he was viewed as the man who would be different to every other midfielder, possessing the genius of a Kevin De Bruyne and taking Jurgen Klopp's men to another level.
Keita hasn't been close to that – some of his stats mirror De Bruyne's, but let's not kid ourselves and even try and compare the two currently – and he could now find himself as Liverpool's sixth-choice midfielder, when everyone is fit.
Fabinho, Henderson and Wijnaldum are the go-to three in the middle, even if they do occasionally get shown up for lacking Keita's guile, while James Milner and Alex Oxlade-Chamberlain are arguably more reliable and effective in Klopp's mind, respectively.
To have been told that back in 2018, when Keita was the talk of the town and potentially going to be an even more exciting signing than Sadio Mane and Mohamed Salah, would have sounded unthinkable.
Keita does not deserve such a ridiculous amount of negativity in his direction, however. He is still doing a largely good job for the team when he does play, proving to be quietly effective.
His injury problems also shouldn't be ignored, with the former RB Leipzig man struggling to get any kind of momentum going in a Reds shirt.
Every time he finds a run of strong form he suffers a setback, whether it be limping off away to Barcelona or getting hurt in the pre-match warm up against Sheffield United.
It is wholly understandable to feel deeply frustrated with Keita, but also realise he is still a formidable player who can become a key man at Anfield eventually.