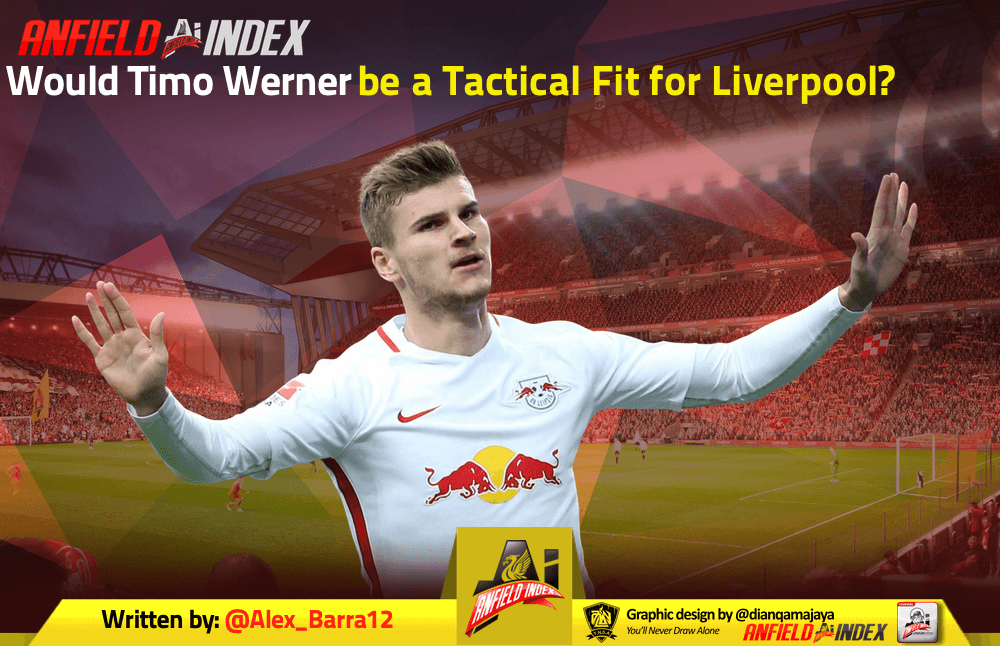 Would Timo Werner be a Tactical Fit for Liverpool?
Timo Werner is having quite the season.
Well, that's understating it profoundly. He's actually made the Bundesliga his personal marksman range, scoring all sorts of goals – from volleys to tap-ins to his signature cut in and emphatic thwack.
It's that last one, the stylistic replica of Arjen Robben's masterful trademark (but from the other flank) that has been most tactically interesting this season. Werner is nominally a striker, but under Julien Nagelsmann, has become so much more than that.
Which leads on nicely to a question: should the young German join Liverpool, where would he fit? And more importantly, HOW would he fit into Jürgen Klopp's system?
First of all, let the record show Werner's incredible numbers this season: in 1950 Bundesliga minutes, he's averaging a goal or assist every 69.5. That's astronomical output.
Yet it belies what Werner is in Nagelsmann's system: not simply a sniper, waiting for the ball to enter his crosshairs so he can effortlessly dispatch it with one subtle movement: there's already one of those in the Bundesliga: Wolfsburg's Wout Weghorst. Nor is he the complete centre forward with the hulking stature and lethal penalty box moves; that archetype is filled by the world's most dangerous pure number nine: Robert Lewandowksi. No, Werner's danger comes from a variety of things, most of which are atypical of a striker.
His starting position is often wider than the fullback when Leipzig regain the ball and look to counterattack. So too is it wide when they're looking to stretch a defence; because Nagelsmann favours a system without wingers (usually a 4-2-2-2, sometimes a 3-5-2) it is wholly up to Werner to add the sort of dynamic width that commentators would describe as "explosive."
When Leipzig look to build through Werner against a deeper defence, it usually involves one of two things. One, he gets the ball out wide and takes a defender on, 1v1 (in the space where the defender doesn't want to be) either beating him or allowing one of the nominal attacking midfielders the space to overlap or underlap. Two, he makes a run in behind the single defender (or sometimes across him) to try and get into the box diagonally.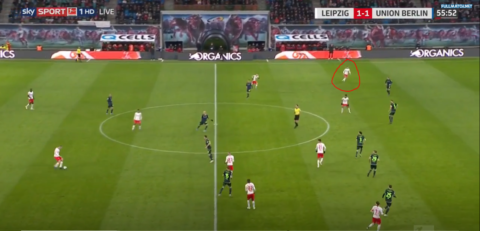 Those are characteristics of an inside forward: specifically those of Mo Salah's profile. Indeed, the line between striker and inverted winger has been blurred with the rise of the likes of Salah, Eden Hazard and Kylian Mbappe. Some would suggest that the role has been hybridised.
However, Werner's also developed the tendency to be a fox in the box. When Leipzig attack through one side, often using either Poulsen or Schick with their back to goal to play in their attacking wave of midfielders and fullbacks, Werner will often use his pace differently: bursting past the defenders with two or three quick paces to arrive at the back post.
Similarly, Leipzig's proficiency in transition means he's always clinging to the shoulder of the last defender. When defences push high, he'll either occupy the space between the centre half and fullback, or stay wider of the fullback, then use that searing pace to latch onto a threaded ball in behind.
His performance below showcases Werner's ability to both be a fox in the box and play off the shoulder.
Regarding Liverpool, it's clear that being able to play off the shoulder; especially in that space between the centre half and retreating fullback, is what makes Salah and Mane so dangerous to defend for bigger teams. Meanwhile the composite front trio being able to interlink and stretch opposition defences makes them dangerous in a different way against deeper blocks.
Would Werner fit in? Well, he's able to drag defenders out wide and turn them, which means he'd fit in well if Mane needed a rest. While he's a left-sided player (allowing him to cut inside) Mane's versatility means that should Salah need a rest, Klopp would have the same "Salah effect" but from the other side. And, of course, Werner effectively playing centre forward means he could step into Firmino's shoes when necessary too.
There is one more point of questioning though: what if Julien Nagelsmann is just a phenomenal coach, able to coax the best out of his players via a thoroughly thought out system full of intricate details? Is Werner's season a symptom of a system, or a product of a prodigy?
It's likely both, but then Klopp is also a phenomenal coach with an intricate system full of details. If anything, the system will only help Werner become even better.
Everything seems in order then. Werner would be a perfect fit. Most people already figured that, but at least now they know why.