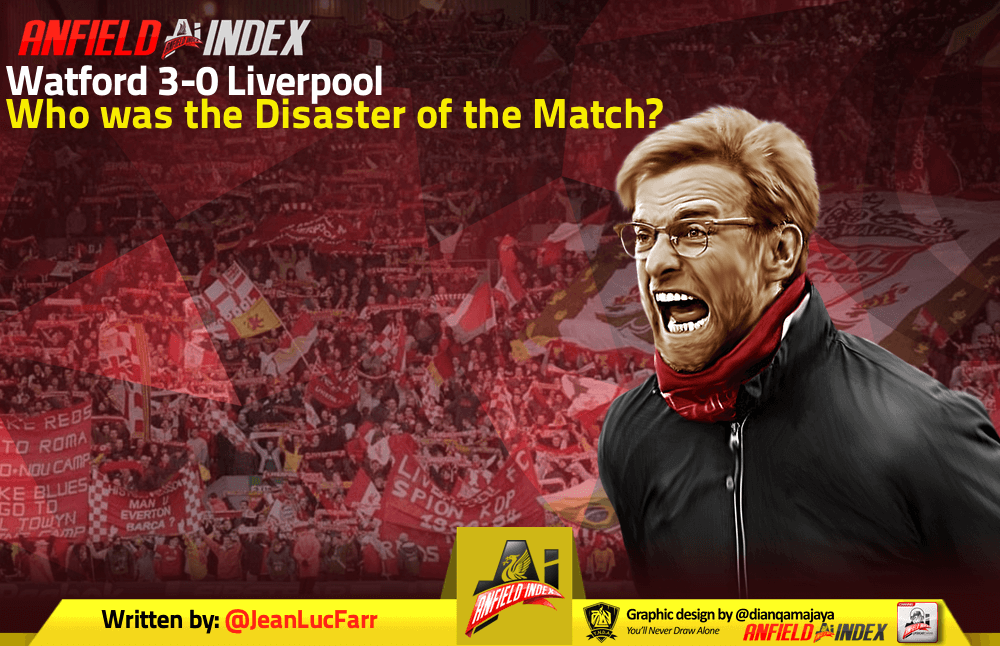 Watford 3-0 Liverpool: Who was the Disaster of the Match?
Our unbeaten run in the league is over. The Reds go down 3-0 away to Watford after, without question, one of the worst performances in years. Liverpool failed to create a single decent chance in the entire 90 minutes and thoroughly deserved to be soundly beaten by the relegation-threatened Hornets.
In the net, Alisson can't really be blamed for any of the goals. A tap in for Sarr's first, a smart dink for his second and just an absolute calamity for Deeney's goal and Watford's third.
Where to even start in defence? Not one of the back four can leave the pitch at Vicarage Road believing they provided anything better than a terrible showing. Firstly, Trent put in a couple of dangerous crosses but failed to create anything of note. Defensively, though, he was a bit of a disaster. Before having to go off injured, Gerard Deulofeu was causing him all sorts of problems. Alexander-Arnold capped his poor defensive display when he attempted to play a pass back to Alisson without looking, which Ismaila Sarr intercepted and used to create the third goal. On the other side, Andy Robertson was perhaps the least culpable in the back line, but he too played pretty awfully. He got into some good positions going forward but wasn't able to make any of them count. Some blame can be placed on his shoulders for both of Sarr's goals, as well. Virgil van Dijk was not immune to the difficulties had by his partners, as he also seemed to struggle and switch off at vital moments. Despite these bad showings from three of the back four, there is one man who managed to have an infinitely worse game – Dejan Lovren. Brought in for the injured Joe Gomez – preferred, for some reason, to Joel Matip – the Croatian delivered what can only be described as one of the single worst individual performances in the history of Liverpool Football Club. His incompetence spread through the rest of the team like a certain topical disease and made the best defence in the world look like they belonged in League 2. It takes a very special player to do that, but fair play to Dejan, he seems to be able to pull it off almost every time he pulls on the red shirt. At fault for all three goals, an absolute disaster whenever the ball came near him, a truly unacceptably horrific performance. One that should see that he never comes even close to another match day 18, making this the last game he ever plays for Liverpool.
In midfield, with Naby Keita injured again, Oxlade-Chamberlain, Fabinho and Wijnaldum started. Fabinho was probably the best of the bunch but he didn't have a lot to beat in that regard. Honestly, I believe it's time to say goodbye to Gini. He has been amazing for us at times which is great, however to have so many games where you do not affect the game in any way is simply intolerable. The Ox gave it his best but he wasn't at it, either. Lallana came on for Wijnaldum midway through the second half and, aside from hitting the post with a nice volley from outside the box, he was pretty useless.
In attack, all three of Firmino, Mane and Salah were almost pointless. They all played terribly and without any creativity coming from midfield or the fullbacks, there was no way we were going to score in this one. Origi and Minamino came on and, while Divock was awful, Takumi actually didn't look too bad.
It may seem harsh but this week, with there being no reason to award anyone Man of the Match, I'm naming the Disaster of the Match. It will come as no surprise to any of you that Anfield Index's first ever DOTM is Dejan Lovren. However, I want to give a special mention to Jurgen Klopp, too. We all love you, Jurgen, but this Lovren love-in has to end. While we all bash Dejan for not being very good at football, he doesn't put himself on the pitch. The manager cannot be blameless in the Croatian's one-man destruction of Liverpool's unbeaten record.