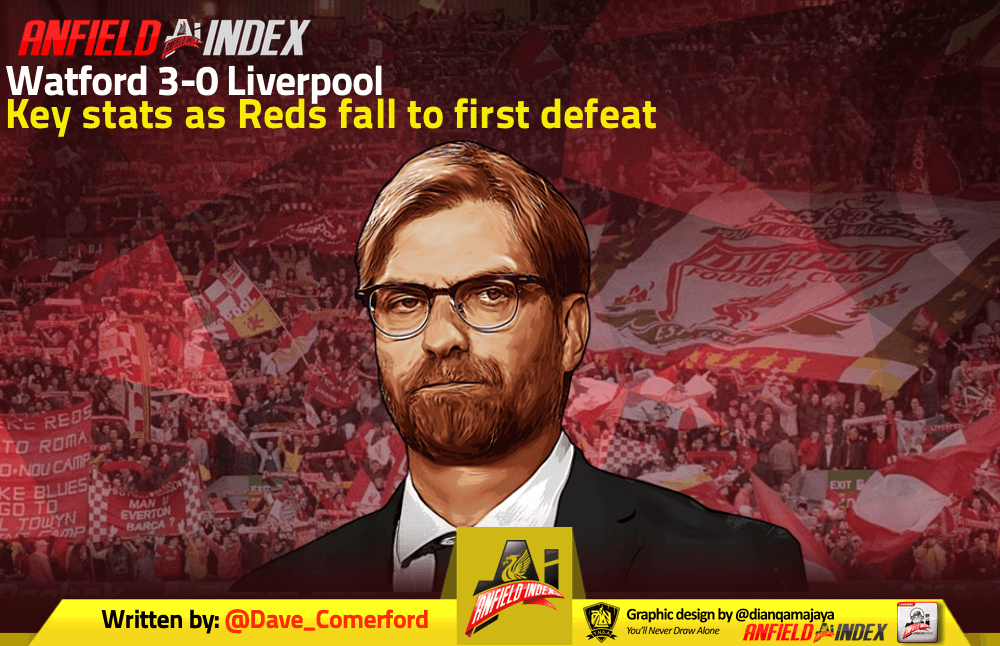 Watford 3-0 Liverpool: Key stats as Reds fall to first defeat
Liverpool will win the Premier League this season. They might well do so with a records points tally. But they won't do it unbeaten.
In the first half at Vicarage Road, the Reds were dreadful. In the second, after Ismaila Sarr scored twice in six minutes, they were shellshocked.
It was a fully deserved victory for relegation-threatened Watford, who outfought and outthought their opponents. It might define their season, and while the same can't be said for Liverpool, this represents the first real blot on an otherwise immaculate 2019/20 copybook.

The headlines
Liverpool's Premier League unbeaten run lasted 44 games – from 3 January 2019 to 29 February 2020, 442 days. It was the second-longest streak in top-flight history, only five short of the Arsenal benchmark.
Back in October, the Reds squandered the opportunity to equal the record for the league's longest winning streak when they drew 1-1 at Old Trafford. Today they could have broken it with a 19th victory on the bounce.
A woeful team performance
We win as a team, and today we lost as a team. Fingers will be pointed at the erratic Dejan Lovren, but Liverpool were comprehensively poor from top to bottom and the figures prove it.
Despite having 71% of the ball, we recorded only seven shots – our lowest since the trip to Chelsea in September – and managed only one on target for the first time this season. Neither Sadio Mane nor Roberto Firmino mustered an attempt.
At the other end, we allowed five shots on target, the most since the hard-fought 2-1 win over Brighton in November, when we had to play nearly 20 minutes with 10 men.
To put it bluntly, it was so bad it simply has to be an anomaly.
Avenue to goal becomes a cul-de-sac
Liverpool have had so much joy from wide areas this season, with Trent Alexander-Arnold and Andrew Robertson the leading creative forces in the side.
Here, though, they were blunted. 18 times between them they delivered crosses, and not a single one found at a team-mate. A lack of movement and alert defending play a part in that of course.
It was a wretched evening for Trent, who also made an error leading to a goal – officially – for the first time in his career.
The effect of the break
Is the dramatic culmination of a post-winter break slump? Let's compare the key numbers from the four games since we returned with those we posted in the four games preceding the break. This isn't a perfect comparison – Manchester United, Wolves, West Ham away and Southampton represents a somewhat trickier run of fixtures – but it's still valuable: if our performances have statistically suffered against weaker opposition, it magnifies the problem.
We're averaging roughly the same amount of shots – about 14 per match – but recently we've only been putting 4.7 on target as opposed to 6.25.
Defensively, the shift is more of a concern. After an incredible run of clean sheets, we've conceded six in our last four, shipping more than one in consecutive games for the first time since December 2016.
We're also allowing nearly 11 shots a game on average, compared to a little over eight.
This does point toward a slight loss of focus and arrested momentum.
But when the dust settles…
It's worth ending on some more pleasing details to keep this defeat very much in perspective. Liverpool remain 22 points clear, and even though Manchester City now have a game in hand, they must travel to United and Chelsea in the coming weeks.
The title is only four wins away, and we can afford to lose three more matches and still reach a three-figure points tally.
And the mental fortitude this team has shown suggests that they'll not only ride out this rare setback, but that it will galvanise them.