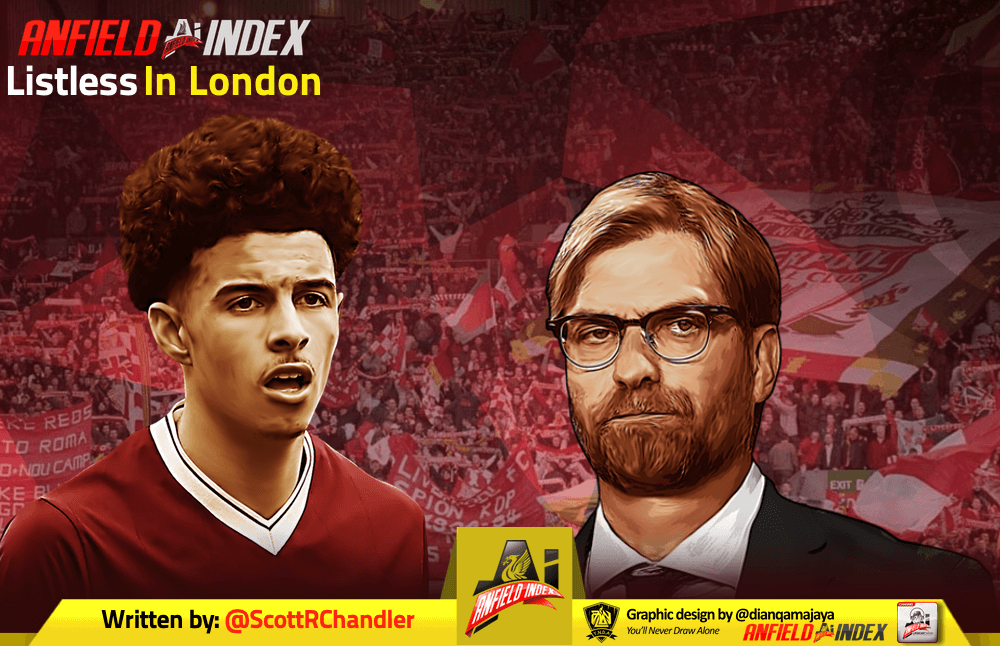 Listless In London
After an extremely poor loss away to Watford that ended Liverpool's chances to set several records in the league this season, Liverpool had a chance to turn the page with a quick turnaround trip to Chelsea in the FA Cup. A win at Stamford Bridge could start to set things right after they had gone terribly wrong since Liverpool returned from a brief winter break. Jurgen Klopp even showed some respect for the FA Cup – take that, haters – by fielding a fairly strong side composed of some first-team regulars, a few quality backups, and two of their brightest prospects. Yet, the sight of Dejan Lovren being left out of not only a starting lineup but the matchday squad altogether was as good as it would get for the Reds.
Liverpool started well in the first few minutes, but some sustained pressure from Chelsea showed that the self-sabotage and wayward performances on display at Vicarage Road on Saturday had not left the side. Just after brilliantly saving a Willian shot, Adrian performed his best Loris Karius impression thanks to Willian being gifted a golden opportunity by his fellow Brazilian, Fabinho. So shocking was Fabinho's flimsy touch and pass just outside his own area that it would be fair to wonder if he was body snatched during his time out injured. He has had a torrid return to the team in 2020 and probably deserves to be dropped if and when Jordan Henderson is fit to return to his recent starring role in the 6.
To be fair, Liverpool weren't nearly as diabolical as they were at Watford, but they weren't miles better either. The Reds created some chances and could have capitalized themselves on an early error but couldn't make Kepa pay for his mistake. Even when they had some golden chances in front of net to finally get on the scoreboard, they just couldn't find their shooting boots. In the same way Dejan Lovren destabilized the defense on Saturday, Adam Lallana brought similar ineptitude to the attack, causing several positive moves to break down, result in nothing.

While Liverpool displayed incredible resilience and self-determination over their epic run of the past year, all of those admirable traits have deserted them at the moment. Even Ballon d'Or contender Virgil Van Dijk continued to also look out of sorts and contributed to Chelsea's 2nd goal that put the game out of reach. Ultimately, this was another flat and uninspiring performance from Liverpool where very few players covered themselves in glory. The lone positive on the night was Minamino starting to show flashes of what he might become with regular involvement in the side. But when the best thing that can be said about your team is one up and coming player having an above average performance, you know things didn't go well.
In a season where Liverpool look likely to break their league title drought and finally do the thing everyone has been desperately wishing would happen, it's hard to be too upset about losing again, even though crashing out of the FA Cup at the hands of a bitter rival still stings. Yet, if this current form continues and Liverpool fail to turn things around in time to keep their Champions League defense going, it will also be hard to blame supporters from thinking about what might have been.