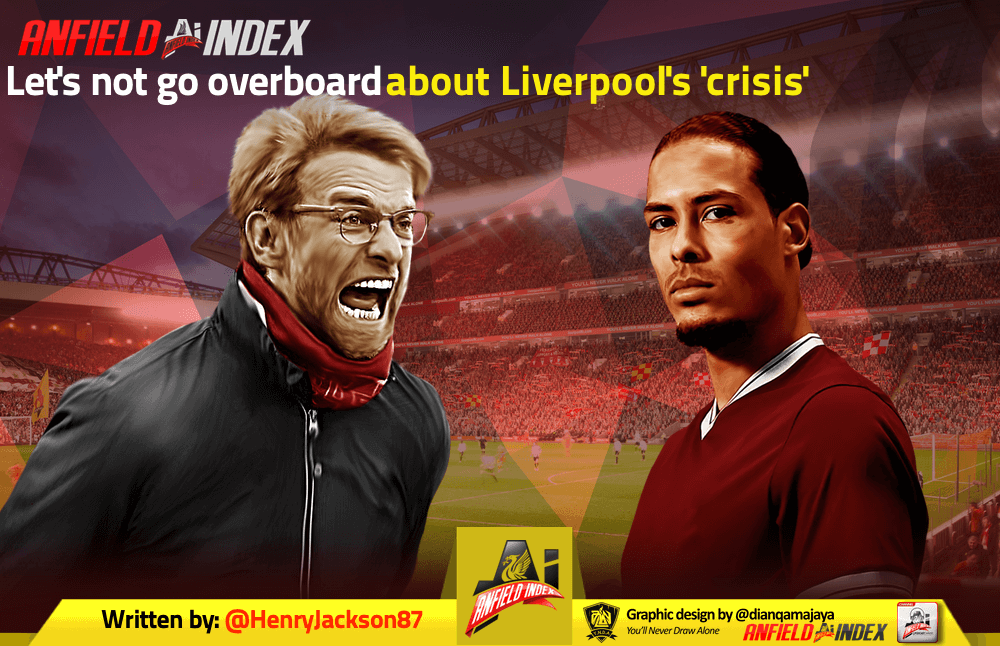 Let's not go overboard about Liverpool's 'crisis'
Forget the coronavirus threatening to end civilisation as we know it, Liverpool's last two games have seemingly caused the end of the world instead.
It was all going so swimmingly before the Reds turned up to Watford last weekend – it was a happier time when supporters weren't bickering, wins were inevitable and anything seemed possible.
Doesn't it feel like a lifetime ago now?
From nowhere, Liverpool's season has veered off the track, with Watford and Chelsea delivering rare defeats that have hurt more than they really should.
In seasons' past, you simply get over such losses in an instant – they are the norm – but when you've dropped two points in the Premier League in almost a year, and you think an unbeaten campaign and a treble may happen, that sinking filling is particularly grim.
This is all being treated as a crisis at Anfield, with Jurgen Klopp's men strangely flat ever since they returned from their winter break. This is nothing of the sort, though, and anyone who suggests otherwise is either looking for a reaction or is deeply irrational when it comes to what they demand from this Liverpool side.
As it turns out, this is a minor blip in an otherwise spectacular season – one that will be spoken about for months, years and decades to come.
The unbeaten run coming to an end leaves a sour taste, as does failing to match Man United's treble winners, but the Reds are still on the verge of recording the earliest title win in Premier League history, a potential record points tally and one of the greatest parties you will ever witness in the city.
When you actually assess how the games since the winter break have panned out, there is no denying that Liverpool have been poor. There are clear mitigating circumstances surrounding them, though.
The narrow win at Norwich was far from a classic outing, but with a lack of rhythm evident after some time away, it was to be expected. The Canaries battled for their lives, making life tough for Klopp's side. At the end of the day, the win was still secured.
Then came the defeat away to Atletico Madrid, which looked a dog of a tie before it even kicked off. Saul Niguez's early, and rather fortunate, goal was the worst possible start against one of the best defensive teams of this generation, and Liverpool never recovered.
The Merseysiders were disappointing, without question, but Atletico were underrated by many leading up to the game, and losing 1-0 away is certainly no disgrace in a Champions League knockout tie.
We shouldn't be so arrogant to assume that the Reds will win every single game – occasionally, the opposition are just better, which is precisely what happened at the Wanda Metropolitano that night.
The performance against West Ham was another below-par showing, but since when did title-winners play well every week? And yet again, Liverpool found a way to secure another priceless victory.
It is the last two games that have seen the meltdown truly pick up speed – no surprises really, considering supporters' mindsets are ultimately determined by results.
Let's not beat around the bush, the Watford game was lamentable. It is right up there with the worst displays of the entire Klopp era, which speaks volumes.
Barring perhaps Alisson and Andy Robertson, not a single player came away with an ounce of credit, as the Hornets completely outplayed the league leaders. It was just one of those – a complete mess of a showing that we all want to forget as quickly as possible – but it didn't warrant such negative post-match hysteria.
The loss at Chelsea on Tuesday was much improved, with several excellent chances created and two individual errors ultimately proving costly in west London. The performance after the break was poor, but this was ultimately a much-changed team in a competition Klopp doesn't value as much as many.
So there we have it, what a 'crisis'. Two defeats and a few other poor displays that led to wins.
This slump in form is disappointing, and supporters are more than within their right to voice their frustration – for the love of God, please don't think I'm trying to be a #TopRed here – but this fascination with going overboard is uncalled for.
Every great team in the history of football has experienced a drop-off at some point during a season – in the space of 10 days in 1996/97, Manchester United lost 5-0 and 6-3 away to Newcastle and Southampton respectively, before a 1-0 home defeat to Fenerbahce in the Champions League – and this happens to be Liverpool's low point.
It could get worse – there is no guarantee that the dip will end against Bournemouth or Atletico – but this outstanding Reds side have done more than enough to gain our trust.
Liverpool will come out the other side of it sooner rather than later, and over time, we will forget it ever happened.