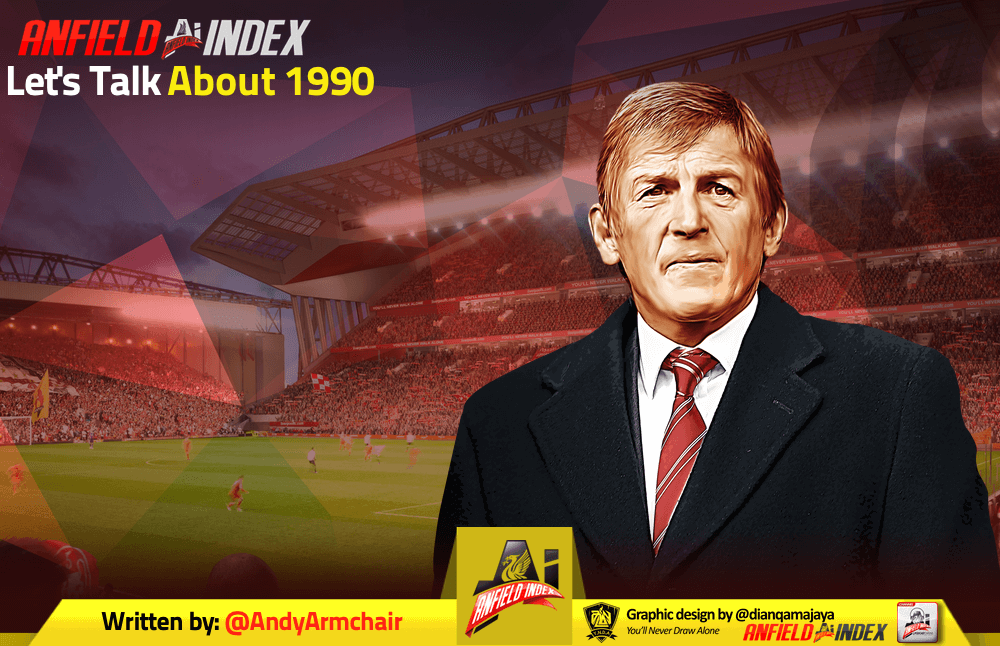 Let's Talk About 1990
Liverpool's first league title in 30 years is within touching distance. Jürgen Klopp has masterminded an incredible season that has broken records along the way, with a team that is likely to go down in Liverpool folklore. 
But how did things look back in 1990? Well, here's a taster as we step back in time to look at what was happening the last time the Reds were league champions.
World Events

Some of the biggest news stories included Nelson Mandela being released from prison after 27 years. Mandela had long been a leading figure in the anti-apartheid movement and after his release became leader of the ANC (African National Congress).  Just four years later he would be elected South Africa president. 
1990 was also the year that Saddam Hussein ordered the Iraq invasion of Kuwait. This would lead to the first 'Gulf War'. After the symbolic falling of the Berlin wall in November 1989, the official destruction of it began in June 1990. By the October, East and West Germany reunified to once again be a single nation. 
Elsewhere, UK prime minister Margaret Thatcher's time in office came to an end after 11 years. Despite winning three elections, she was a deeply unpopular character in many working class areas, particularly Liverpool. However, her end did not come at the hands of the electorate, instead it was from her own party after mass demonstrations against the Poll Tax. 
Movies
1990 was a notable year for movies, it saw the release of the all-time Christmas classic, the original Home Alone. Another Christmas movie, Die Hard, had its sequel released this year too, imaginatively titled Die Hard 2. Is Die Hard really a christmas movie I hear you say? Of course it is and Die Hard 2 had snow in it, so that counts as well.
Sean Connery played the lead in The Hunt For Red October. After a 16 year break, The Godfather Part III hit the big screens in 1990, but failed to live up to its two preceding movies. Much more critically acclaimed was Goodfellas, with performances from Ray Liotta, Robert De Niro and Joe Pesci that are still rightly celebrated to this day. 
The Back to the Future series had its third installment in 1990, but perhaps the biggest family movie of the year was Teenage Mutant Ninja Turtles. However, much like Reebok Pump trainers, their popularity soon faded.
Other releases included the weepy Ghost, with Demi Moore and Patrick Swayze, and that pottery scene. This was also the year of Pretty Woman, with Richard Gere and Julia Roberts. They weren't my cup of tea and the same can be said of Dick Tracy, Edward Scissorhands and Misery.
Young Guns 2 came out in 1990 and I did enjoy that, as well as its music soundtrack. I accept that's an opinion that might not be shared by others.
Music
In music, an iconic decade of music had just ended, but another was just beginning. Aside from Jon Bon Jovi's Young Guns 2 soundtrack, there was plenty worth listening to. There was the iconic riff of Thunderstruck by AC/DC, the unmistakable beat and bass line of Dub Be Good To Me and the hauntingly beautiful Nothing Compares 2 U by Sinead O'Connor. 
Other memorable singles released that year include More Than Words by Extreme, Birdhouse In Your Soul by They Might Be Giants, Step On by Happy Mondays and World In Motion by New Order that featured a certain John Barnes.
Of course, who could forget U Can't Touch This by MC Hammer? Ok, maybe you just want to forget it, but it was hugely popular at the time, though not as huge as his trousers! 
Sporting events
Another song that became very popular in 1990 was Nessun Dorma by opera singer Luciano Pavarotti, but it was off the back of a great world cup – Italia 90. From the shock of Cameroon shocking the world by beating world champions Argentina and giving us Roger Milla, to the surprise emergence of Toto Schillaci, it was an iconic tournament. 
Jack Charlton led Republic of Ireland to a surprise quarter final, England reached a semi-final and the weight of expectancy became too much for hosts Italy. In the end, West Germany edged out Argentina in a dull final to become worthy winners.
This was the year that Buster Douglas shocked the world by defeating World Heavyweight boxing champion Mike Tyson. It's still regarded by many as the biggest upset in boxing.
Another surprise came in tennis, as a 19 year old Pete Sampras won the men's US Open. Ivan Lendl won the Australian Open and Andres Gomez the French Open, but Stefan Edberg was victorious at Wimbledon. 
Martina Navratilova was still winning major titles in the women's game, claiming the Wimbledon crown. Her main rivals Steffi Graf and Monica Seles won the Australian and French Open respectively, whilst Gabriela Sabatini was US Open champion.
San Francisco won the Super Bowl and Greg LeMond the Tour de France. The Formula One world title was claimed by Ayrton Senna in controversial circumstances as he took his title rival Alain Prost off the track in the penultimate race of the season to ensure his crown.
Liverpool team of 1990
Of course, the most significant sporting event of 1990 was Liverpool clinching their 18th league title under Sir Kenny Dalglish. Little did we know that the wait for number 19 would be so long, but that lengthy gap is often more discussed than that actual championship side. 
Goalkeeper Bruce Grobbelaar was always regarded as a maverick and remembered for his wackiness but he was also excellent between the sticks and there's good reason he was no.1 for so long. 
The back-line was marshalled by club captain and legend Alan Hansen in what sadly proved to be his final season before injury forced him into retirement. He was partnered in central defence by either fellow Scot Gary Gillespie or the silver-haired Swede Glenn Hysen, another classy defender. The versatile and under-rated Steve Nicol, David Burrows, Steve Staunton and Barry Venison were the regular full-back options, with Gary Ablett able to provide cover across multiple positions.
The midfield was still run by Steve McMahon and Ronnie Whelan, with the guile of Jan Molby and energy of Nigel Spackman in reserve. Ray Houghton offered clever running and supply from the right, but didn't feature as much as usual during this campaign. The opposite wing was where John Barnes worked his magic and during this season was often playing higher up the pitch, seeing him register a career best 22 league goals. 
Add to that the creative genius of Peter Beardsley and the finishing of the great Ian Rush and it was clear why Liverpool were too good for their rivals. One added factor to this side late in the season was the addition in March of striker Ronny Rosenthal, whose goals helped take the Reds over the line. 
Whilst it's fair to say that early season form wasn't scintillating, there was the 9-0 win over Crystal Palace at Anfield in September that saw John Aldridge score in his final appearance for the Reds. October and November saw a sticky spell, uncharacteristically losing four games. However, from the beginning of December until the end of the season, Liverpool only lost one more game. A run of 23 points from a possible 27 during the title run-in ensured Hansen lifted the title at Anfield.
The sight of Jordan Henderson doing the same thing 30 years on will likely become just as treasured as that image of Hansen holding a trophy that was synonymous with Liverpool.