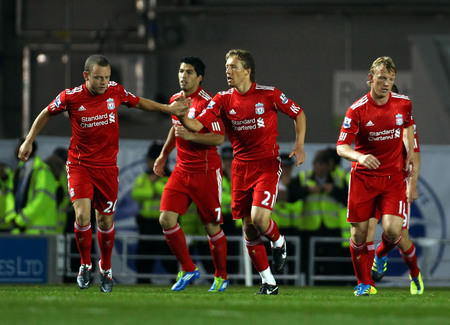 The Challenge Facing Jay Spearing
Following the sad news that Lucas Leiva will miss the remainder of the season after sustaining an anterior cruciate ligament injury in Liverpool's recent Carling Cup quarter-final victory at Chelsea, Kenny Dalglish faces a dilemma: just who can fill the current player-of-the-year's boots?
Perhaps a replacement will be drafted in during the forthcoming transfer window, but before that can happen the Reds have six league games to negotiate in December, and that's before you consider a triple-header with Manchester City in January.
Whilst some might opt for Jordan Henderson as the temporary replacement for Lucas, my money would be on Jay Spearing. I'll be honest and admit that I was never that convinced by the young scouser during his early appearances for the team, though he changed my mind on that front over the closing months of last season. But how do his stats from last season compare to Lucas' for this campaign?
It won't surprise you to know that Spearing's figures aren't quite as good; for instance Lucas currently has won more tackles per game than any other Premier League player, and according to WhoScored.com, he's ranked second in this respect across the big five European leagues at present, so it's no surprise that Jay can't quite compete at present.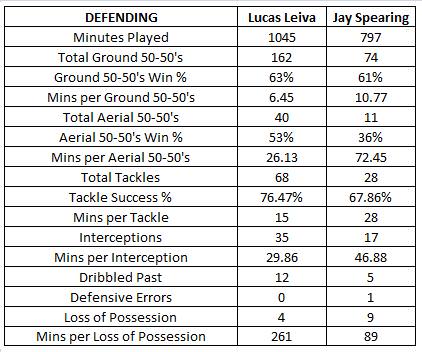 It's important to remember that Spearing's statistics came from matches where he played alongside Lucas, rather than as a direct replacement, so his role would be slightly different now to how he was asked to play last season.
Whilst some of the key statistics (ground 50/50 win % and tackle success %) aren't hugely different, Lucas has been far more involved in the play than Spearing was in the last campaign; almost double on the above key statistics.
There's no doubt that Spearing will inevitably be involved more if directly replacing Lucas in the team, but will he be able to do that and maintain his stats?
One noticeable difference is their ability in the air, with Lucas having a significant advantage (53% success rate to Spearing's 36%). Considering Lucas is only 8cm taller (according to WhoScored.com at least) then this is slightly surprising. Definitely something for Jay to work on, as opposing teams may seek to take advantage of this difference.
If we look at the passing stats, we see that again Lucas has the edge: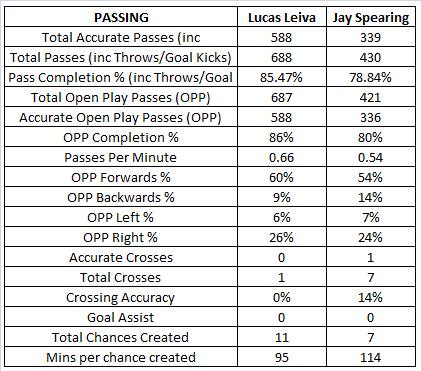 It's interesting to note that for 60% of Lucas' passes go forward, when naysayers have accused him in the past of playing every pass backwards to improve his stats. Instead it is Spearing who favours the safety first approach more often with his passing.
Much like the defensive stats, Spearing isn't too far behind the Brazilian maestro, but will he be able to step up his game to ensure that Mr Leiva isn't too badly missed?
I don't have the answers, and only time will tell (assuming it is Spearing who fills in of course). I think Spearing certainly has potential, but now the rest is up to him. Good luck Jay, you're gonna need it.
Read more of Andrew Beasley @ basstunedtored.com