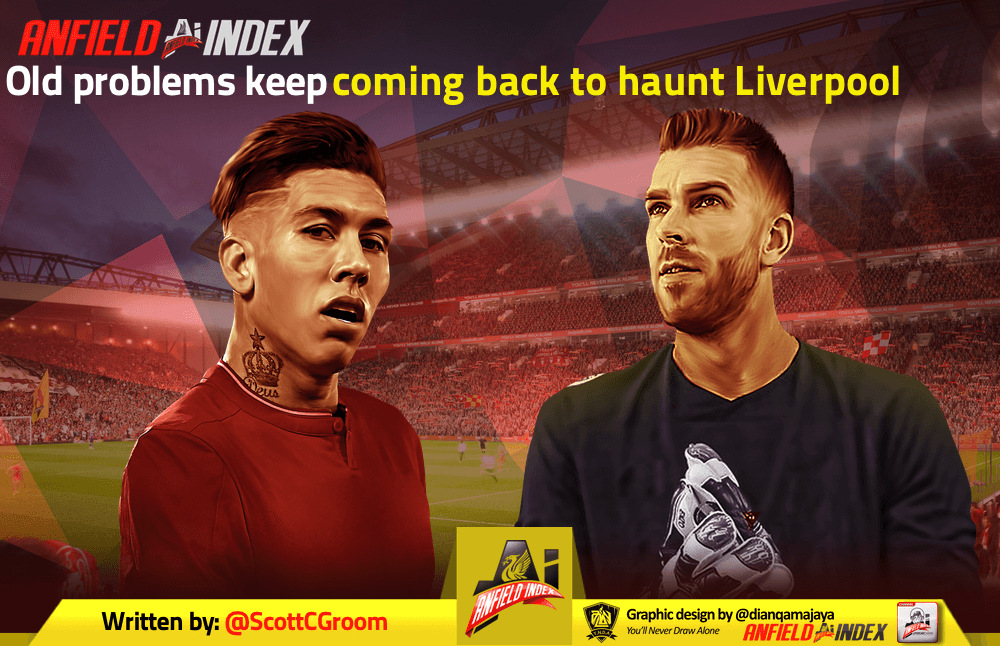 Old problems keep coming back to haunt Liverpool
It was a night that not many Liverpool fans will want to think about for too much longer.
It was a humbling and rare defeat at the hands of Diego Simeone's Atletico Madrid that perhaps prematurely ended the Red's defence of their much adored European Cup.
While the performance in the first leg in Spain left a lot to be desired in terms of pace and attacking threat, Klopp's men certainly dialled this up to 11 at Anfield and almost wrote another memorable night into the history books.

But it wasn't to be this time, and Liverpool can only really blame themselves.
While the performance was noticeably improved on the displays of recent weeks, there were a number of things that reared their ugly heads again and ultimately cost the Reds a place in the last eight of the competition for the third season in a row.
And these elements of Liverpool's game also serve as a reminder that while the performance against Atleti was certainly a step in the right direction, things just aren't quite clicking for Liverpool at the moment.
This is despite their impending record-breaking coronation as Premier League champions in either March or April.
Leaving their shooting boots at home
Despite only scoring twice across two legs, Liverpool had a whole host of chances to put the tie beyond Atleti before the end of normal time at Anfield in the second leg.
Liverpool created chance after chance, most of them good ones too, and undoubtedly should've done better with some of them – but the lads simply couldn't find their range.
Either that, or they were denied by the superb Jan Oblak.
Andy Robertson had three good chances, one of them glorious, when he crashed a header against the bar from six yards out. Mohamed Salah looked destined to pick out the top corner on a few occasions after cutting in from the wing, but couldn't find the target.
Sadio Mane also found himself with time and space in and around the box in both halves, but failed to hit the target or trouble Oblak with his efforts.
Firmino, Wijnaldum and Oxlade-Chamberlain all had opportunities to make it another domineering display under the gaze of the expectant Kop, but fluffed their lines when they were thrust into the spotlight.
This is something that in periods of Klopp's reign has become a bit of an issue, whether it be the front three, either one of them or all three at once, or just the team in general struggling to put teams to bed when they are in the ascendancy – and more often than not at this level, it comes back to bite you.
A few seasons back, I remember Liverpool throwing away or almost bottling one and two goal leads on a regular basis. Chances were plentiful, defences were carved open, but the net would never ripple as the Reds seemed to have their boots on the wrong feet.
Last night felt an awful lot like a flashback to those times, with great chances to not even give Atleti a sniff of things.
It has felt a little like that in recent weeks, too, with the Reds looking a little toothless in attack sometimes, and taking far too long to ensure games are safe. It's gotten the better of them a few times of late, but none of those hurt like last night did.
This is perhaps just as much of a reason for Liverpool's European exit as Adrian's mishaps at the other end.
Goalkeeping errors undoing hard work
Before we get into this, let us just remind ourselves that, in his short Liverpool career, Adrian has been steady.
He's stepped up when called upon, endeared himself to the fans and the squad and participated heavily in what's been a largely successful season.
He's 33-years-old, was signed as a free agent and this is the highest level he's ever played at in his career. And he's not Alisson Becker. Anyone other than Alisson or the man in goal for Liverpool's Champions League victors just isn't at that same level.
But unfortunately, football is an unforgiving business, and when you're a keeper and you make mistakes, they're usually punished.
That's what happened at a crucial point in the tie, allowing Atelti to regain control of the game after a rushed, poorly judged and even more poorly executed clearance from the veteran Spaniard.
Could he have also done better with the other two goals he conceded? Who knows, but it doesn't matter now.
What this error did do was spark the old conversation among fans that they're tired of having poor goalkeeping errors cost Liverpool dearly.
We don't need to go into details, but we all know the most infamous of those being the Loris Karius final. Simon Mignolet always had a moment in him, as did Dudek before him and even Pepe Reina to some extent.
It's harsh on Adrian, but it's true. His error was a turning point in the game.
But it's hard to rationalise this as Liverpool have become so used to the near flawless Alisson week after week, and as I said, anyone other than him is a step down in quality and, most importantly in this instance, composure.
Yet a keeper's blunder has once again opened up an old Champions League wound and left fans thinking about what might have been.
Blame shouldn't solely be placed on Adrian's shoulders, and everyone should rally behind him as he continues to deputise for Alisson while he recovers – he could even be the man on the pitch when Liverpool seal the Premier League title.
Goals are the currency of football, and they need to be kept out at one end and put in the back of the net at the other. Both of those elements, which Klopp has certainly improved in his reign as manager, reverted back to old times against Madrid, and Liverpool are left licking their wounds.
Football's easy really, isn't it? Score goals, don't let goals in. Simple.